Saturday Night Live
was something we wanted to do the entire time we lived in New York, but were just not quite sure how to make it happen without either being really, really lucky or really, really crazy.
You see,
SNL
distributes tickets to the general public every year through a ticket lottery. You email during the month of August to get your name put into the mix, and then they'll email you if you are selected. We actually know someone who managed to get tickets this way, which is shocking, because I was convinced this was all just a clever ruse to make the public think there was a chance to ever see this show without being BFFs with Lorne Michaels or something. We emailed every year, to no avail.
The other way to get tickets is to try for standby tickets on the day of the show. Every Saturday morning at 7:00, they hand out standby tickets to both the dress rehearsal and live taping on a first come, first served basis. Now, these tickets do not guarantee you a spot at the show. Rather, they give you a
chance
to see the show. If the studio is not already filled with VIPs and regular ticket-holders, they'll let the standby people in to fill any empty seats. So, every Saturday, there are lots more standby tickets distributed than there are actual available seats at showtime. And for big name guests, such as a Justin Timberlake or Alec Baldwin host, or Justin Bieber or Lady GaGa musical guest, people will camp out for these standby tickets for days. A week, even. Days on end of sleeping on the streets of New York just for a
chance
to
maybe
see
SNL.
Now, Eric and I have been known to do crazy things to see New York events, but that just did not sound worth it at all to me. Sleeping on the street for days with no guarantees of actualy seeing a show? Nah. No thanks. So, we figured
SNL
was just not meant to be for us.
Until one Friday afternoon in January of this year, that is. The host for that Saturday's show was Charles Barkley, with musical guest Kelly Clarkson. Both good enough, but not big pulls. Eric got the crazy idea that we should give the standby line a shot. The weather was unusually warm (only got down into the 40s that night), I was pregnant but not super uncomfortable yet, and he figured we could head out to the line around 3:00 in the morning and get tickets. Pregnancy apparently ate my brain because I agreed.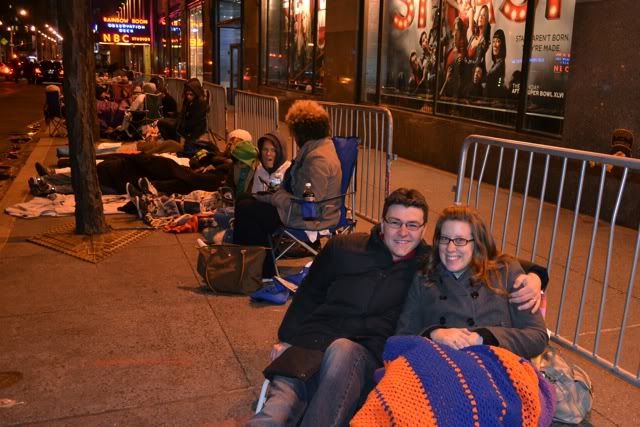 Waiting in the SNL standby ticket line!
So, head out there we did, and spent several hours sitting on the street waiting for our chance. We ultimately secured tickets to the dress rehearsal, and much to our surprise and delight, we were able to get into the show that evening! Our seats were awful (worst in the house, actually), but the whole thing was still incredibly cool to see. Because it was the dress rehearsal, we were even able to see an extra 30 minutes worth of material that didn't make it into the show. It was so neat to watch the whole process, from the warm-up to the cue cards to the set changes to a fit of hysterical laughter for the actors during one sketch. We had a fantastic time and it was definitely one of the coolest things we were able to do during our time here.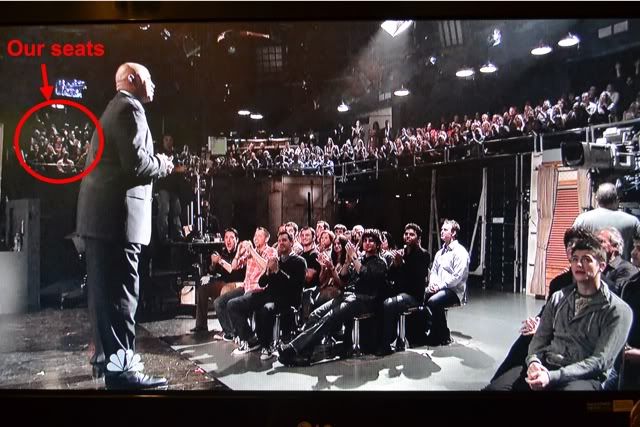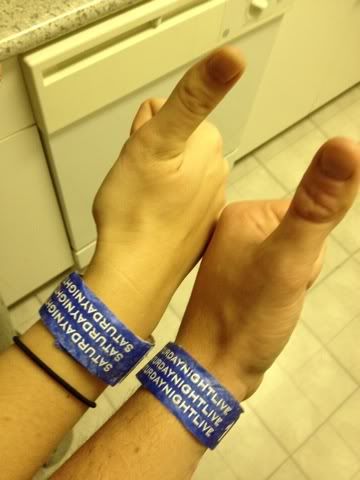 Thumbs up for an awesome night!
Of course, we made it into the audience of quite a few other shows during our time here, too:
Late Night with Jimmy Fallon, The Late Show With David Letterman, The Colbert Report, The Daily Show, SportsNation.
All were very cool experiences, but nothing topped
SNL
.
Top row: Us on TV during The Late Show, and outside the theater after the show
Middle row: Outside NBC Studios after Late Night with Jimmy Fallon; outside the studio after The Daily Show; and Eric with Michelle Beadle after SportsNation taping
Bottom row: At The Colbert Report, which tapes just a few doors down from our old apartment building!
Saturday Night Live is just such a New York institution, and to go through the process of waiting out for tickets, doing the standby line that night, having that moment of excitement when you get off the elevator and they tell you that you've made it into the show, getting goosebumps when you walk into the studio, seeing the cast running around and making the show happen before your very eyes - it's all just very, very cool. After the show Eric and I were on such a high and we were so, so glad that we made it happen. It ended up easily being one of our most favorite New York nights, and that is how it secured the number four spot on this countdown.
To read the whole Saturday Night Live recap, click here.