This past week the weather has been absolutely gorgeous and Ellie and I were lucky enough to have two fun outings in downtown St. Pete to enjoy it. I have to say, I love downtown St. Pete. It's walkable and charming, with great views of the Bay and tons of fun restaurants and shops in addition to the pretty parks and museums. If we were to live here permanently, I'd like to be close to that area so Ellie and I could spend our afternoons walking along the waterfront and enjoying the fun atmosphere, just like we used to do in Hoboken. Not having regular access to a car keeps us from doing that all the time now, but it's awfully nice to get down there when we have the opportunity.
Last Thursday, my dad got home from work just in time to catch Ellie and me (and Achilles) before we left for our evening walk. He suggested we head downtown for some gelato. Given that the weather was amazing and downtown sounded more fun than our usual loop around the neighborhood, off we went. We ended up enjoying ourselves so much that we stuck around for dinner al fresco at one of the restaurants along the waterfront. Ellie entertained herself with some bread, passing dogs, the cloth napkins (great for peek-a-boo, her favorite) and the holes in the table. It was a delightful evening for all of us.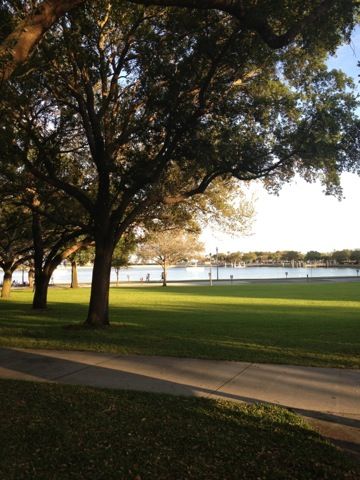 Straub Park on a beautiful evening
Munching on some bread with her feet up
Almost-full moon showing itself as the evening wore on
On Saturday, Eric, Ellie and I went downtown to Progress Energy Field for the farmer's market held there each Saturday this time of year. Once again, the weather was perfect and we had a great time. As you know, I love a good street festival and the market gave me my fix for that. It was a lot of fun and we will definitely be back.
After the market, we decided to extend our outing (have I mentioned that the weather was gorgeous?) by walking down to the Pier for lunch at Cha Cha Coconuts, where Eric and I had our wedding rehearsal dinner. Eric had to run back to get something from the car first, so Ellie and I played in the grass while we waited for him.
Left: Passing time with some self-portraits; Right: happily plopped in the grass
Sharing leaves is her newfound passion.
Here, Daddy, have this leaf.
Closer inspection of the local flora
Then it was off to the Pier, where we watched the pelicans being fed before heading inside and upstairs for a lunch of our own.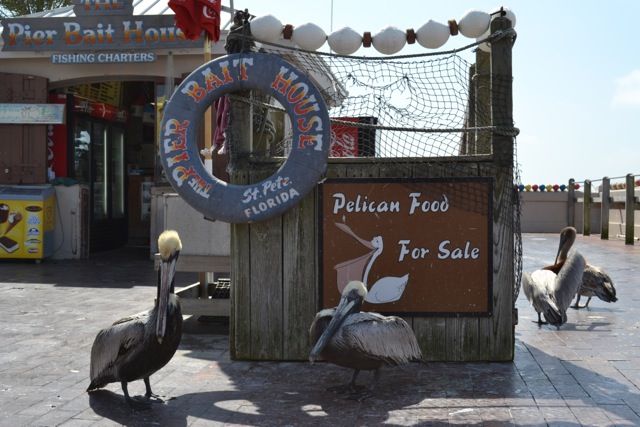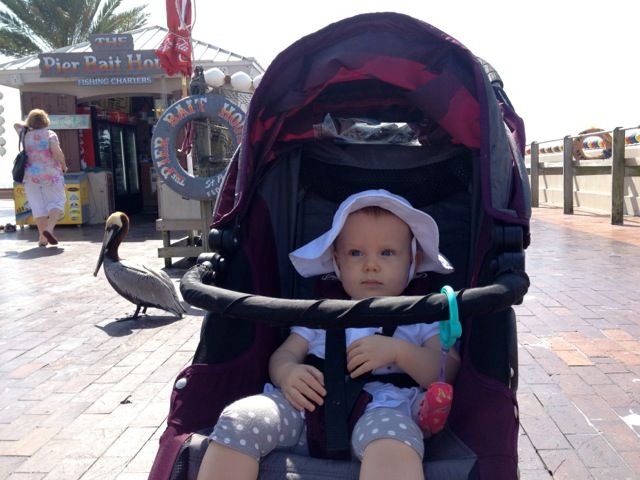 Ellie hanging out with the pelicans
Ellie had a blast at lunch. It was really windy on the top deck of the Pier, and she loves the wind. She also loved munching on the bits of our lunch we gave her (a pickle in particular). It was definitely the most fun she has ever had at a restaurant.
It was a beautiful day and a lot of great quality family time. I can't say that it isn't nice to be able to get outside and enjoy days like this in February!