Want to know a little bit about the cast of characters here at My Life as a Lawyer's Wife? Well, this is us in a nutshell:
Our life together in pictures: High school, college, D.C., marriage, NYC
Me
First, a few important W's...
WHO I am:
My name is Meghan, a/k/a Mrs. W. I am in my late 20s and live in New York City with my husband and my dog (we'll get to them in a minute).
WHERE I'm from:
I was born in Columbus, OH, but spent my childhood in Cleveland. When I was 12 years old my family moved to St. Petersburg, FL, where I lived until I moved to Gainesville for college (Go Gators!). After college I moved to Washington, D.C. for three years for graduate school. Then, in 2008, my husband and I moved to New York City. And I realize this is a very long-winded answer to what should be a very simple question.
WHAT I do:
In D.C. I worked as a research associate for a jury consulting firm. Since moving to New York City, I have continued to do similar work on a subcontractor basis, both for my old firm in D.C. as well as local NYC jury consultants. I love this work and wish I had more of it. (You can read a little more about what I do
here
, and some background about how I got into this field
here
.)
WHEN I started this blog:
April 2008, just a couple months before making the move from D.C. to New York.
WHY I started this blog:
My family lives in Florida, and we were living in D.C. and preparing to move even further away to NYC. We try to do lots of fun things and tend to take a lot of pictures, so I figured that instead of inundating our family with constant online photo albums, I would record our adventures here for them to peruse at their leisure. Plus, I like to write, and thought it would be nice to have a record of this time of change in our lives.
Now, for some fun stuff...
Things I LIKE:
My husband, my family, the beach, juries, Gator football, true crime novels, mint chocolate chip ice cream, sushi, music, a fair amount of bad TV, movie theater popcorn, babies in hats, photo albums, wine, summer dresses, Cleveland sports, bubble baths, high heels, lilacs, and spoiling my dog.
Things I DISLIKE:
Confrontation, inconsiderate people, cold weather with no snow, meatloaf, driving, the middle seat on an airplane, feet, selfishness, poor grammar, watching golf (sorry, Eric), rude tourists, not having a plan, and mushrooms.
My Husband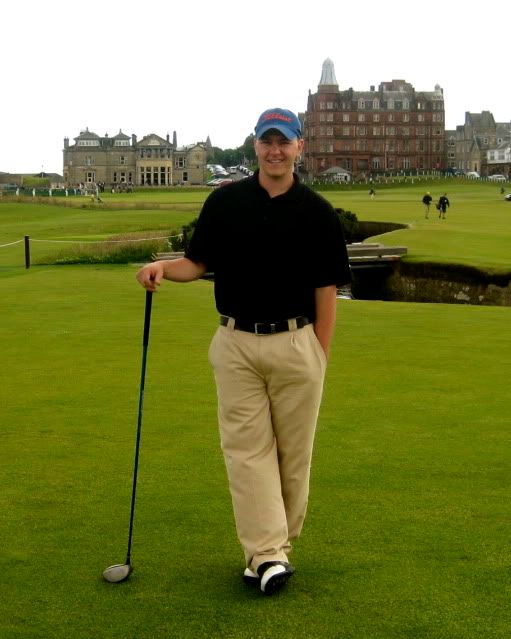 WHO he is:
His name is Eric and he rocks.
WHERE he's from:
Eric is a native Floridian. He grew up in Largo. After high school, he and I followed
a similar
the exact same path: Gainesville for college, Washington, D.C. for graduate school (law school, in his case), then New York. It was actually Eric's job that brought us to NYC.
WHAT he does:
He's a corporate attorney and an awesome husband.
HOW we met:
We met at the ripe old age of 15. We were high school sweethearts, although we went to different high schools. His mom lived just a few doors down from my mom, and I first saw him at the community pool and thought he was oh-so-cute. Eventually we began talking, and my sister stepped in on behalf of my shy self and invited him to my 16th birthday party. Before long, he was my boyfriend. And he was so dreamy!
WHEN we got married:
Eric proposed to me on the steps of the Lincoln Memorial at night in January 2006. We were married in St. Petersburg on August 18, 2007. It's been bliss ever since.
Things he LIKES:
His wife (or so he says), his family, golf, Florida Gators, Fantasy sports, Chick-Fil-A, sunsets on the beach, sweet tea, sitting in a hot car, the Tampa Bay Rays, playing devil's advocate, financial stuff like economics and stocks and the like, hot tubs, Ronald Reagan, Christmas music year-round, playing football in the rain, tulips, and running.
Things he DISLIKES:
Poor logic, mayonnaise, sticky hair-gel hands, tragic endings of movies/books, wearing pants and real shoes (he prefers shorts and sandals), watered-down drinks, folding laundry, pie, and smoking.
My Dog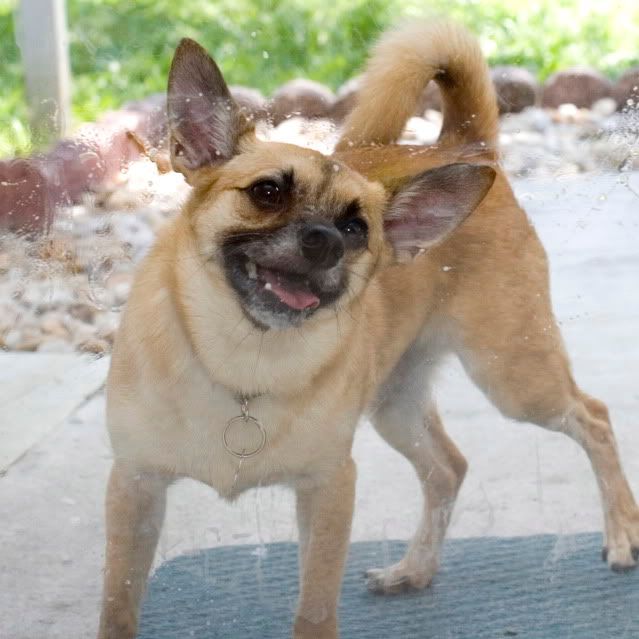 WHO he is:
His name is Achilles, which has gone straight to his head. Being named after a mythological warrior seems to have made him think he is much bigger than he actually is. He is six years old.
WHAT he is:
A chihuahua mix with some issues.
WHERE and WHEN we got him:
We adopted him from a shelter in Gainesville, FL in 2004, when he was a year old and going by the name of "Tyson."
Things he LIKES:
Excessive licking, bones, his stuffed squeaky frog, cuddling in the morning, walks, Einstein Bros. dog bagels, playing hide and seek, afternoons at the park, escaping from crates (see
here
and
here
), walking on grass and sleeping on piles of clothes.
Things he DISLIKES:
Baths, grass that is taller than him, having his nails clipped, the vacuum, being left alone, wet paws, long car trips, and wearing shirts with sleeves.
And that's us! Anything else you want to know? Just
email me
!