This past Sunday Eric and I set out to cross a couple of things off my New York To-Do List: hunt down (and take a photo in front of) the apartment building used in exterior shots of
Friends
, and eat at Katz's Deli.
Our first stop was the
Friends
apartment building, at the corner of Grove and Bedford in Greenwich Village. As those of you who know me already know, I am a HUGE
Friends
fan. You know that I had my bridal party introduced to the
Friends
theme song at my wedding, and gave out
Friends
-inspired favors. You know that I nearly died of sheer joy when
I got to sit on the actual Friends couch
on the Central Perk set in L.A. last May. Basically,
Friends
is my all-time favorite television show and how I have lived in New York City for over two and a half years and had not until this point sought out the
Friends
apartment building will remain one of life's great mysteries.
But hey, better late than never, right? We found it with no trouble, and took way too many pictures of it. Of course,
Friends
was not actually filmed in New York, so this is only the building they used for exterior shots, but I was quite excited. Not to mention, that whole neighborhood is ridiculously cute. I could definitely live there.
There it is! I recognized it immediately.
It's practically like we're on the show!
From there we walked across town to Katz's Deli on the Lower East Side. This destination was on our NYC To-Do List because it was a featured location in my most favorite movie,
When Harry Met Sally
. Remember that infamous "I'll have what she's having" scene? Katz's Deli, baby!
VIDEO: That classic scene! (Side note - did I really post two sex-related videos in one week? Yikes. Sorry, parents!)
We also heard some of their meats are amazing so hey, sounds like a good lunch stop. There was a line out the door waiting to get in, but it moved quite quickly. We were inside before we knew it.
See the line along the side of the building?
Inside, it was kind of pandemonium. People EVERYWHERE. Super crowded. Also, they give each person a little ticket when you walk in the door, and whenever you order from the counter, they mark your ticket. Then you present your ticket and pay on your way out. And don't lose that ticket - it will cost you $50 if you do!
Salamis hanging behind the counter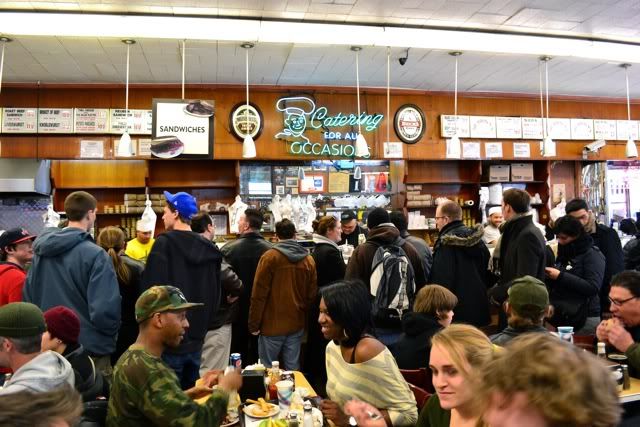 People waiting to order at the counter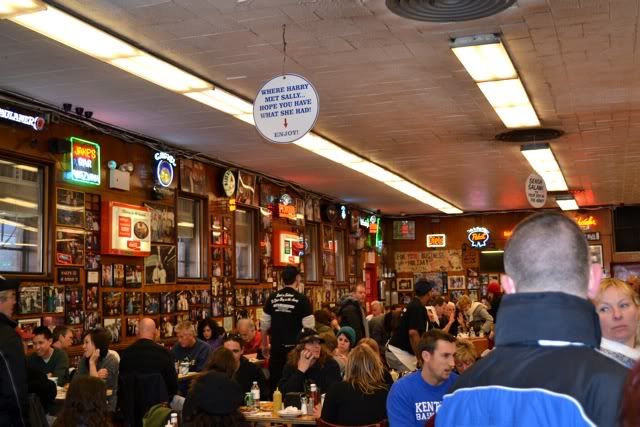 That circular sign hanging from the ceiling points to the table used in When Harry Met Sally and says, "Where Harry Met Sally...hope you have what she had! Enjoy!"
There were some tables with waiter service, but we made our way to the counter and placed our order. They will let you sample two meats before you order, so we sampled the hard salami and the pastrami (they are reportedly known for both, and even advertise you can "send a salami to your boy in the army"). Oh my goodness, both were AH-MAZING. The pastrami, however, was the most awesome. I had never had pastrami before in my life, but I am now a believer. We ordered one of their famous frankfurters and one pastrami sandwich with a side of steak fries, then found a table and chowed down. It was awesomeness.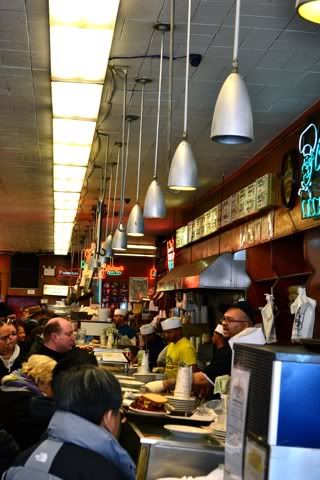 Placing orders at the counter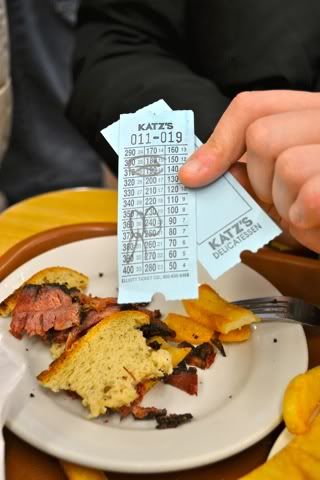 Our tickets, with the remains of our pastrami on rye
After our delicious lunch we stopped off to pick up our packets for the Five Boro Bike Tour, which is coming up way too fast. It's time to really kick the training into gear!
So, that was our fun day that involved both my favorite TV show
and
my favorite movie, and crossed two things off our to-do list. So productive!