Saturday night I got the opportunity to do something very cool: attend the first annual Comedy Awards as a seat filler! You know how at awards shows they always show the celebrities in the audience, right up front by the stage? Well apparently, sometimes those celebrities get up to go to the bathroom or visit at the bar, or possibly leave altogether. When that happens, they bring in seat fillers to take their places, so the audience always looks full. And Saturday night, I was one of those seat fillers!
Eric and I heard about this event through
1iota
, a website that offers free tickets to all sorts of events that need a live audience. Eric thought the seat filler thing sounded AMAZING, but unfortunately, he didn't get chosen. I did, however, so I went without him. It was a black tie event, and we were instructed to wear classy black cocktail dresses with no sequins. I got myself all gussied up and Eric went with me out to the Hammerstein Ballroom in Manhattan. I quickly found my line at the rear entrance, and Eric left me there to go off in search of the red carpet.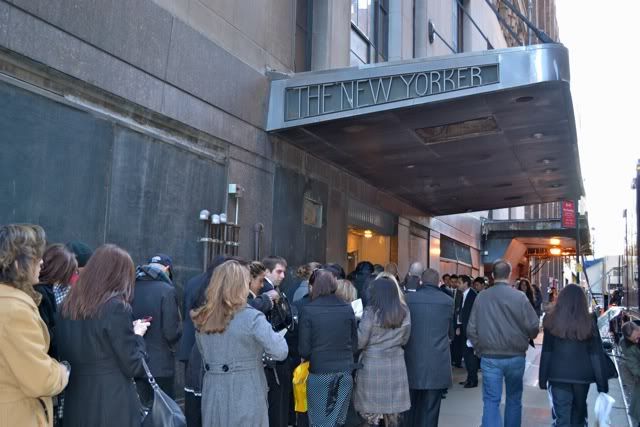 Line of seat fillers at the back of the building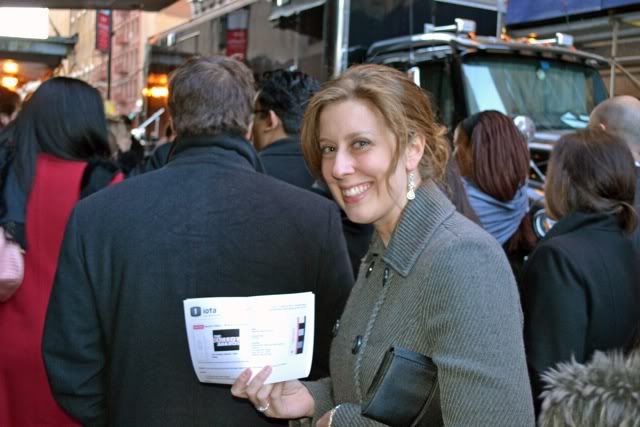 Showing off my seat filler ticket while I wait in line!
At first, being a seat filler was just an awful lot of waiting around for things to get started. We waited in line outside for a bit while they checked tickets and IDs (my bare legs were not thrilled with this arrangement), then we went inside to a little hallway where we waited FOREVER to go through security. Once we got through security, we were taken up in an elevator to a large ballroom used as a holding area. We stood there for decades, it seemed. Waiting, waiting, waiting!
Meanwhile, as I was standing around waiting for something to happen, Eric was outside enjoying the red carpet experience. He got to see tons of people! The set up for this red carpet was excellent, and many of the stars came over to greet the fans. And oh my goodness, guess who was there? The Tina Fey stalker girl we met at the
Megamind Premiere
! Dude, she means business. If Tina Fey will be somewhere, this girl will drive hours to get there. She is dedicated.
The Comedy Awards red carpet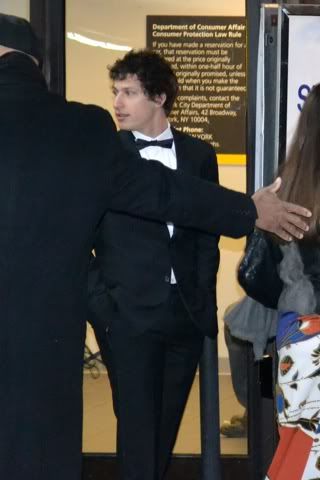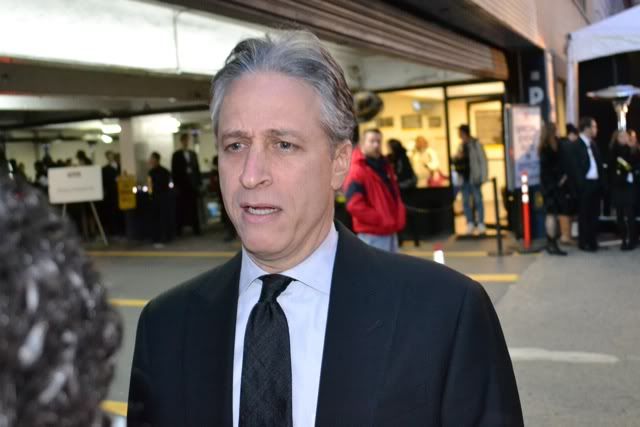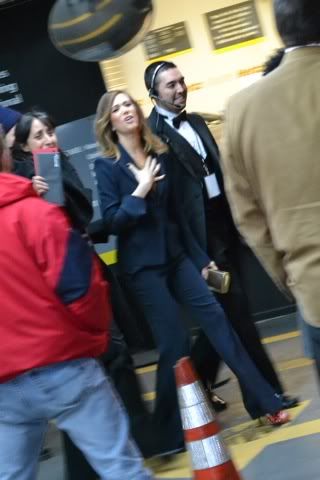 Tracy Morgan, who we always used to run into at our grocery store
Red carpet with that lovely ESB behind it
What a successful red carpet!
Back inside, things were finally happening for me. Just a few minutes before show time, they moved all the seat fillers into the balcony level to wait in case we were needed. As it turned out, we were not needed. Everyone seemed to stay put in their seats. So, I didn't get to sit next to any fun people. Bummer! But, I did get to watch the whole show from the balcony (for free!), which was quite fun. I had great seats, there was an open bar, the crowd was super enthusiastic and the stars were very funny.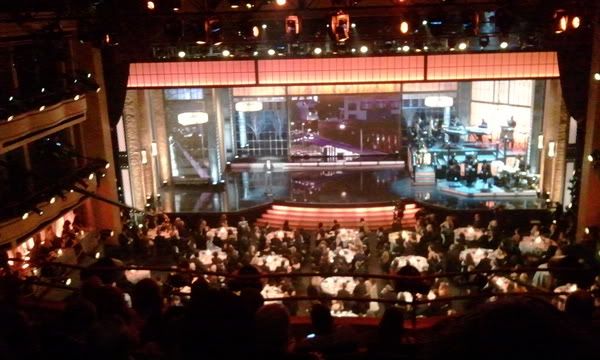 We were told not to bring cameras or cell phones to the event, and we would not be allowed inside with them. I am a rule-follower so I did not bring any photo-taking device. I was probably the only one though, so there are lots of photos/videos floating around in Internet Land. I stole this picture from Katiecat on Twitter. This is about what my view was like!
I got to see so many people: Alec Baldwin, Kristen Wiig, Bill Murray, Tina Fey, Tracy Morgan, Jon Stewart, Stephen Colbert, Andy Samberg, The Roots, The Lonely Island, Akon, Eddie Murphy, Will Ferrell, Ty Burrell, Jon Cryer, David Letterman and many more. Honestly, I can't even remember everyone that was there! The best part was The Lonely Island's live performance of "I Just Had Sex." If you are not a Lonely Island/Saturday Night Live fan, you can check out the original video below. It premiered as a digital short on SNL back in December (I think) and became HUGE (like,
over-70-million-views-on-YouTube
kind of huge). I must say, the live performance was
epic
. It alone will be worth watching the show for when it airs!
(

WARNING

: This video contains mature subject matter [obviously] and adult language. Please view with discretion!)
VIDEO: "I Just Had Sex" by The Lonely Island featuring Akon
The Comedy Awards will air on Comedy Central on Sunday, April 10th. Be sure to check it out!
It was definitely a very fun evening, and a new experience! There are just so many cool things to do in this city.
Update, 4/12/11:
Did you all watch on Sunday? I loved reliving the whole thing on TV! Now that the show has aired, you can check out the live performance of "I Just Had Sex" on YouTube
here
. Man, it was even more fun than I remembered. I always laugh at the "I'm On a Boat" interlude, and then the choir comes out...musical comedy gold, I tell ya!