I have been so caught up in telling you about Hoboken for the last week and a half, that I have yet to tell you about our last full day as Manhattan residents. Eric and I took a break from packing to head out into our neighborhood, enjoy a last Hell's Kitchen meal, and cross something off my
NYC To-Do List
: see a movie at the Paris Theater.
On President's Day, Eric and I went to see
The Last Lions
at the Paris Theater. A
Groupon
had popped up the week before for two tickets for $7 each or something, which is about half the regular price. I bought it, and we went.
Sex and the City
fans may recognize the Paris Theater from the
episode
in which Carrie is "dating the city," and she goes to the Paris Theater to see "
Joy For Two
, for one." She claims, "one of the most amazing things about living in a city like New York, is that any night of the week you can go to Paris." Oh, New York!
But really, the Paris Theater has a long history in New York. The theater opened in 1948, and is the nation's longest running art house cinema, with an affinity for showing foreign films. They only show one film a week, and there is only one screen in this theater. It is incredibly charming on the inside, with soft old seats, a small concession stand downstairs, and balcony level seating.
The Paris Theater, taken from across the street. The theater is across the street from the Plaza Hotel, right by the southeast corner of Central Park.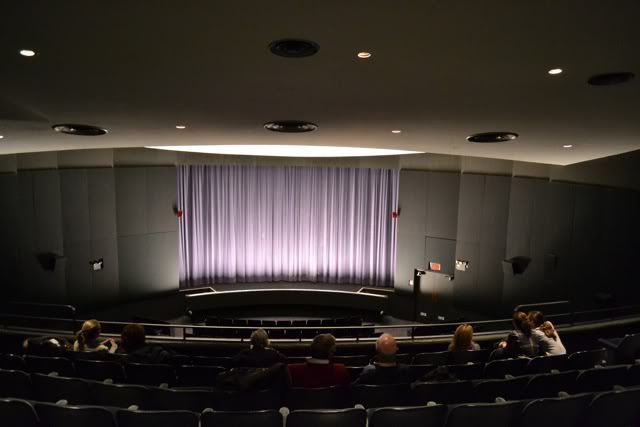 The view from the balcony level. (We sat on the ground floor, but Eric went up to check out the balcony view!)
The movie itself was also good. It was a documentary about a lioness whose mate is killed and she is run out of her territory by a new pride of lions. She must take her three cubs to new land and try to survive. Some of it was very beautiful and very neat to see; it made me really want to go on a safari, and get a lion cub to keep as a pet. So cute. But, there were some parts that were just heartbreaking. Of course, that is to be expected in movies of this nature - circle of life, and all that. But there was one part that had me so upset, I nearly left the theater. I'm glad I stuck around, because it did have a happy ending, but man, it was rough there for a while. (If I haven't scared you off and this movie sounds interesting to you, you can watch the trailer
here
.)
All in all, we had a very nice afternoon at the theater!
Outside the theater after the movie
After the movie we stopped for an early dinner at our favorite (formerly) local Mexican restaurant, El Centro. It is just a block away from our old apartment, and other than Daisy May's BBQ, it is probably the local restaurant we ate at the most during our time in Hell's Kitchen. We first tried it because it was so close to us and was always super crowded (usually a sign of a good restaurant!), and we ended up taking many of our guests there to eat, as well. So, it seemed to be a good place for our last meal out in our neighborhood.
El Centro, on the corner of W. 54th St. and 9th Ave.
Don't ask why I'm looking at the menu, I always order the same thing.
The bar, complete with Corona chandelier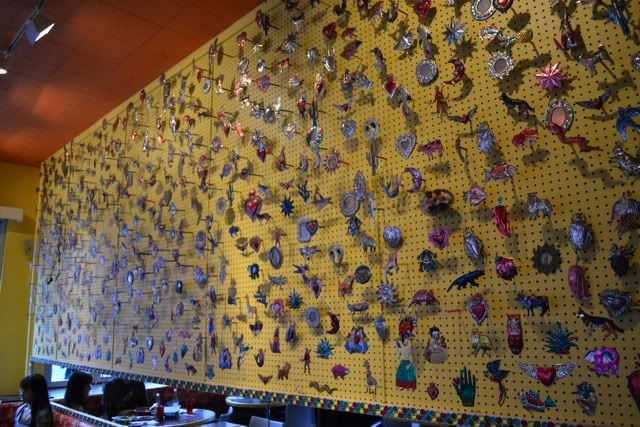 Rather understated decor, no? All kinds of thingamajigs stuck into the wall!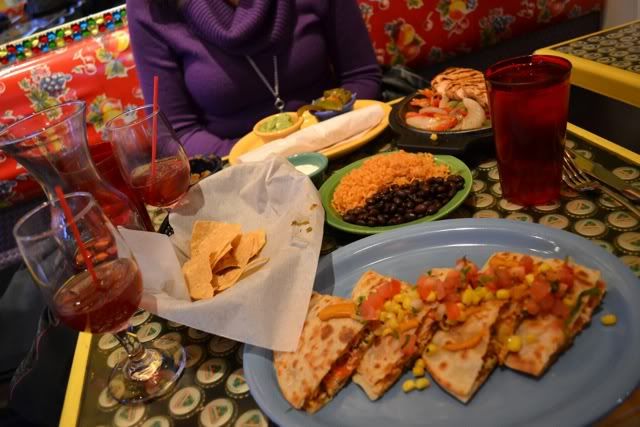 I had my usual chicken fajitas (adventurous, I know), Eric had quesadillas, and we shared a half carafe of sangria. Mmm.
And that was it! That was our last outing as Manhattan residents. We went home then to finish up packing, and bright and early the next morning, moving day was underway.
Although I still miss it terribly, I know I was so lucky to live in such a cool place for the last 2.5 years. I know that many people never get that chance, and it is an experience I will always treasure. And, although I am excited to explore Hoboken and all it has to offer, the New York City fun isn't over yet!