Happy Memorial Day, friends!
Although I am currently spending this Memorial Day in Canada, I made sure to partake of some of the New York Memorial Day fun here in New York before we left. As you may know, it is FLEET WEEK here in NYC, that glorious time of year when members of our military descend on this fair city in droves. Usually, I spend the week spotting sailors and then being shocked at how young they look, but it's still a good time.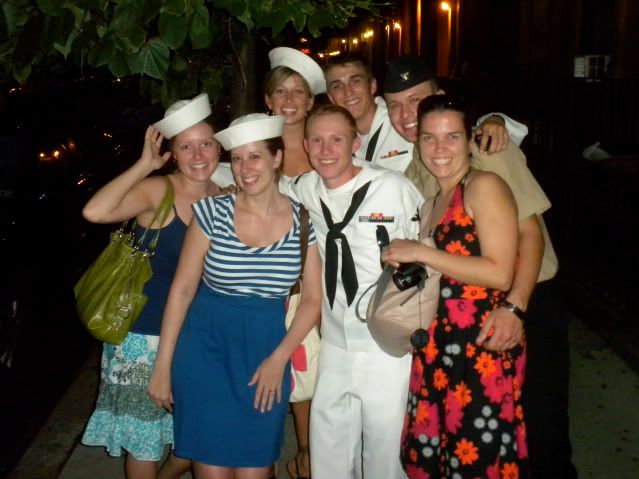 This is me, my sister Heather and cousins Molly and Zita posing with some random sailors on the street last Memorial Day.
Ah, Fleet Week fun!
Although we have been out of town for much of this year's Fleet Week festivities, I did make sure to catch the Parade of Ships last Wednesday. The Parade of Ships kicks off Fleet Week every year, when all the big Navy ships sail one-by-one up the Hudson River before docking at their respective piers for the week. I watched it
two years ago
from the park near our apartment, but this year I enjoyed it even more with the view from Hoboken. Watching those big ol' boats sailing along the Manhattan skyline was fabulous. There were many other spectators alongside me at Pier A Park as I watched the parade, and it was an absolutely gorgeous day outside, so it was a great morning.
Hanging out at Pier A Park to watch the ships go by
A ship passing downtown, with a flyover above
Passing midtown and the Empire State Building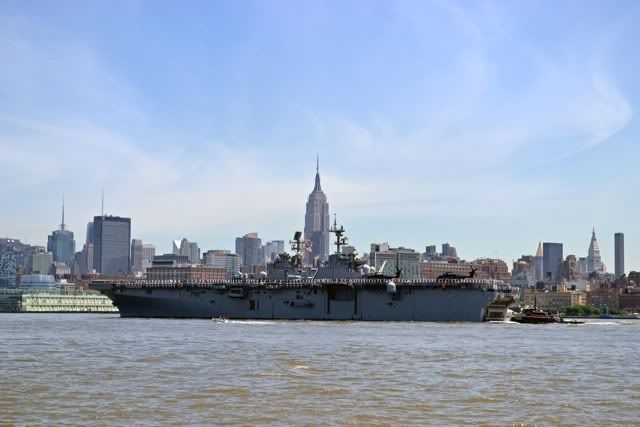 The decks of the ships are all lined with sailors waving to the onlookers
I hope you all are enjoying a wonderful holiday today, filled with good friends, good food, and all the very best a good ol' American celebration has to offer. Be sure to take some time to remember those brave men and women who have served our country so well. I am so grateful for the service of so many, protecting a country I love so dearly. Happy Memorial Day!