Much to my delight, last week's rain and general dreariness took a day off on Saturday (although it returned yesterday and continues today). Unfortunately, I was sick with a head cold all weekend. I won't even go into how that is probably due to walking miles and miles in the rain to take the dog to the vet on Wednesday, how it poured from the second I left the house until the second I got home, how every single inch of me was soaked to the bone within minutes, how BOTH of my rainboots sprung a leak and left my feet sloshing around inside said rainboots, how the color of my blue jeans ran all over my white jacket, and how I had to wrangle a wet and panicked dog at the vet. I won't even go into all that.
Suffice it to say, I somehow caught a cold that kept me inside begging my head not to explode for much of the weekend.
However, after longing for sun all week, I could not sit inside and ignore the beautiful day of sunshine and 70-some degrees we had on Saturday. So Eric and I ventured out into our little Mile Square City for some exploring and shopping. Hoboken was having a city-wide flea market/yard sale, so there were yard sales set up all over town. We just wandered around, perusing people's goods and fantasizing over a little house we saw for sale. (That is, until we got home and looked it up and learned that this "adorable little house" is actually a 3-bedroom, 3-bathroom piece of gorgeous real estate that is currently on the market for $1.275 MILLION. Fantasy indeed!) We then walked out to Target, because what weekend is complete without a walk to Target? We returned home along the river, stopping for a quick walk through Pier A Park to see the Relay for Life festivities going on that afternoon.
It was a rather low-key day, but the beautiful weather and charm of Hoboken made it oh-so-nice.
Some scenes from a sunny Saturday in Hoboken: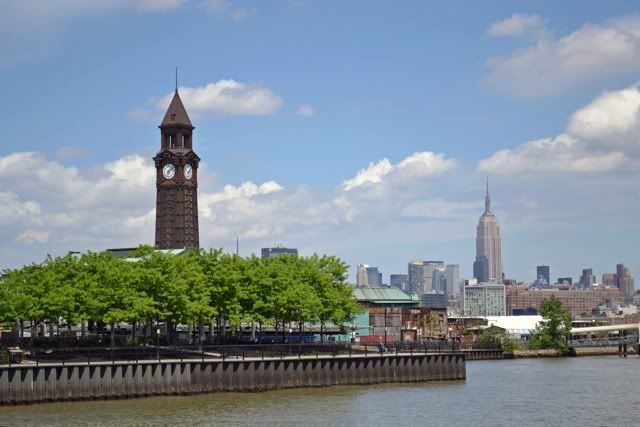 The view we enjoy every time we return to Hoboken from Target in Newport. The tower on the left is the Lackawanna Railroad tower at Hoboken Station. The tower on the right is clearly the Empire State Building across the river. I love seeing those two side-by-side.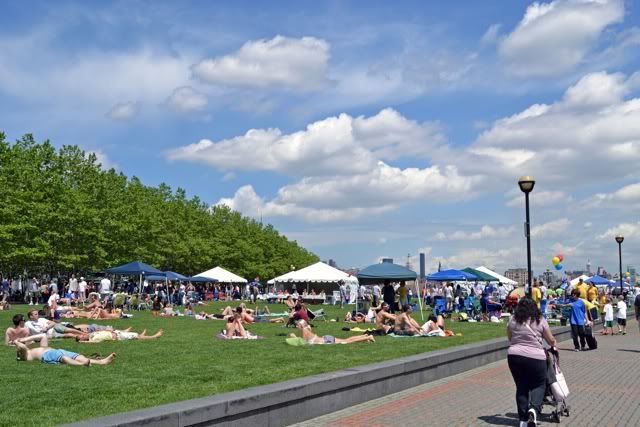 People enjoying the beautiful day at Pier A Park
View of downtown NYC from Pier A
There were lots of boats out on the water
I hope you all had a beautiful weekend!