This weekend Eric and I spent some time making more preparations for Baby Girl - largely, getting her little corner of our bedroom all perfect for her. It pleases me to say that if she came tonight (but please don't, little one - cook for another four weeks!), she would have a fully-outfitted crib to sleep in, plenty of clothes to wear, a place to have her diaper changed (we even have diapers!), and a place to sit and rock with Mommy while she has a little something to eat. I think all the necessities are in place!
It has been a little bit of a challenge for us to make this "adding a baby" thing work with our limited space. As you know, we live in a one-bedroom apartment with the most abysmal closet space you have ever seen. Not only has this created challenges for us storage-wise (babies seem to come with a lot of
stuff
), but it also kind of bummed me out that Baby Girl wasn't going to get a full-blown nursery to call her own, but rather, would have to share a corner of our bedroom. Not that I mind having her in our room, of course, but as I have seen many friends post pictures of elaborate, beautiful nurseries for their babies, I kind of wished I was picking out carpet and paint samples and really doing it up right for her.
But hey, we're making it work, and I devoted myself to making her corner of our room as beautiful of a "mini-nursery" as I could. Someday we'll have more space and she'll have a room of her own, I'm sure, but for now, I think we carved out a pretty nice little corner for her. Want to see it? (Get ready for lots of pictures!)
This is what you see when you walk into our bedroom: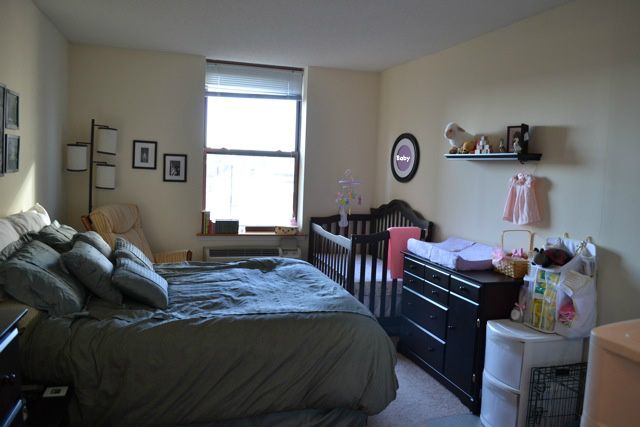 Ta-da! A space for babies and parents to happily coexist.
I'm pretty sure it's not possible to fit another piece of furniture in there (this may even be setting some sort of world record for Most Furniture in One Bedroom), but hey, it's working for us!
You can't see it in the above picture, but this chest of drawers is off to the left, and is housing a lot of our own clothes:
This is one over-worked piece of furniture.
That's the only new piece of furniture that isn't actually being used by Baby, but it's a part of our baby furniture set. Also, to the right of it you can see my suitcase to take to the hospital (still unpacked, yikes) and my pretty purple diaper bag, so there's some baby stuff!
Back over by my side of the bed, we have our glider and her crib:
We are now entering "Baby Corner"
You may remember that we found this glider for a downright
steal
at our local children's consignment boutique. It's not the prettiest thing ever, and I just couldn't justify the cost for a new slipcover for it, but it's great quality and very comfortable. Achilles can vouch for that: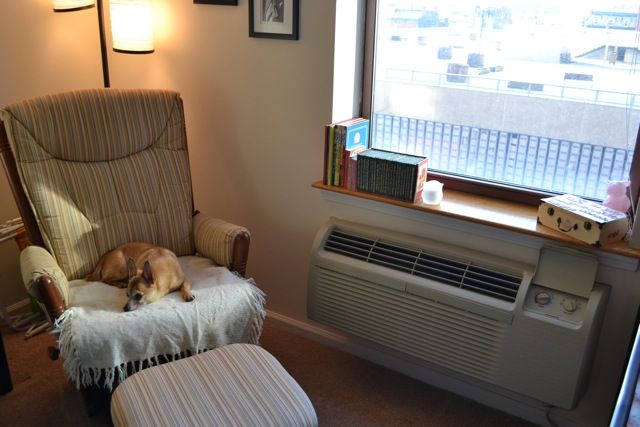 So much change going on in the poor little guy's life, so I figured I can at least let him enjoy the glider for a bit.
You may notice in the above picture that there are a few little things on the windowsill, including Baby's already rapidly-growing book collection (including a set of Beatrix Potter books that were mine as a child), and the box that holds the wooden blocks that my baby shower guests made for her:
Can't wait to sit in that glider and read to her!
If we continue to move to the right, we can check out Baby's crib and dresser/changing table: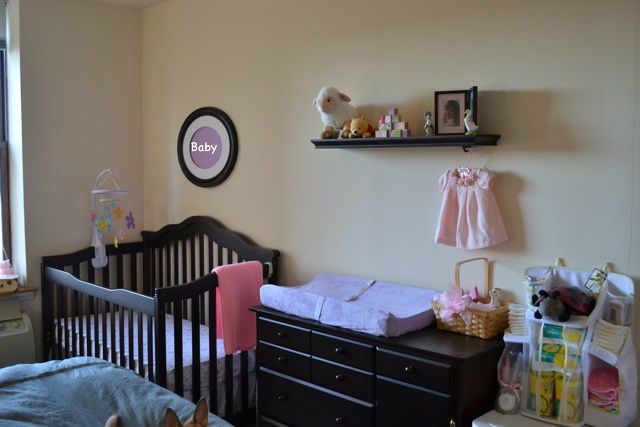 We got the full furniture set (crib, dresser/changer and chest of drawers) on a great sale from J.C. Penny. It was actually our first baby purchase, which is a funny place to start - no onesies or booties for us, we went straight for the big stuff! But I fell in love with the scalloped edge at the top of the crib: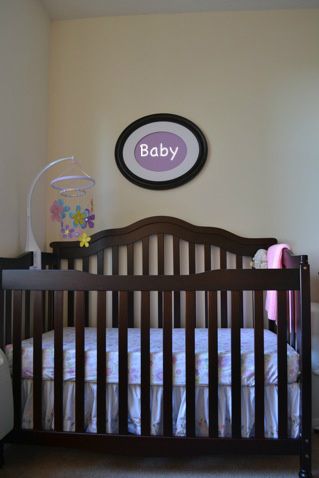 Baby's bed, pretty in purple
Let's talk a little more about the crib and accessories. First of all, that picture frame above the crib will say her actual name, not "Baby" - but I wasn't about to let the name slip out that easily, so you get the censored version!
The bedding is the Daisy Garden set in lavender from Pottery Barn Kids. Eric and I searched long and hard for bedding that we both really loved, and FINALLY found it in the lavender Daisy Garden set. However, when we first discovered it, the crib skirt was out of stock. Say it ain't so! To our delight, a few days later it showed up on the website again - on backorder, but available! So we placed an order right away and were told it would ship out on March 3. Then I got an email that it wouldn't actually ship until May 29...then July 9. Ugh, that's too late! What to do?!
We just couldn't find anything else we really loved, so we decided to just stick with the Daisy Garden set but in pink/green instead of lavender, even though I had my heart set on a purple nursery. Because my husband is the sweetest, he went up to our Pottery Barn Kids store on his lunch break to pick up the pink/green crib skirt so that I could take it to Michael's that evening to match colors for the craft supplies I wanted to buy. (How thoughtful is he?) He didn't see the skirt on the shelves, so he asked the employees to check for it in the back. To his surprise, they didn't have the pink/green - they only had the lavender! A miracle! So Eric was the big-time hero and Baby Girl's lavender nursery was saved.
And really, I love the set - it's so cheerful and pretty!: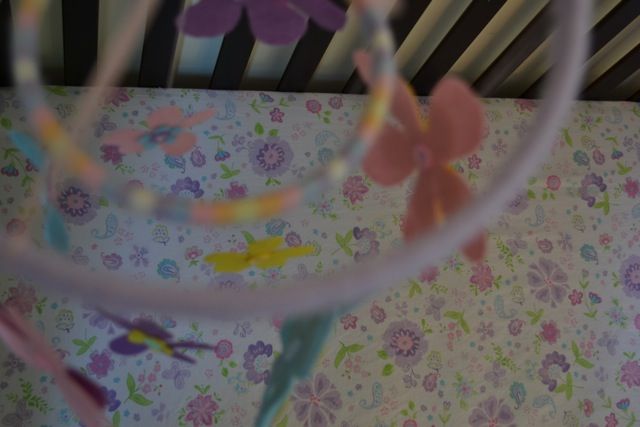 A look at Baby's happy floral sheets
That picture above is looking down at the crib sheet through the mobile that I made for Baby this weekend! Look at me, all crafty, eh? I love how it turned out: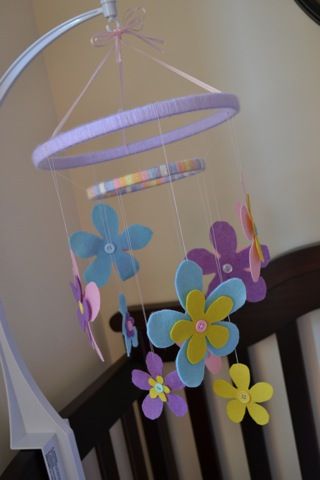 I used
this tutorial
, and for the most part it was pretty easy, although way more time consuming than I expected. And getting everything to hang level was the
worst
- it took several tries (and several threats to throw the whole thing right in the trash and just buy whatever I could find cheap at Babies 'R Us) before we got it looking nice. This child better like the darn thing, I'll just say that. Personally, I'm quite pleased with it, and it matches her bedding so nicely!
Now, let's continue on...
View of the Baby Area from the glider
...to her dresser/changing table:
A pretty place to change poopy diapers, basically
The dresser is already well-stocked with plenty of clothes, and is topped with her changing pad. The basket next to it holds rattles/toys, with another organizer next to
that
with all her diaper-changing essentials: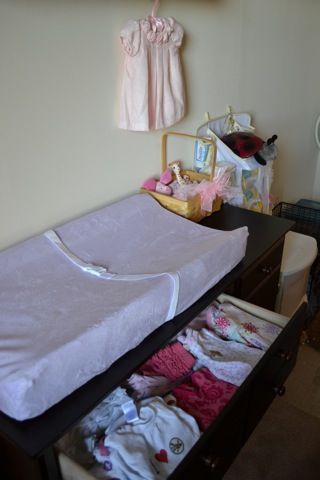 Just a sampling of her many clothes filling the dresser
Above the dresser we hung a shelf for decorative stuff: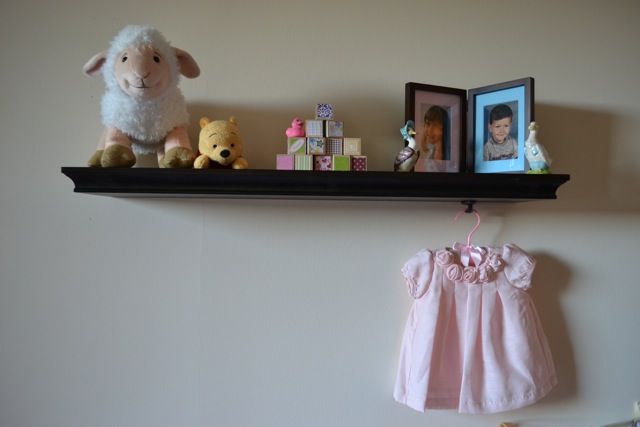 Hanging from the hook on the bottom is the little dress we bought for her when we first found out she is a girl. The stuffed lamb was a gift from my mom, and we bought the Pooh Bear for her for Christmas. In the middle of the shelf there are a few of the blocks that friends and family made for her at the baby shower:
Love the personal touch, so now all our loved ones have contributed to her nursery!
The pictures on the shelf are of Eric and me as children, and are flanked by my Puddle-Duck figurines that were also mine as a baby:
Eric was the cutest kid ever. (Well, until Baby Girl is born, I'm sure!)
And that's our nursery! It's not big or elaborate, but I think we did a pretty good job making it pretty and adding some personal touches. Now all we need is the baby to use it! One month from today is my due date, so the clock is ticking!