Last weekend Eric and I took in probably more than our fair share of liquid chocolate. It was glorious.
It started with an outing to City Bakery, a well-known little cafe in the city near Union Square. They have their Hot Chocolate Festival going on during February, with different hot chocolate flavors every day. I saw that the flavor scheduled for Saturday was "On a Peanut Butter Barge," and I am such a huge fan of all things chocolate and peanut butter, I figured that was a winner. So, we went into the city in search of hot chocolate.
I got the peanut butter flavor (duh), Eric got regular, and we both got marshmallows, which were huge and delicious. We also split a pretzel croissant. This hot chocolate was
decadent
, let me tell you. For my peanut butter one, they basically just put a glob of peanut butter at the bottom of the cup then poured the hot chocolate on top. And they will tell you, this is not hot
cocoa
, it's hot
chocolate.
It really was just like drinking melted chocolate - very, very rich. Quite tasty, but so rich that neither of us could finish our cups!
Two hot chocolates and a pretzel croissant at City Bakery
A look down at the action, including a guy pouring that thick, delicious chocolate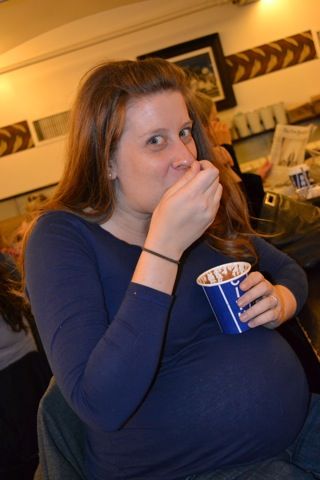 My belly makes an excellent hot chocolate holder!
I've been hearing about City Bakery's hot chocolate for so long now, I'm glad we finally tried it!
And, our first hot chocolate outing on Saturday gave me an idea for an activity on Monday - we should finally get Eric to Serendipity (you know, the place with the
$1,000 sundae
on the menu) to try their Frozen Hot Chocolate. I had already been twice (once with my friend
Amanda
and once with my friend
Megan
), but Eric had never been able to join us. So I figured, why not make it a Hot Chocolate Weekend?
So, back into the city we went, in search of more drinkable chocolate. We got to Serendipity around 12:30 p.m. and the wait time was a measly hour and a half. Sigh. We killed some time browsing in Dylan's Candy Bar on the corner, then went back to check on where we were on the waiting list. The rather kind host must have seen my belly and taken pity on a poor pregnant woman who needs chocolate, because he told us to stay close by and he'd see what he could do. Sure enough, we were happily seated at a table in record time. At last! My largeness came in handy for something other than making Eric laugh!
Once again, I ordered the Peanut Butter Frozen Hot Chocolate and Eric had the regular. I
love
that Peanut Butter one - it's like drinking a Reese's Cup. Eric's regular was delicious, too. We also split a burger. Mmm, mmm. Now
that
is how you spend a President's Day afternoon.
Checking out the menu at Serendipity
Tell me you don't want to drink those goblets of chocolate, I dare you.
What a delicious way to spend a weekend!