Well, Eric is officially finished with the bar! He is on his way back from Albany this afternoon, so I'm excited to see him when I get home from work today. He said the second day of the bar was harder than he expected, but it seemed everyone felt the same way, so I'm sure he did just fine. And it's over! Which means that my bar-related posts will cease (at least until November, when Eric will get his results) and I can move on to discussing more fun happenings, like my family reunion in Cleveland this past weekend.
Every year my mom's side of the family gets together for a big reunion. This is a major feat, because we are scattered all over the county (and sometimes, one or two people are even OUT of the country). It's tough to coordinate schedules, but it's great that everybody makes the effort to get together yearly.
This year, the reunion was held in Cleveland at my grandfather's house. I decided to drive up to Cleveland (cheaper than flying, even with gas prices what they are). My mom and stepdad found cheaper airfare to DC than to Cleveland, so they flew into Dulles Airport on Friday. I picked them up and we left straight from there and made the drive to Cleveland. We got there in about 7 hours, thanks to some bad traffic in Pennsylvania. We were the last to arrive. Everyone else was already there, including my new baby cousin Henry! Henry was born in December, and most of us were meeting him for the first time. Boy, was he a doll!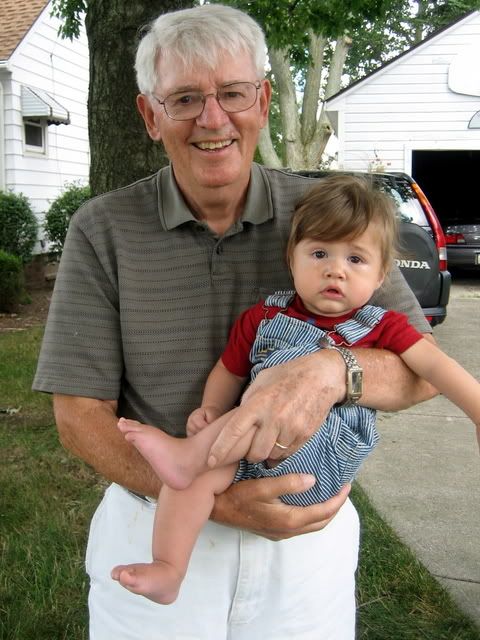 Adorable Henry with Gramps, our patriarch
Everyone had already eaten, so us three travelers heated up some leftovers (delicious stew, courtesy of my Uncle Nathan!) and began catching up with everyone. We also had some birthday cake in honor of all the summer birthdays (including myself, my cousin, my uncle, my stepdad, and my grandpa). Many of us stayed up late into the night, drinking wine and catching up, as we always do!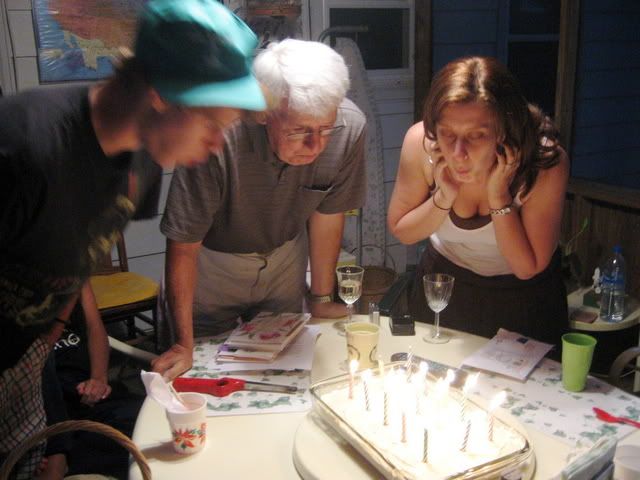 Blowing out our birthday candles (my cousin Adam, Gramps, and me)
Saturday was my family's assigned day to cook dinner, so that morning my sister Heather and I dragged our late-night-wine-drinking selves out of bed to go to the grocery store with our mom to get the fixin's for our evening meal. We decided to cook an Eric and Meghan Original - our pulled BBQ pork! We also made hash brown potato casserole, southern style green beans, and cornbread. So, we spent most of the day on Saturday cooking, walking, napping, and chatting. I also found some time to play with Henry, of course.
Sticking our tongues out at each other (I'm all about teaching kids good habits)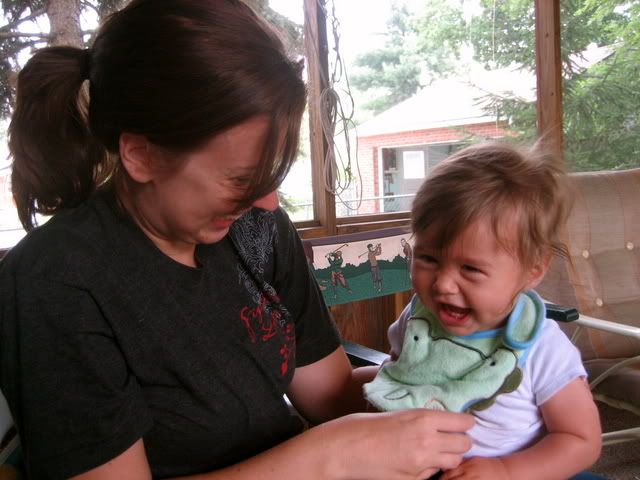 Awww, he thinks I'm funny!
We ate an early dinner on Saturday, because we had to rush off to see an Indians game! It was so much fun. Sadly, they lost 11-4 to the Twins, but we had a great time regardless. It was a gorgeous night, and like true Cleveland fans, we stayed until the bitter end of the game. My friend Megan came along too, which was great. And before the game, my cousin Molly surprised Heather and me with matching Grady Sizemore (oh-so-dreamy) T-shirts! It was also "free hat" day at Progressive field, so we were all very spirited. And there were 18 of us, so we were quite the sight to be seen - we took up an entire row!
Molly, Heather and I before the game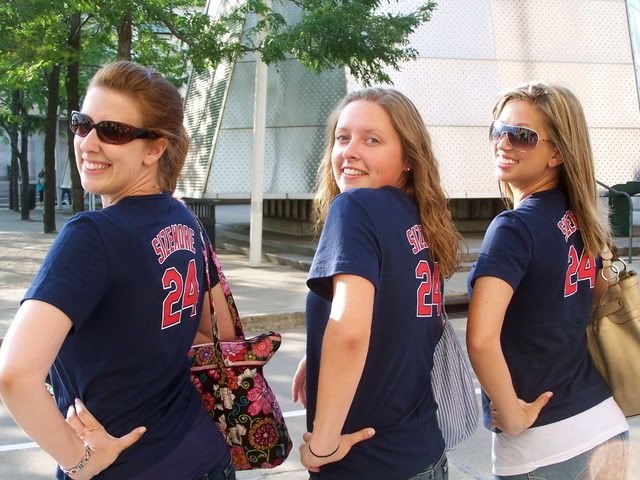 Showing off our Grady t-shirts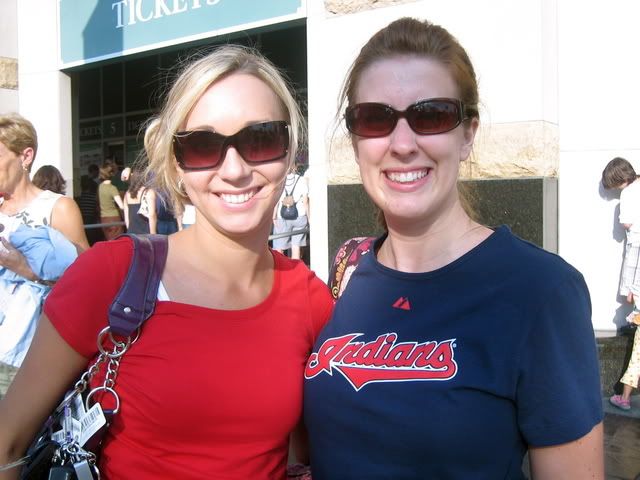 Me with my friend Megan...we realized we've been friends for almost 20 years now!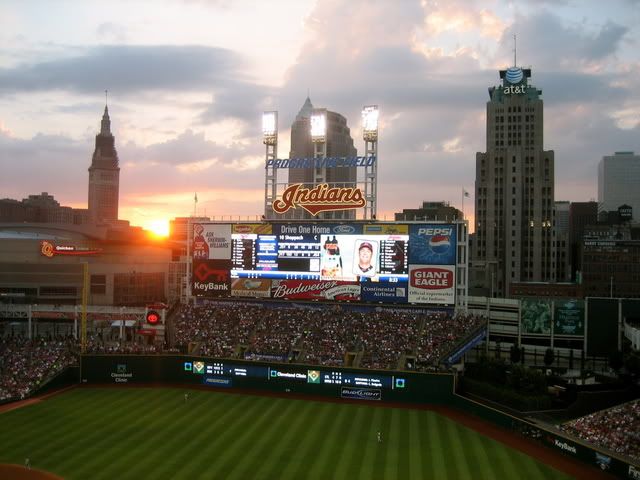 Progressive Field, and a beautiful Cleveland sunset
Our family row! Most of it, anyway...we also filled about 4 more seats to the right, out of the picture!
After the game, we went back to my grandpa's house and had a surprise ice cream cake in honor of HEATHER'S GRADUATION! Yup, my little sister officially has her degree. It was a long road for her, but she worked really hard and was successful. I'm very proud of her. Congrats, Heather!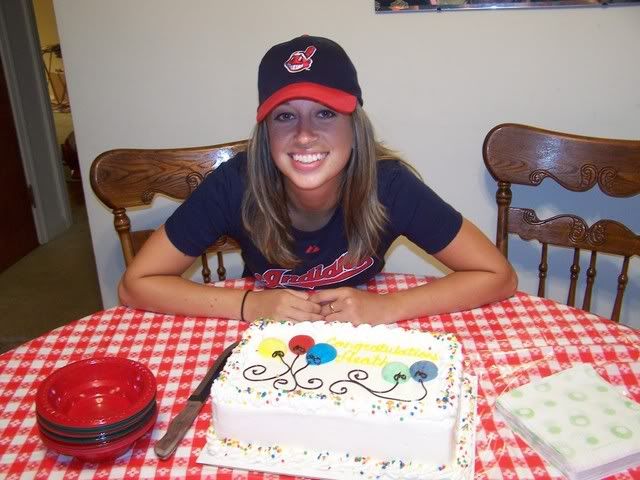 On Sunday, we all got up for church. This time, we took up TWO rows of pews! It's always great to go to church back at the church I grew up in, so that was nice. After church, everyone had lunch, walked, and just generally relaxed before people had to start leaving. Molly, Heather and I took a leisurely stroll around the neighborhood (in contrast to the ever-popular power walks taken by older generations), and ended up at the playground at the nearby elementary school. We had some fun playing there for a bit!
Molly realizing that adult weight is harder than child weight to swing across monkey bars. Especially monkey bars that spin.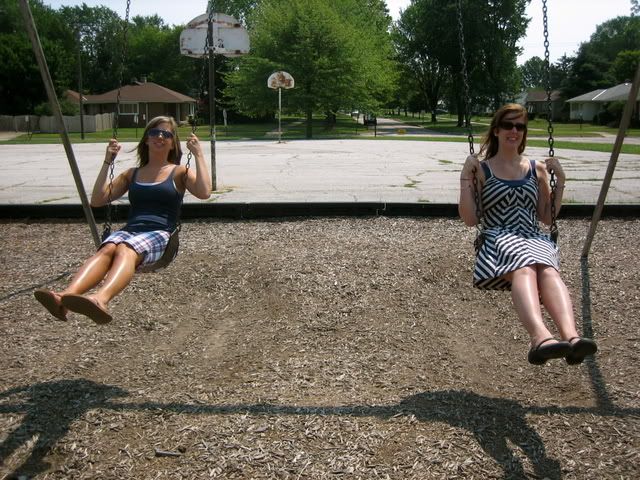 Swings aren't quite the same anymore, either. I don't remember them making my stomach flip so much when I was a kid.
And they definitely weren't as tight on my hips.
Molly and I also found the time to spend some quality time in the grass with Henry. He is just too cute for words.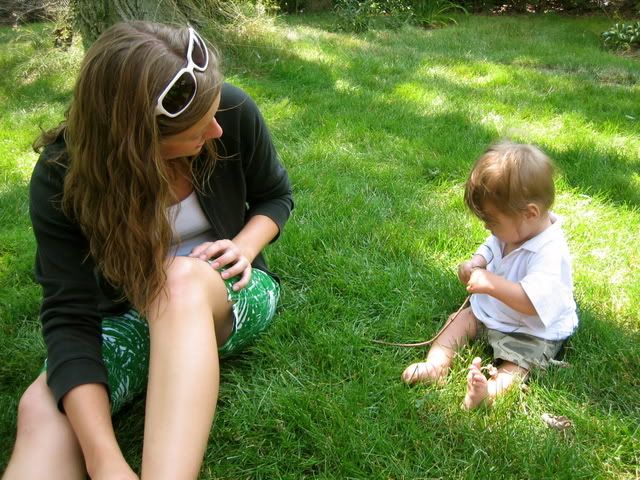 Molly sitting with Henry while he plays with a stick.
Another sign that Molly and I might be adults now: we were both pretty concerned he might poke his eye out.
Me and my littlest cousin
Then, slowly but surely, people began to leave. That's always the sad part. By dinnertime, everyone had left except me, my mom, and my stepdad. That night, my mom met up with and old friend of hers and I went out for drinks and dessert with Megan at Cheesecake Factory. Mmm, mmm was that good. I had a raspberry martini that was heavenly, and we shared a strawberry shortcake and slice of raspberry chocolate truffle cheesecake that were both to die for. So, so good.
Monday morning, we got up early and left Cleveland at 7:00a.m. We had a pretty smooth drive back to DC, and got in around 1:30pm or so. My mom and Gary weren't flying out until Tuesday morning, so that gave us Monday afternoon to sight-see and relax. First, we had lunch at my apartment and looked through my bajillions of wedding-related photo albums. Then we went out to Arlington Cemetery so my mom could see the grave of my great-Uncle Bob. We also caught the changing of the guard at the Tomb of the Unknown, which is always nice.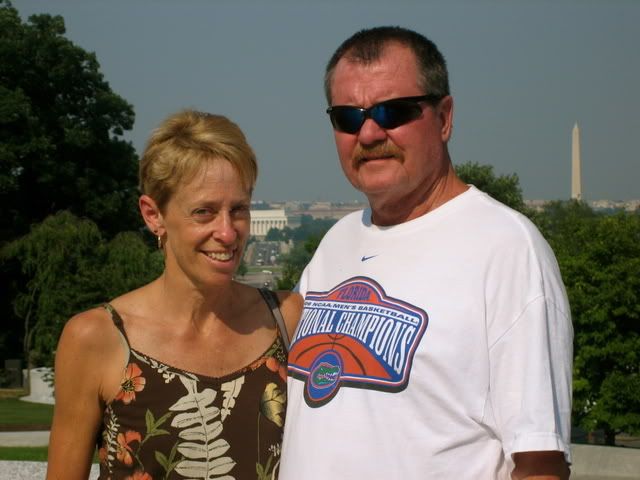 Mom and Gary at Arlington Cemetery
After the cemetery, we went to Chipotle for dinner - their first experience with the deliciousness that is Chipotle! Always an exciting time. They liked it! Then, we went back to my apartment and I showed them the Wii Fit. My mom gave it a try, and got the hang of it pretty quickly!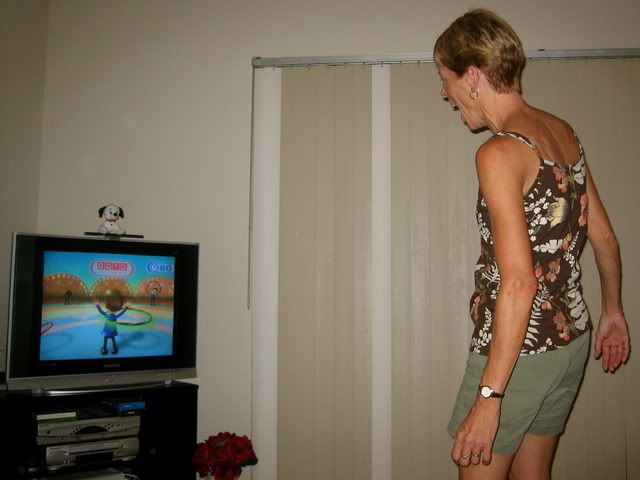 After that, it was time for bed. Mom and Gary had an early flight on Tuesday, so they were gone before I woke up that morning. And so ends another family reunion! They are always so much fun, so it's sad to see them end. Can't wait for next year!