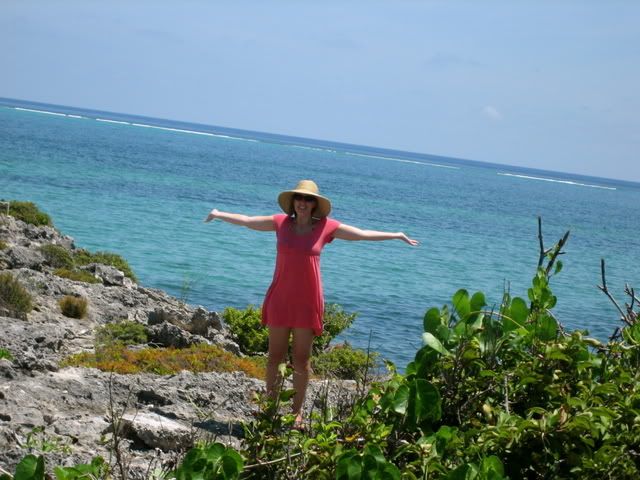 We're back from our first anniversary trip to the Cayman Islands! We had a fabulous time and I am so sad that it's over. I always have such a terrible time coming back from the Caymans. It's just far too nice to leave. I hope you all are prepared for a
loooong
recap, because we did lots of fun things! Here we go...
SUNDAY (Also known as "No Caymans for You!" Day)
As you may recall, we were concerned about Tropical Storm Fay causing problems for our flight down there. Well, our flight was cancelled. But not because of Fay! We got to the airport for our 3:30p.m. flight on Sunday, all prepared to start boarding our plane at 2:45p.m. We had time to grab some lunch and stock up on coconut rum at the duty free shop, and we were ready to go. Well, 2:45 came and went, and then 3:30 came and went, and we still weren't boarding. Shortly after 3:30 they made an announcement that there was some mechanical problem with the plane - an "inoperable part" - and they were trying to get a replacement part. So, we sat and waited for an hour. Then they finally announced that the replacement part was going to have to be flown in from Grand Cayman, so our flight was cancelled, and all other outgoing flights on Sunday were already full, so we couldn't leave until the next morning. So, I called my dad to come pick us back up and back to his house we went. Once again, it was like flashback to last year...expecting to be in the Caymans, but ending up at my dad's house instead!
MONDAY (Also known as "Our Anniversary!")
So, Monday morning we headed to the airport bright and early to catch our rescheduled flight, and this time we boarded and took off on time. Hooray! We did have to fly around Fay, which made our flight a little longer, but we got there, and that's all I was looking for! We arrived in Grand Cayman around noon Cayman time, found our ride, and made our way to the resort. 
The Cayman airport...you walk down the steps off the plane, feel the warmth of the Cayman sun, see this sign, and hear a Caribbean band playing!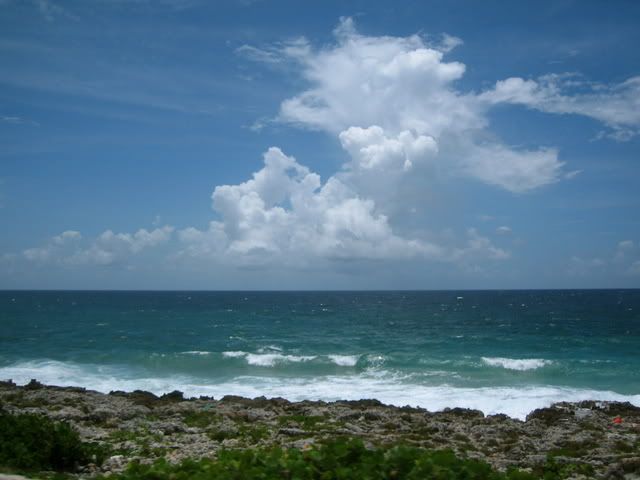 View from the window of the van as we drove to the resort
We checked in and went to our room, which was in the oldest building, furthest from the main building, which actually ended up being great. It was quiet with a great view, and our room was very nice.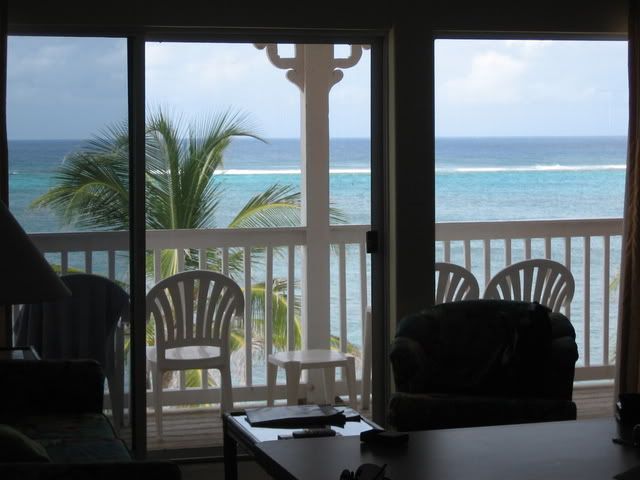 After settling in, we changed into our bathing suits and went to meet our resort host, Jim, who was surprisingly unfriendly and seemed displeased that we arrived a day late (even though we called the resort after our flight was cancelled to let them know we'd be late). But, we were just happy to be there, so nothing could get us down! We went to the pool and enjoyed shrimp
quesadillas
and drinks at the pool bar. Once we were cooled off and relaxed, we left the pool and walked across the street to the grocery store to stock up on food for the week.
That evening we went out to the Dock Bar for the welcome cocktail reception. The sunset was gorgeous! We enjoyed some rum punch and
CayBrew
beer while watching the beautiful sky.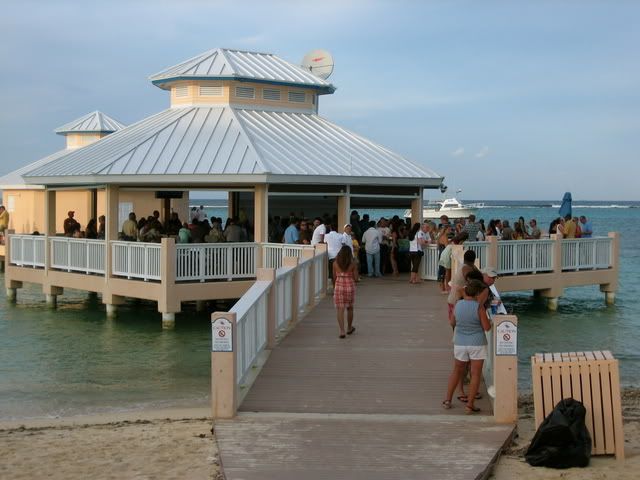 The Welcome Party on the Dock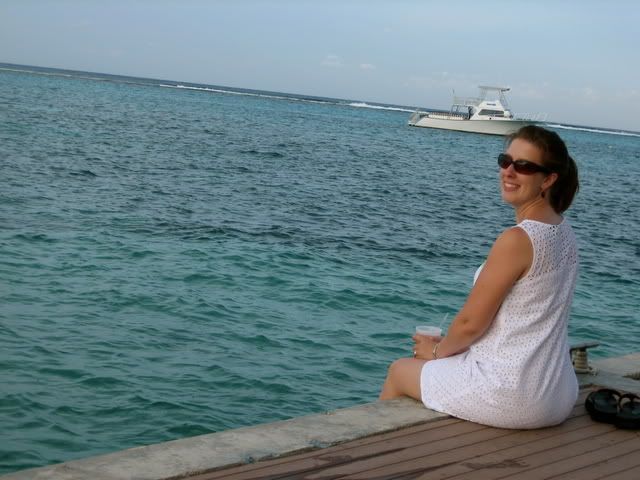 Me enjoying my rum punch on the dock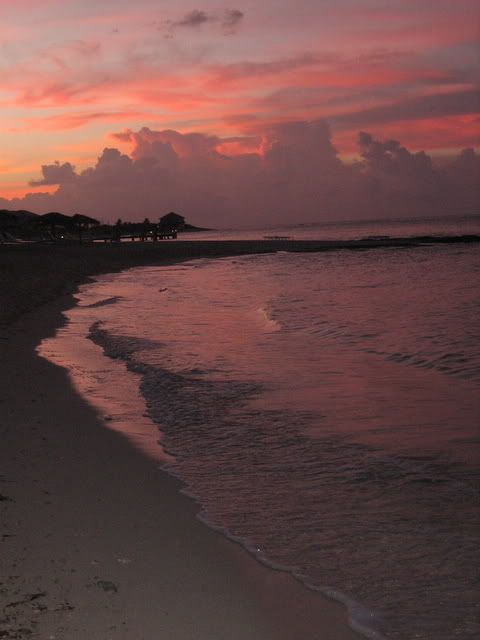 Gorgeous sunset! How bad do you want to walk on this beach right now?
After the Dock party, we went to the
veranda
of the resort for their Caribbean buffet dinner. We dined on jerk pork, beef, and fish, plus rice and beans, bread, plantains, and salad.
Mmmm
! Dinner was followed by the always fun Fire and Limbo show, featuring a limbo underneath flaming bars resting on beer bottles. Impressive! Our seats weren't great for this, but we've seen it many times before so we were okay with just relaxing and enjoying our dinner.
The happy couple at the Caribbean buffet
After dinner we went for an evening soak in the hot tub (the hot tub is pretty much Eric's favorite part of the resort...especially the rush you get when getting in with sunburned skin. What can I say, he's weird). Then we went back to our room and looked back through wedding pictures and reminisced about our wonderful wedding and first year together, which was amazing. Seriously, I love being married, and Eric does too. This last year has been the best!
Then, it was time for bed. We did the same thing we did last year in terms of sleeping - we didn't sleep in the actual bedroom once. Instead, we turned off the AC and opened up the sliding doors and windows, then slept on the sofa bed in the living area, so we could be closer to the balcony and listen to the sound of the ocean as we slept.
Sooooo
nice.
TUESDAY (Also known as "The Sunburn Day")
Tuesday was a "Do Nothing Except Relax" kind of day. When we got up we headed right down to the beach, where we pulled our beach chairs down to the water's edge so the waves would splash up around us. We spent the better part of the day there, just enjoying the sun and reading. I actually read the better part of a GREAT book called "The Art of Racing in the Rain" by Garth Stein. I highly recommend it to any dog-lover!
When we had tired of the beach, we went to the pool for a bit to cool off, and Eric of course spent some time in the hot tub again. Crazy boy.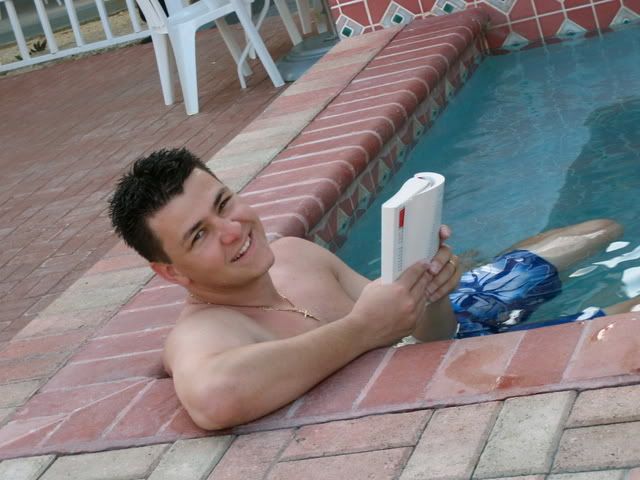 Handsome husband hot-

tubbing
We then went back up to our room to enjoy drinks on our balcony while watching yet another beautiful Cayman sunset. I could really get used to this!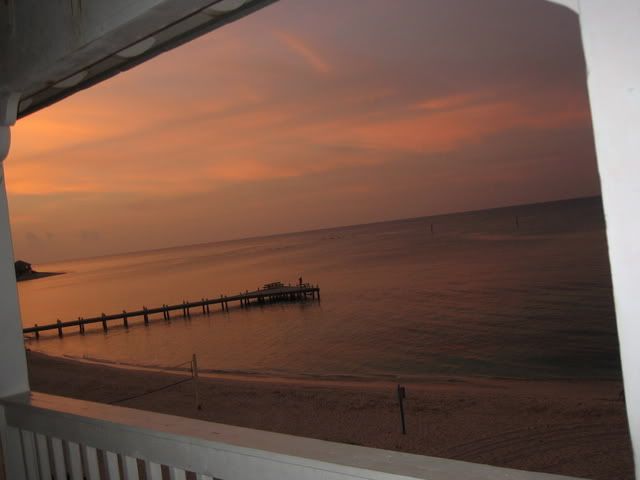 More sunset from our balcony
That night we had dinner on the
Veranda
of the resort again. We had a delicious seafood chowder as an appetizer, then Eric had seafood pasta and I had scallops
au
gratin for dinner. The chowder actually really filled us up, so we ended up taking most of our dinner back to the room. We dropped our food off and then went back down to the beach to admire the beautiful moon and listen to the karaoke happening on the Dock Bar.
Having dinner on the

Veranda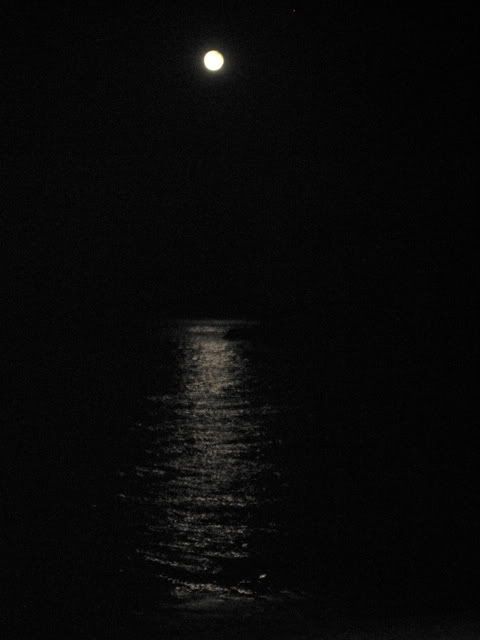 When we got back to our room, we performed the first of many Aloe Application Rituals. We had been sure to apply sunblock periodically throughout the day (SPF 30), but either it just wasn't strong enough, or I have serious back-of-leg application problems, because the back of my legs got SCORCHED. We're talking barely able to sit down kind of pain. It was ugly. So, we kept the aloe in the fridge and frequent aloe applications became part of our daily routine! As did staying out of the sun whenever possible. Bummer.
WEDNESDAY (Also known as "Andrew Bacon Day")
We started Wednesday off with the usual aloe/sunblock application then went to meet with Resort Host Jim to get ourselves set up with reservations for dinner and other things we needed to do for the week. We then went over to the pool bar for another round of shrimp
quesadillas
for lunch, some quality reading time in the shade (I finished my book!), and the ever-popular Mudslide Madness. We weren't at the really "happening" pool, so although there were mudslides, there really was not much madness. That was okay by us, though!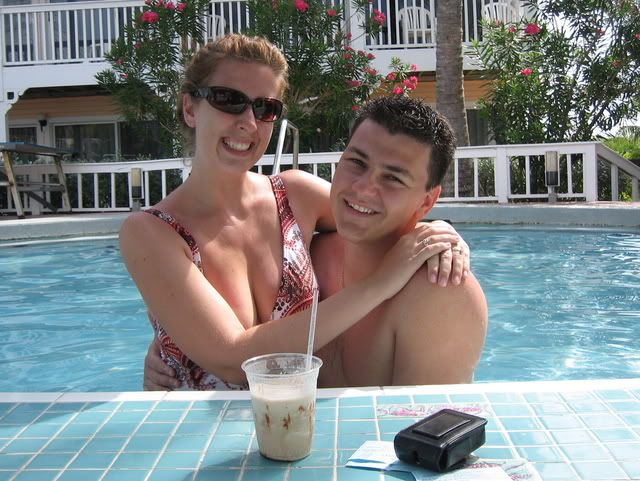 Enjoying our mudslides in the pool
After finishing our mudslides, we went over to another one of the three pools for "
Yoqua
," which is basically yoga in water. It was fun! Our
Wii
Fit yoga had really helped us prepare!
That evening we went to the resort next door, The Reef, because the former entertainment coordinator from our resort, Andrew Bacon, was going to be leading "Name That Tune." We loved Andrew Bacon when we worked at our resort, so we were excited to see him in action again. He actually recognized us, too! We didn't do really well at Name That Tune (although I did get one point for "I Will Survive!"), but it was fun nonetheless. We also enjoyed drinks and conch fritters, and watched the impromptu limbo contest that followed the game. Once the limbo craziness was done, Andrew played some music so we could all dance, including my two favorite Caribbean dances: the Dollar Dance and Swing Engine. It was a blast! And, in honor of our anniversary, Andrew played "The Way You Look Tonight" so Eric and I could slow dance.
Awwww
.
Music video for "Swing Engine!" I dare you to listen to this and not dance.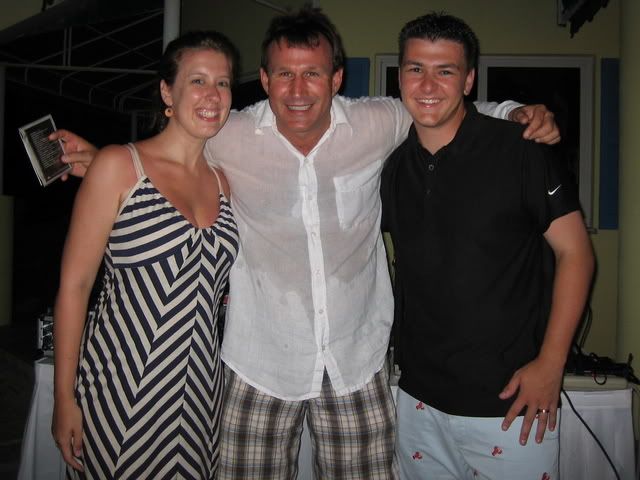 We then returned to our room for snacks and drinks, and watched the Olympics a bit. Then it was time for more aloe and bed!
THURSDAY (Also known as "Stingray Day")
Thursday was a fun day! We got up early and met some new friends of ours in the lobby. We were all carpooling together to Rum Point to catch a Catamaran to Stingray City! Our new friends are named Angel and Adriana, and they live in New Jersey and are very willing to welcome us to New York. They were so friendly! And they didn't mind at all letting us hitch a ride to Rum Point, because we had no other way out there. So it was a great setup.
We got to Rum Point around 9:30a.m. and hung out for a bit before boarding the catamaran. Then we were off to our morning of snorkeling and stingray fun!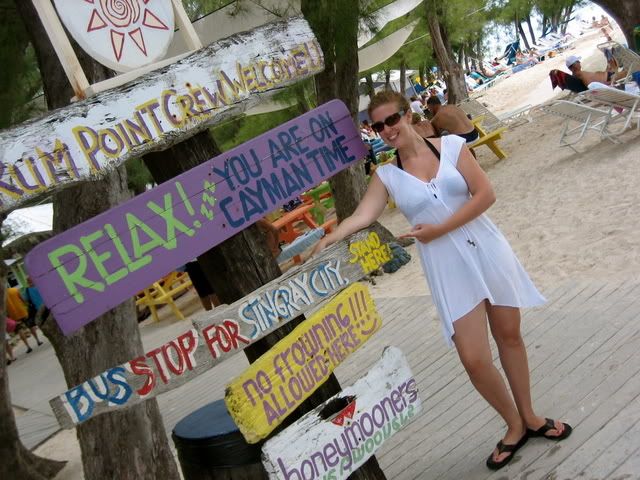 Me at Rum Point - the bus stop for Stingray City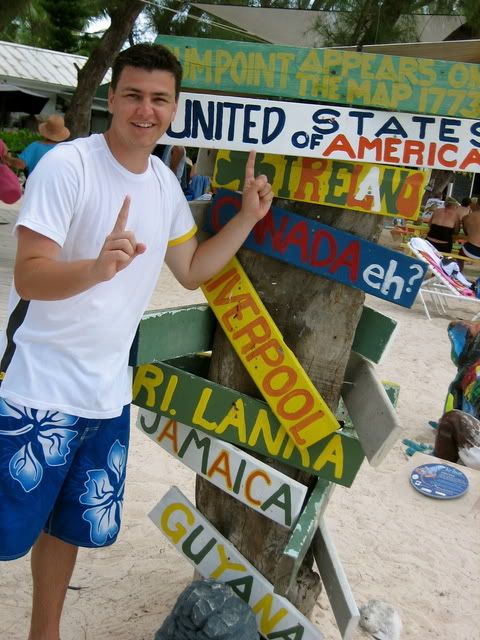 Hooray USA! (In the spirit of the Olympics, of course)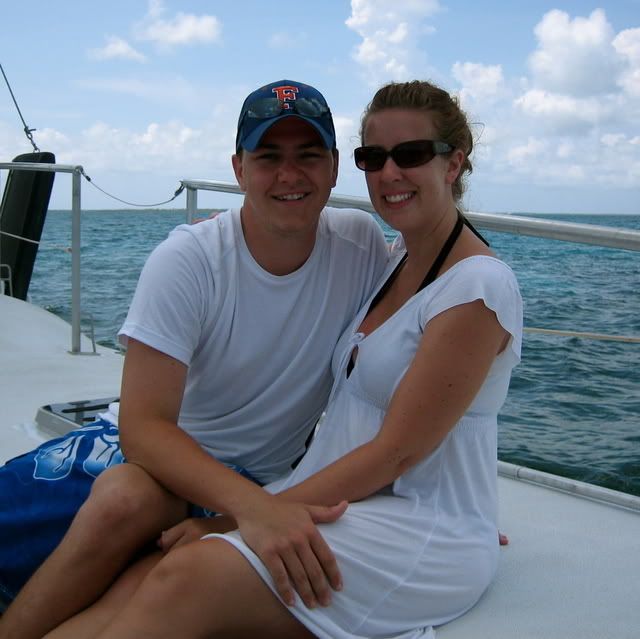 Our first stop was a reef for snorkeling. It was really interesting, because on the side of the reef where we were snorkeling, the water was only 10 feet deep. However, if you crossed over to the other side of the reef, it dropped to 4,000-6,000 feet! Wow! We spent some time snorkeling here, and some people saw some neat things like jellyfish, sharks, and eels. I saw a rainbow fish and a couple schools of fish, but not much else. I enjoyed it though! I hadn't been snorkeling in quite some time.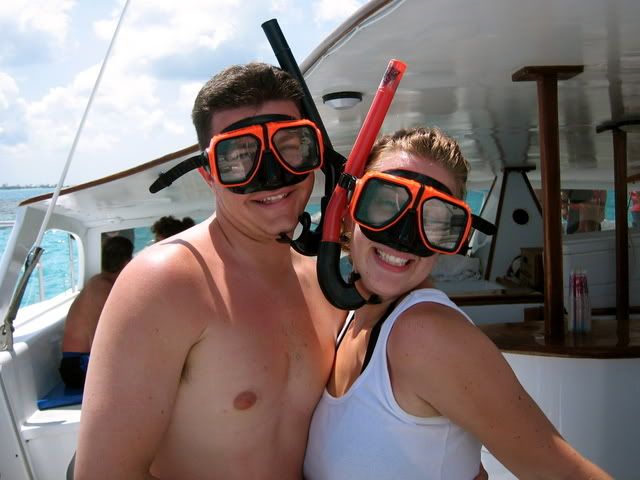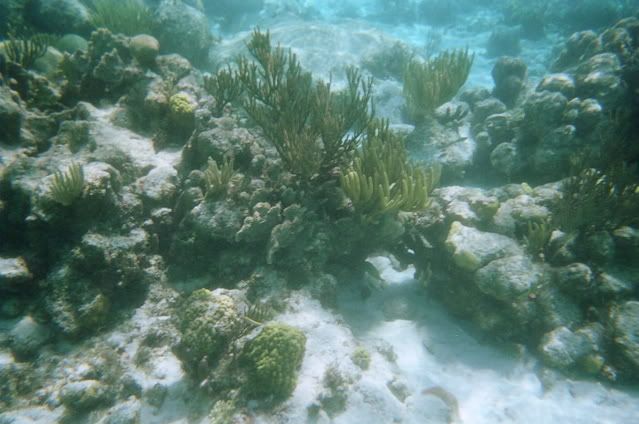 After snorkeling at the reef, we got back on the catamaran and headed over to the Stingray City sandbar, which is really unlike anything else. Apparently, years ago, fishermen would stop on this sandbar to clean or cut up their fish (or whatever fishermen do), and then would throw the scraps overboard, which brought the stingrays to the sandbar. Over time, the fishermen started feeding the stingrays, and eventually it evolved into a tourist destination, with thousands of people going there to swim with the stingrays each day. There are just hundreds of stingrays swimming all over, brushing up against you and swimming right by. You can pick them up, pet them, and feed them. It's amazing.
I really enjoyed this part of the day, although you might not have known it if you saw me there. Whenever a stingray came near me, I tended to scream and run away. Seriously, they kept chasing me, and my response was certainly flight as opposed to fight. But, I managed to stay the whole time in the water, and I even petted, held, and KISSED a stingray! I was so brave.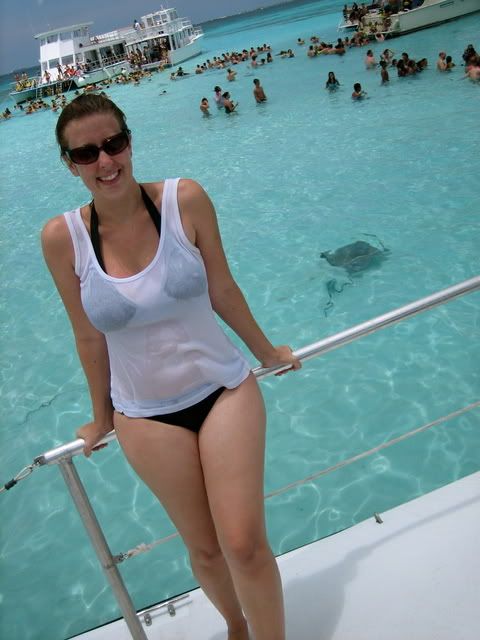 Me on the catamaran at Stingray City (note the stingray swimming behind me!)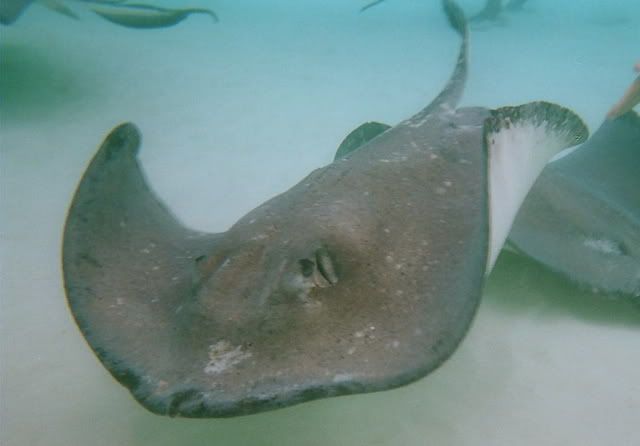 One of the many stingrays!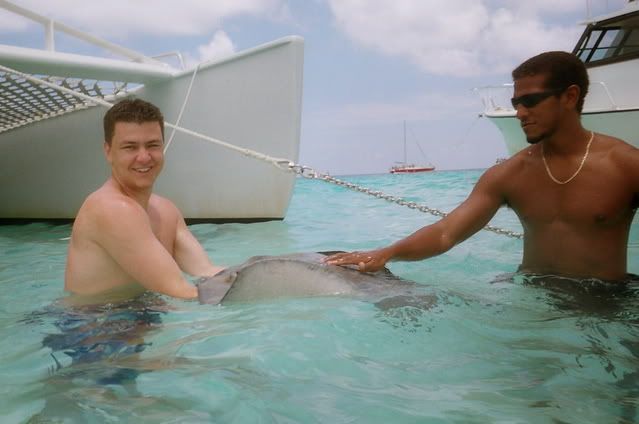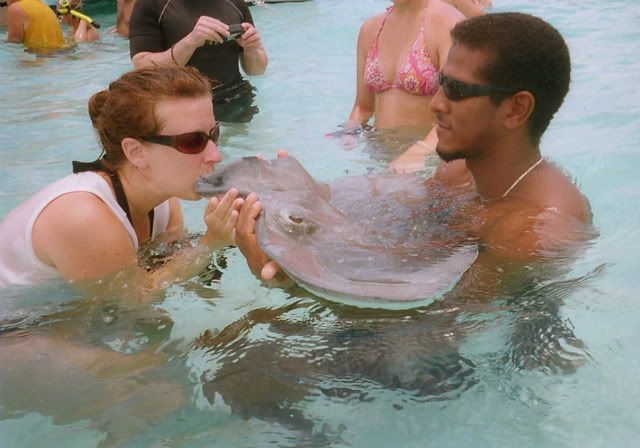 Smooches for the stingray! Supposedly it's 7 years of good luck if you kiss one. Here's hoping that's true, because it was slimy.
After Stingray City, the catamaran took us back to Rum Point, where we enjoyed lunch with our friends. I had a delicious blackened mahi sandwich, and Eric had even better jerk pork with rice and corn on the cob.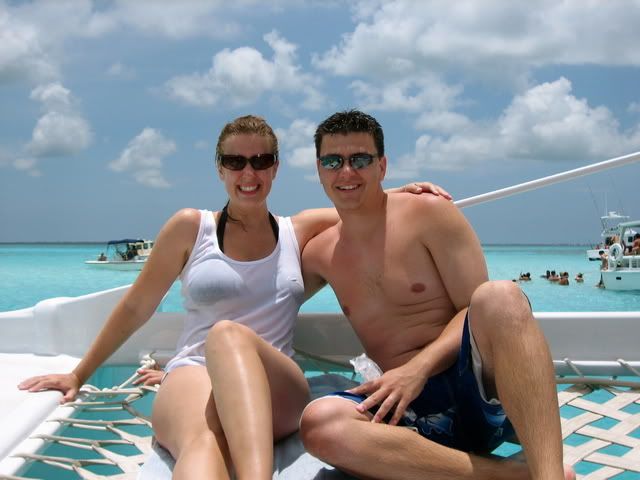 Happy after our snorkeling and stingray fun!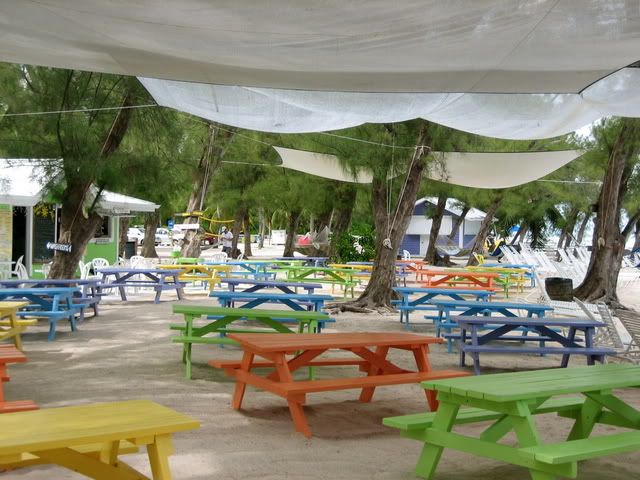 Picnic tables at Rum Point
After lunch we went back to the resort, and Eric and I enjoyed some rum cake on our balcony before heading down to the disappearing-edge pool for drinks and cooling off with our friends. We ate dinner that night in our room, and then went back out for another late night swim/hot tub. Then it was back to our room for more Olympics before aloe and bed!
FRIDAY (Also known as "Bike Day")
Friday was also really fun, and full of things we had never done before! When we got up, we got dressed and rented bikes from the resort. Then we set off on our bike adventure!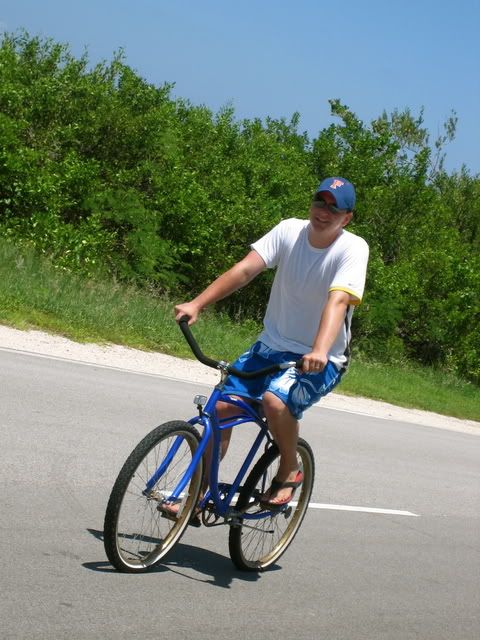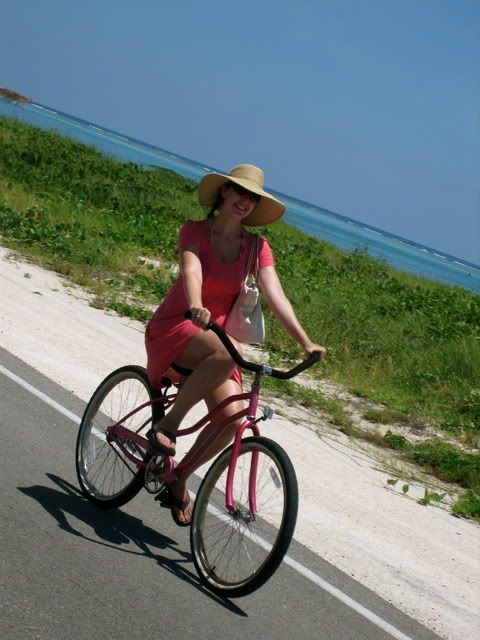 Our first stop was Vivine's Kitchen, which we have been hearing about ever since we started going to the Caymans but we've never been there. Apparently, Vivine cooks literally out of her kitchen in her house every day, and serves the food in her back yard. You walk up to her house and place your order through a back window. It's supposed to be some of the best local fare on the island, and the menu changes daily depending on what she has available. We were so excited to try it, and it was GOOD!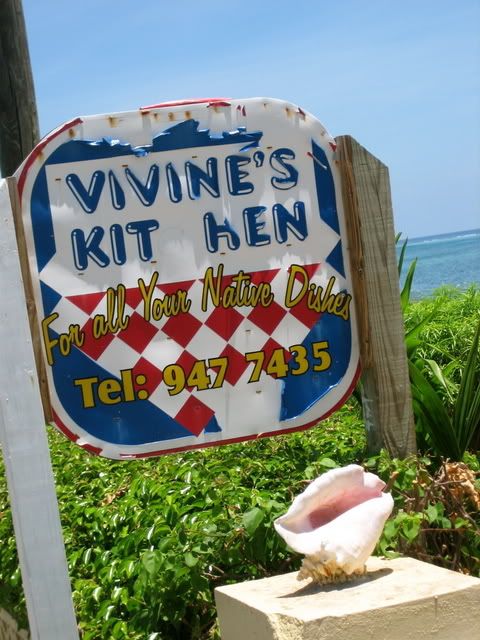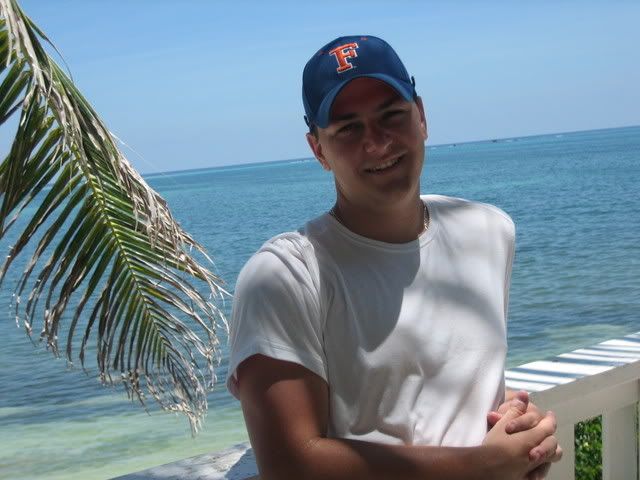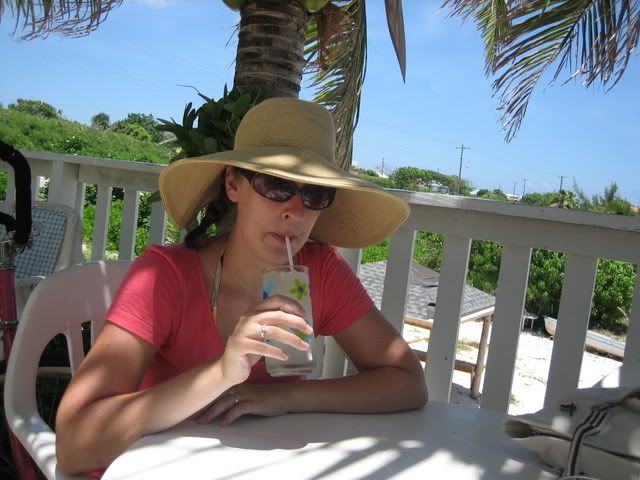 Drinking the best lemonade I have ever tasted.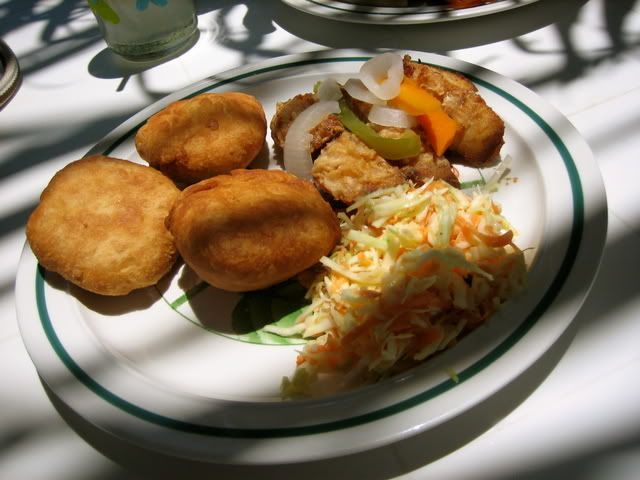 My lunch: fritters, fish and coleslaw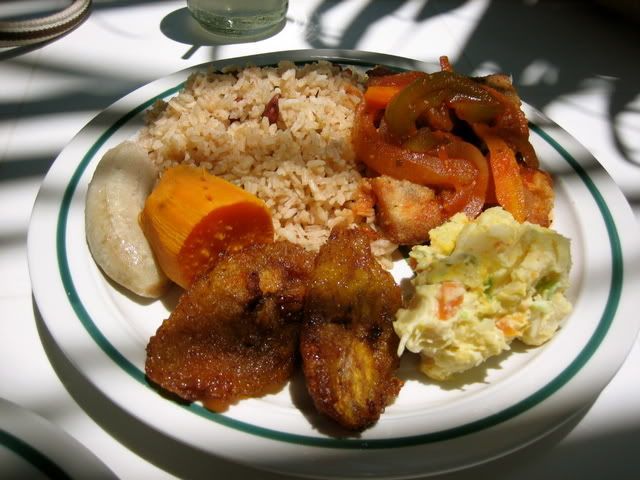 Eric's lunch: rice, fried fish with peppers and onions, potato salad, fried plantains, and a sweet potato
We had planned to head back to the resort after lunch, but we were having so much fun on our bike ride that we decided to continue on and explore a little more of the East End of the island. We had  a great time! We saw all sorts of neat things we hadn't seen before: remnants of shipwrecks, a memorial commemorating the 200th Anniversary of the Wreck of the Ten Sail and the Queen's visit to that spot, the East End lighthouse, the public library, pretty cemeteries, chickens, and of course, the usual gorgeous scenery.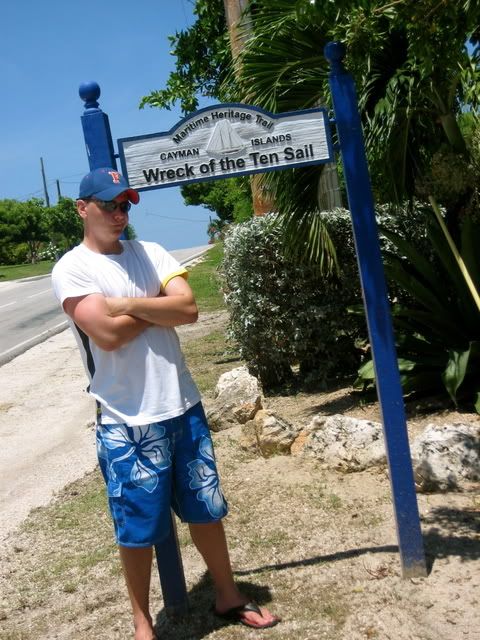 Me at the Ten Sail Monument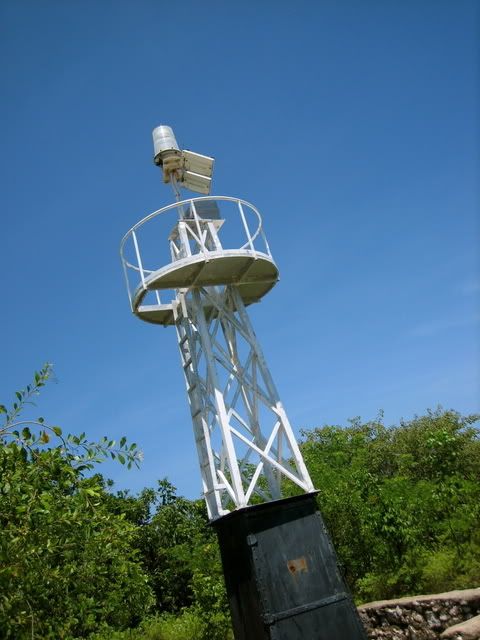 The super-fancy East End Lighthouse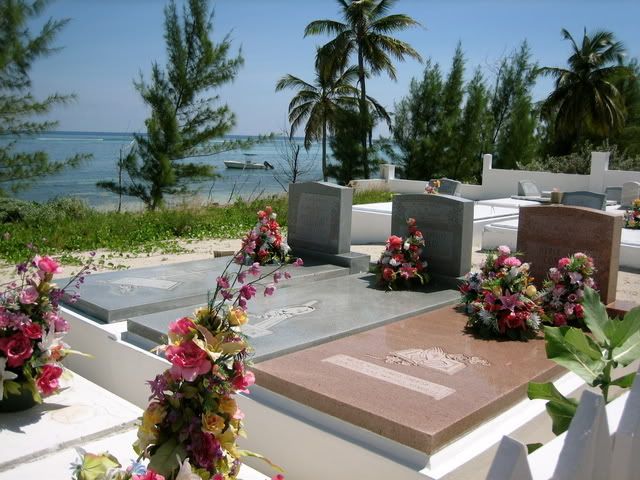 One of the seaside cemeteries...they're all decorated with so many pretty, bright flowers like this
After our bike ride, we went to cool off in the pool and then cooked dinner in our room. Later we went for an evening walk on the beach, then back to the pool and hot tub. We finished up the night with our usual routine: Olympics, rum cake on the balcony, aloe application, and bed!
SATURDAY (Also known as "Do We Really Have to Leave???" Day)
Saturday was our last day (BOO!). We decided to make it another relaxing day, but we wanted to hit all of our favorite relaxation spots: the beach and two different pools! We started at the beach, and spent some time under one of the little tiki cabanas which was so very nice. We also checked out the hammocks.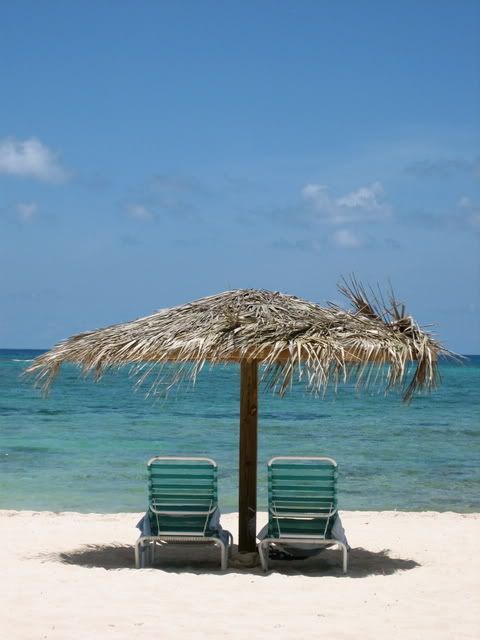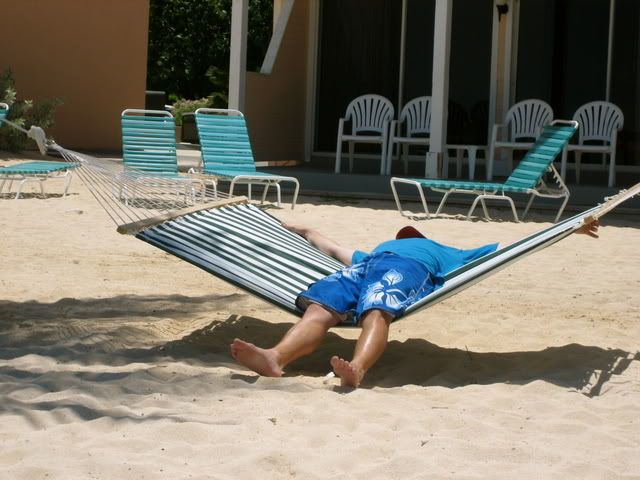 After the beach we went back to the Premier pool bar for - you guessed it - shrimp quesadillas. Mmm, I love those shrimp quesadillas.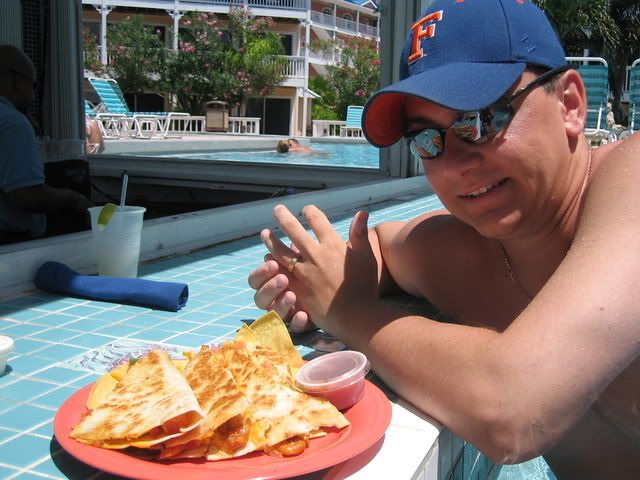 Eric and the deliciousness that are shrimp quesadillas
After lunch we did a little souvenir shopping at the shopping center down the street, then went to the disappearing-edge pool for swimming and hot tubbing until we had to head back to the room to get ready for dinner.
We had dinner at Portofino's, which has always been a Cayman favorite of ours. We actually even sat at the same table that we did last year when we went! We both had conch chowder as an appetizer, then I had the Caribbean Mix (shrimp, scallops, mahi, salmon and lobster) and Eric had filet mignon stuffed with lobster. It probably goes without saying that it was soooo good.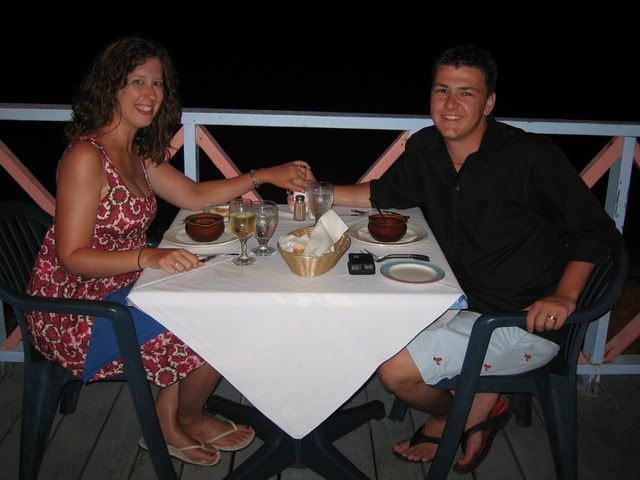 After dinner we went back to the resort and had drinks in our room, then went out to the pool and hot tub for the last time. Then it was back to the room for rum cake, packing, and looking back over all of our pics from the trip. By that time it was nearly 1:30a.m. (Cayman time), which we were waiting for so we could watch the Men's US Basketball team play Spain for the gold. We had planned to just stay up until the US started really blowing them out, but that never really happened, so we ended up staying up for the whole thing - until 4:00 a.m.! Then we immediately crashed because we had to get up early to go to the airport the next day.
SUNDAY (Also known as "I Really Resent All Those People That I See Just Arriving in the Caymans While We Have to Leave" Day)
We were up at 8:00a.m. to finish packing up and catch our ride to the airport. We got to the airport with plenty of time to do some souvenir shopping (read: stock up on liquor and rum cakes) before our flight left at 11:30 a.m. Before we knew it, we were back in Tampa!
It really was a fantastic trip. I can't wait to see where our SECOND anniversary will take us next year!