Today was Move Out Day! In preparation, we spent the last few days sorting through stuff, throwing things away, organizing, donating, etc.  This morning, we were up and at 'em pretty early, as we had some final preparations to take care of before the movers arrived. We were told to expect them between 9:00 and 11:00 this morning, so naturally they arrived at 10:53. We were up and ready to go by 9:00, though!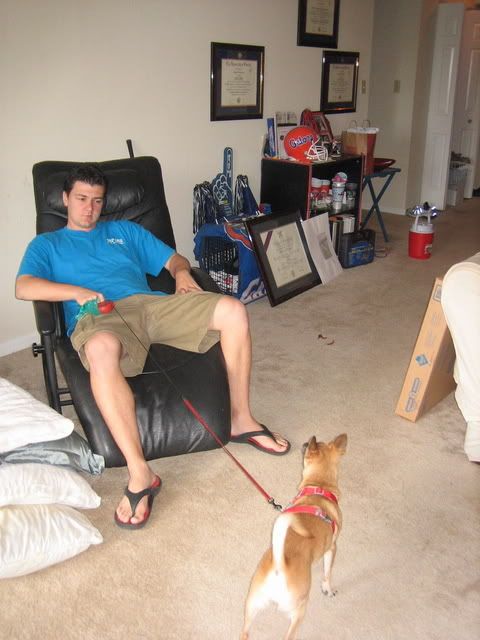 Eric and Achilles waiting for the movers to arrive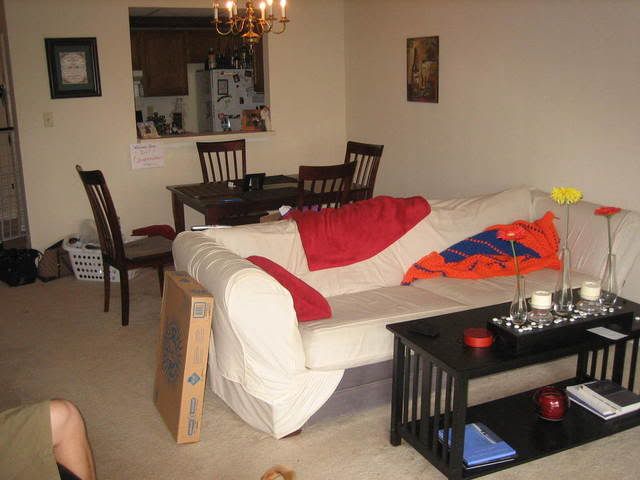 A "before" shot of our living/dining room
The movers arrived with a GIGANTIC truck that didn't fit in either the front or back parking lot of our building, so there was some minor confusion regarding where to park it. Once that crisis was averted, the four men could get started packing us up and moving us out.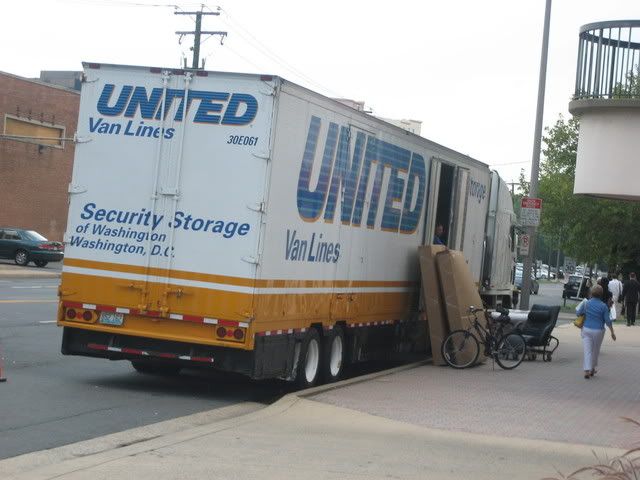 While the movers worked inside, Achilles and I got settled out on the balcony. Achilles was his usual totally casual, relaxed, friendly self when the movers arrived....oh wait, he's never casual and relaxed and friendly when there are strange men around, not even a little bit. Actually, he was a psycho, barking machine, so we set up camp outside to 1) stay out of the way, and 2) keep the dog from barking his little head off. I also had to keep him leashed, because there are big gaps in the bars of the railing on our patio. I had visions of him dashing through the bars and throwing his little self off the balcony, so the leash stayed on. We were also out there with all of our "KEEP" stuff, which is everything that we are either taking to Florida with us, or are keeping in DC with us to live off of until we leave. So, it was moderately crowded out there, but okay. The weather was sunny and pleasantly warm, with a nice breeze, so I was kind of enjoying being stuck out there.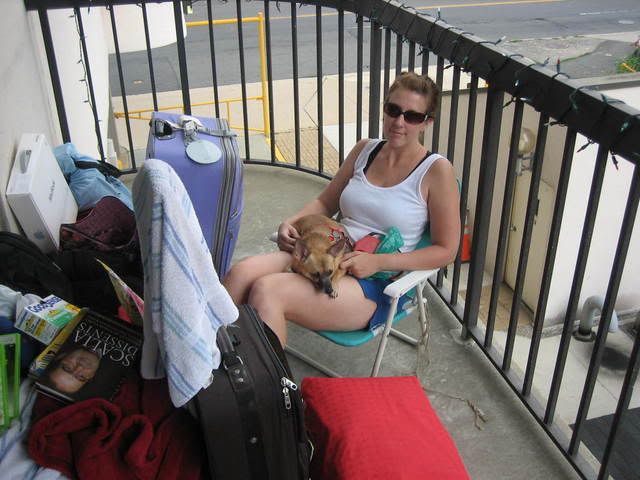 Achilles and I banished to the balcony
All was progressing pretty well, until I started to notice that the sky was getting darker...and darker...and darker. And, then the thunder and rain started. It was okay for a while, but as the wind shifted I had to do a one-handed maneuver (while still holding onto Achilles' leash) to cover all of our FL/DC stuff with a tarp. Thankfully, it was a very Florida-
esque
storm and was over quickly. However, it did rain again later, too.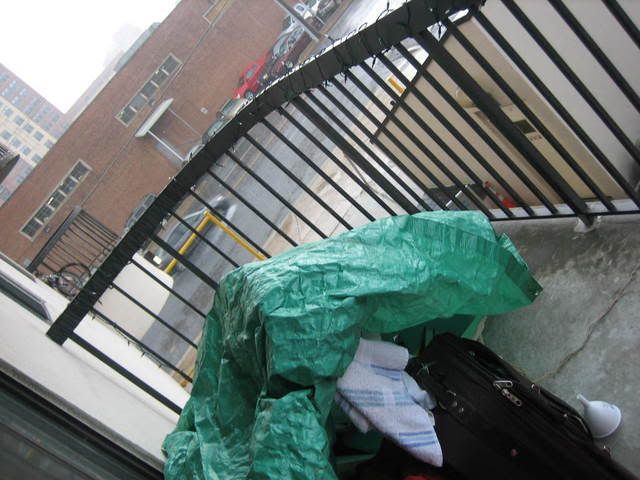 Our stuff, under the protection of my impressively-placed tarp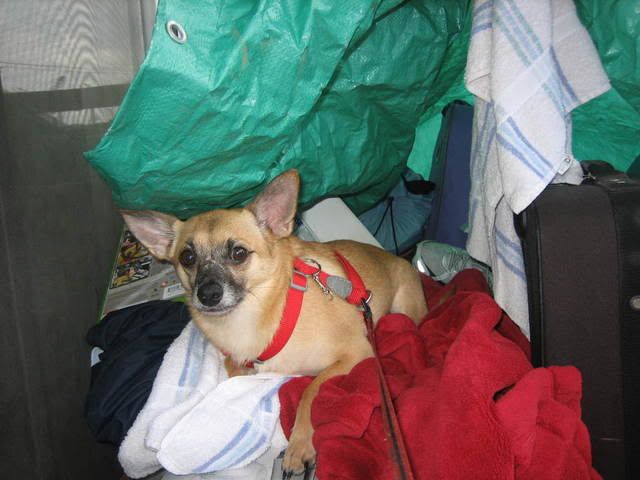 Even Achilles climbed up on the pile of stuff to get in on the "under the tarp" action
The movers worked until a little after 6pm, so it was a pretty long day. But, all of our stuff is now packed up and on a truck, making its way very slowly to NYC.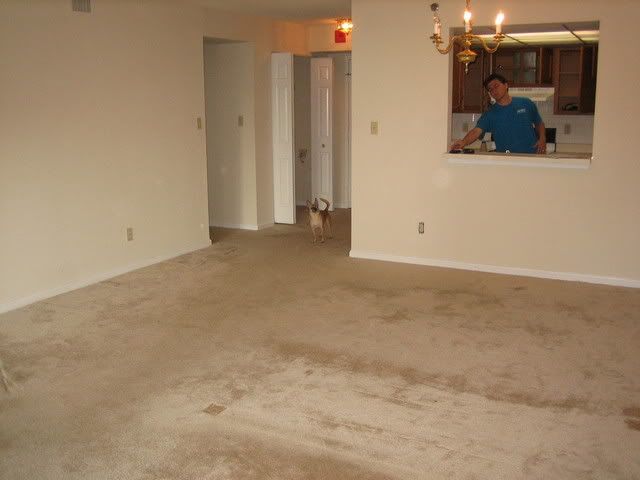 The "after" shot of our living/dining room!
Which brings me to the big issue of the day: when is our stuff getting to NYC? Last week, when the moving company had called to confirm today as move-out day, we asked when we could estimate having our stuff in NY. The woman we spoke to said she couldn't guarantee a delivery date, but it would probably be by Monday. We thought, "Monday! Great! That means we can be in Florida by Wednesday, earlier than expected! Perfect!" 
However, there was some miscommunication, it seems. When the movers arrived, Eric asked the driver again when he expected to deliver our stuff to NY, and the driver indicated it would not be before next Thursday or Friday. That was when we started to panic. Thursday or Friday?! If it doesn't get delivered until Friday, we'll be in quite a rush to get it unloaded, get back to DC, and drive to Florida so we can catch our flight to the Cayman Islands for our 1-year anniversary trip (HOORAY) on Sunday. Yikes. 
So, we talked to the lady at the moving company again. This did not calm our nerves. She said that the truck would have to stop off at the NY warehouse on Thursday or Friday so our stuff could be transferred to a smaller truck (did I mention the current one was GINORMOUS?) for delivering in Manhattan. So, she said again, Monday could be the day...which finally caused us to catch on. By Monday, she meant Monday, August 18, NOT August 11 as we had assumed.
Ooooh
no.
The driver assured us that he would not in fact need a smaller truck, but that there was definitely no way he could deliver our stuff before Thursday. It would probably be Friday. So, we worried ourselves over this a bit.
After the movers left, we set up our apartment for life until we leave DC. It's super glamorous, so try not to be jealous. We have a borrowed air mattress in our dining room and boxes for a dining room table. We also have a random beach chair for seating. Oh, and a really nice old shower curtain liner that is held up with staples. Who knew my life as a lawyer's wife would be oh, so luxurious?
Our dining-room-turned-bedroom. 
You think it's fancy now, but this is even before I put a box on one side of the bed so I could rest my beer on it while I caught up on my emailing.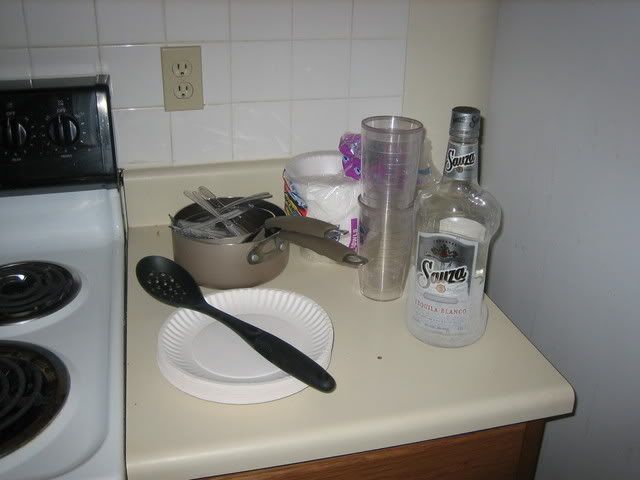 Our kitchen supplies to get us through the week: 
Paper plates and bowls, 2 pots and a spoon, plastic silverware..um..
borrowed
 from

Chipotle

, 2 cups, and a bottle of Tequila. 
It's going to be a fun weekend.
Anyway, back to the Friday delivery problem...which brings me to our new best friend, Jose. Jose went to school with our former roommate Jeff and is going to be working at Eric's firm with him. He has already made the move to NYC, and unlike most people who just finished the bar exam, he is not planning to take a vacation this month (apparently he already went to Asia earlier in the summer, so don't feel bad for him). So, dear, wonderful Jose has agreed to be there for the delivery on Friday! Eric will go up to NYC on Monday to get our keys to the apartment, and then he will give them to Jose and Jose will be the one to oversee the move-in on Friday. That way, Eric can come home Monday night and we can leave for Florida on Tuesday. THANK YOU, JOSE!!!
So, all is well! It was such a long day, though. We're all exhausted. It's amazing how tiring moving can be, even though we didn't actually pack much of anything and didn't move a single box or piece of furniture today. Part of my problem is that I haven't been sleeping well lately. I fall asleep just fine, but I wake up early every morning, just running through lists of things in my head that need to be done before the move. Hopefully, now that our stuff is gone, my mind can relax in the early-morning hours and I can get a good night's sleep. We're all just beat!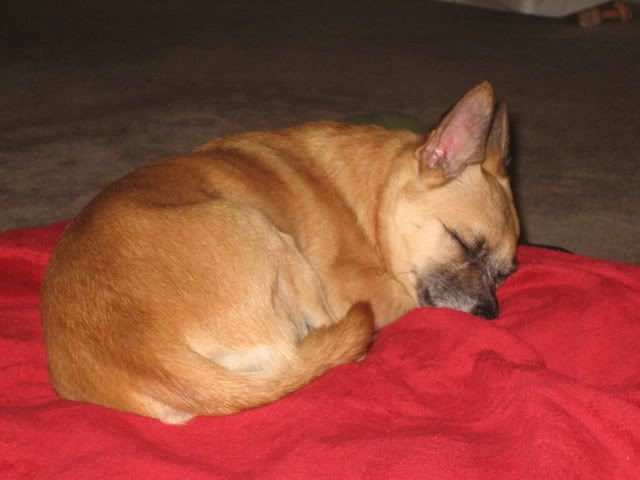 Achilles very eloquently expressing what we are all feeling
One last thing before I head off to bed... HAPPY BIRTHDAY to Kelley and Susan! We'll see you soon!