In just a few short hours my sister is going to be on a plane on her way to Japan for seven months.
I haven't talked much about it because I've been in denial a little (okay, a lot), but Heather is kicking off a seven-month contract as a singer at Tokyo Disney. Upon arrival she'll be in rehearsals for a few weeks then will begin actually performing in the park. It sounds like an absolutely incredible gig - they handle her housing and transportation to and from the park each day, they seem to provide lots of help and guidance as she adjusts to life in Tokyo, and you know, she gets to
live in Tokyo
while getting paid for a job she loves for the better part of a year. Not too shabby, my friends.
Heather found out she got this offer this past fall, and I was so thrilled for her. What an opportunity! She impressed me by deciding to take the job in a heartbeat, even though it meant moving across the world to a foreign country with a foreign language and foreign currency and well, foreign everything. At the time of signing the contract, she didn't know a soul in Tokyo but she was going anyway. She's brave and awesome and inspiring like that.
To everyone's delight, however, a few months later her very best friend Tony found out that he would be working at Tokyo Disney at the same time. Heather and Tones are inseparable (barring jobs that put them on opposite sides of the world, of course, which does tend to happen), and Tony has even done Tokyo Disney before. I was so happy for Heather that she would now have her best friend to share this experience with her. I know it's going to make it a lot easier on her and hopefully she'll just enjoy it all even more now. Those two are going to have a blast. I hope Tokyo is ready!
I had wanted to send Heather off with some great blog post about how she's been singing since we were kids, about how it has always been her passion, about how she used to sing musicals top-to-bottom even as a wee lass, about how her talent has grown and developed over the years, about how she's a superb singer and excellent actress, about how it has been such a pleasure to watch her come into her own as a performer and just rock every stage she steps onto. I was going to pull out pictures and videos and old Playbills, and really reminisce about Heather's performing career. But alas, other things have demanded my attention and there was no time for such gathering of mementos and writing of reflections.
Even more so than time constraints, however, I think it is denial that has prevented the writing of my Ode to Heather's Talent post. To be clear, I'm not in denial that she's talented - certainly not! But I'm in denial of the fact that I'm not going to see her for seven months. Denial, avoidance and suppression seem to be my chosen coping mechanisms these days - serving me "well" (if you can call it that) in "dealing with" (or rather,
not
dealing with) homesickness for New York, fear of giving birth, and losing Heather to Japan for most of 2014.
But then this past Saturday I woke up at 5:30 in the morning and it just all hit me and I cried, right there in bed. And then I pushed it out of my head until tonight, when I started to head to bed, realized that by the time I wake up in the morning Heather will be on a plane to Tokyo, and I broke down again. I'm just really, really sad.
I'm not entirely sure why it's worse now than when she did her cruise several years ago. I assume a large part of it is that I'm in Florida now instead of New York, so I see her more regularly. Maybe it also helped that her cruise docked in Ft. Lauderdale every couple of weeks, and even if I couldn't see her then, it helped to know she was back on U.S. soil time and again. But whatever it is, this time sucks a lot more than it did the last time.
To be perfectly honest, I don't love living in Florida again. The major perk of Florida life, however, is being close to family. We're able to go home for very regular visits. And every time we go home, what I most look forward to is seeing Heather. She's my best friend and I have loved being able to spend so much time with her since we moved back. It's going to be really sad to go home to visit, pull up to my dad's house, see her car in the driveway but know she won't be there.
And by the time she comes back, my family will be so changed. Ellie will be seven months older, and we'll have added another kiddo to the mix. Selfishly, I wish she could be here for all that. I know she does too, but we also both know that this is definitely what she should be doing right now. And so it's good that she's doing it, no matter how sad we may feel or how much we'll miss each other.
For the past week or two my Facebook newsfeed has been inundated with posts about Heather leaving - both by Heather herself, and by her friends constantly posting well wishes on her wall, sharing pictures from going-away parties, and generally sending her love and encouragement. It has been both hard to watch (
hello
, how am I supposed to be in denial if people keep talking about it?!) and beautiful to watch, as it reminds me how many lives Heather has touched here. She is so loved, so appreciated, so treasured, and will be so missed.
But no matter how bummed out I may be about being sister-less (in person, anyway) for seven months, I am a million times more proud of Heather for going on such an adventure. I admire her for continuing to follow a path that allows her to do the thing she loves to do most, and that this path is taking her to such incredible places and allowing her to experience such cool new things. I can't wait to hear all about her new life in Japan. Tokyo sure is gaining one extraordinary person for the next seven months. No question about that.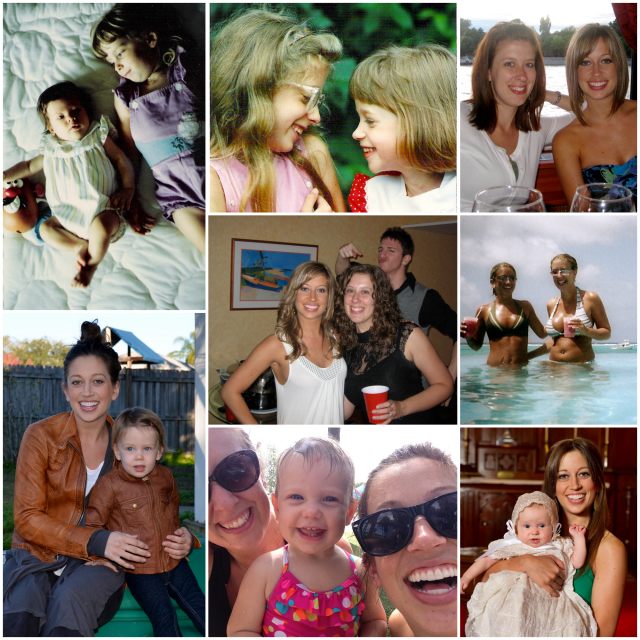 Just a few Heather pictures: as babies/kids, on a dinner cruise in Budapest, in the pool in the Caymans, at Ellie's baptism, on my 31st birthday, leather jacket twinsies with Ellie and New Year's Eve 2007 - featuring a Tones cameo!
Safe travels, Heather. Love to you always.