This Thursday morning at 9:00 a.m. we will find out the sex of Plus One, and I have been counting down the days. Eric took the day off work for the occasion, as he did when we found out Ellie was a girl, but this time we're really going to do it up. Eric is taking both Thursday
and
Friday off, and we're leaving straight from our appointment to take Ellie for a weekend at Disney World, our last vacation as a family of three.
We are pretty excited about this. We are not Disney regulars (as it seems many Floridians are); in fact, Eric and I have not been there in over 15 years. If memory serves, the last time Eric and I visited Disney World we were together, as newly-dating 15/16-year-olds, and we totally got busted (read: a flashlight in our faces) for smooching on the Haunted Mansion ride. Scandal!
And Ellie, of course, has never been. In recent months, however, she has become a big fan of Mickey & Co., as well as princesses. And she has ALWAYS liked Winnie the Pooh and friends. So we're excited to take her and see how she likes everything!
Our plan is to leave straight from the doctor's office on Thursday morning, which should have us arriving in Orlando around lunch time. We will go straight to our resort: Saratoga Springs. We have a one-bedroom villa with a full kitchen and what looks to be a delightful bathtub for our stay.
(Disclaimer: obviously, these photos are not ours as we have not been yet! All photos taken from here unless otherwise noted.)
Walt Disney World's Saratoga Springs Resort and Spa
The pool, which we will probably not have time to use, unfortunately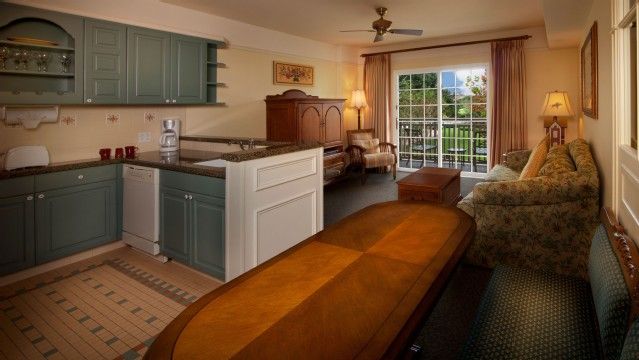 Living room and kitchen of a one-bedroom villa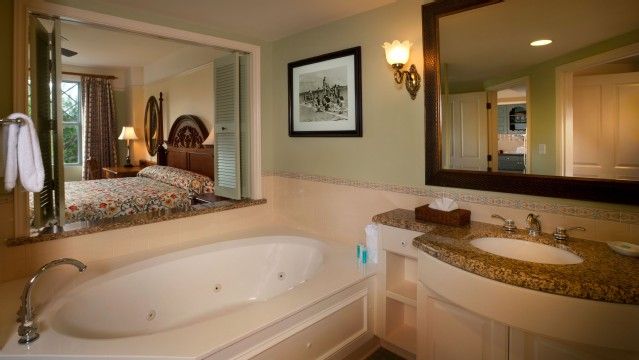 Master bath and bedroom. I'm coming, glorious tub!
With any luck we will be able to check in to our hotel early, which will give us a chance to settle in, have lunch and maybe offer Ellie the chance to nap. In that case, we'll venture back out in the evening, via resort-provided boat ride to Downtown Disney for dinner. If we are unable to check in to our hotel early, we'll instead go to Downtown Disney for lunch and a little afternoon exploration before returning to our hotel to get Ellie to bed a little early.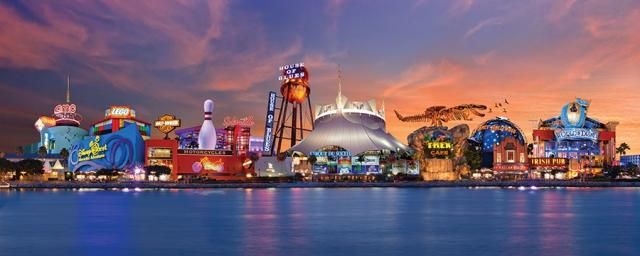 On Friday, we plan to spend the day at Magic Kingdom. As of now the plan is to arrive at the park early for the opening ceremonies, then head right in and get to work. We have some sights/rides/etc. prioritized already (via Disney's FastPass Plus system), so we'll try to hit our top choices first. Then we'll grab lunch and head back to our hotel for a quiet afternoon that will hopefully involve a nap for Ellie (or at least, some less stimulating downtime).
In the evening we'll return for dinner and all the night festivities: the Electrical Parade and the fireworks. Then, back to the resort for bedtime as quickly as possible.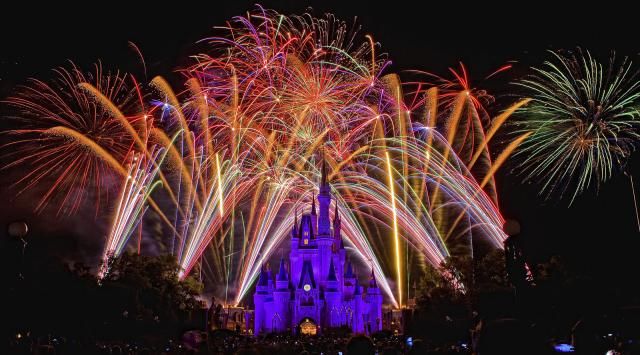 Saturday we have earmarked for a day at Epcot. Again, we have some things we definitely want to see and do in the morning, so we'll try to take care of as much as that as possible before retiring to our resort for a quiet afternoon. Then we'll return to the park for our dinner reservations at the Akerhus Royal Banquet Hall, where you can meet the princesses while you dine.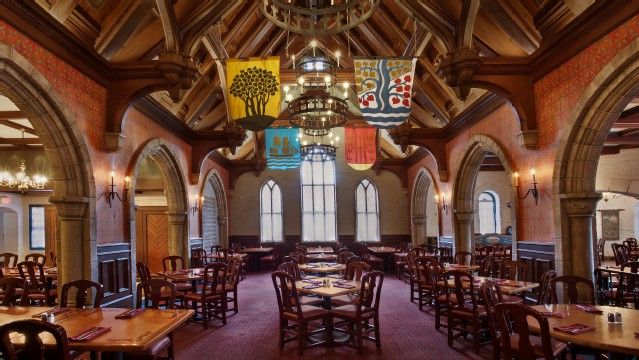 Inside Akerhus Royal Banquet Hall at Epcot
Close encounters with princesses!
Then, depending on Ellie's mood and stamina, we may stick around for the Epcot light show that evening.
On Sunday we will return to Magic Kingdom to see anything we may have missed or wanted to do again, and we will have lunch at the Crystal Palace in the company of Pooh Bear and friends.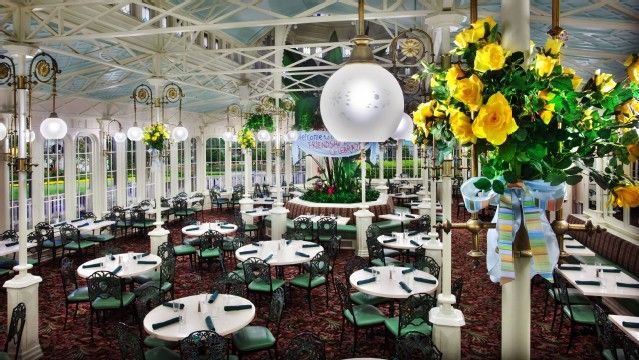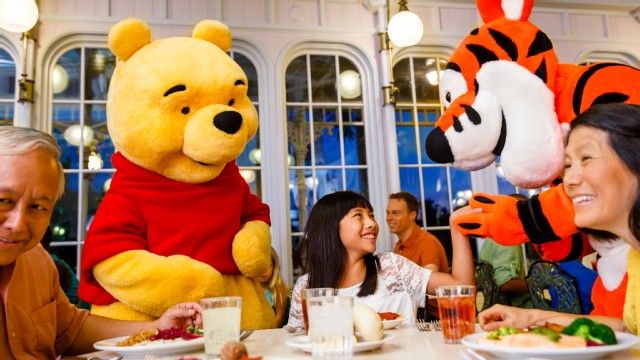 It's the gang from the Hundred Acre Wood!
I'm really interested to see how Ellie does with all these character encounters. She was ALL ABOUT IT when we met Elmo and Big Bird at Busch Gardens a couple of months ago, but obviously, her meet-and-greet with Santa did not go quite as well. So, this will be a little science experiment.
Which girl will we get at Disney World? Stay tuned!
After lunch, we'll just play things by ear. If we've had enough, we'll head back home. If we're still going strong, we'll stick around a bit longer.
Of course, all this is very tentative and we are prepared to be flexible, as one must be when traveling with a toddler. We don't expect to see a TON of the parks but are hopeful to catch a few key things, and will do our best to make the most of our time without overdoing it. I think it's going to be a blast!
DISNEY VETERAN FRIENDS:
I have already hit most of you up for tips and tricks, but if you have any more advice to offer to help us make the most of our trip, please, chime in! I'd love to hear from you!