On Tuesday I had a great day with my friend Amanda. She and I are trying to make the most of the next couple of weeks - if you remember, I may have mentioned that she has been in town as a travel nurse since August. Her contract is up February 22, so she will be leaving the city then (and I will already be gone cruising by that point). I'm pretty bummed about that, because it's really been nice having a girl friend who's game to do all the crazy New York-y stuff with me. She may come back for the summer, but for now I'll be sad to lose that local friendship. But, before she leaves, we've been trying to take care of some things we have wanted to do while she's here.
So, Tuesday was one of those days. We met up for lunch at Whym, a local restaurant I've been interested in trying. I had a salmon wrap that was so incredibly delicious, and the best raspberry lemonade of my life. Needless to say, I think I'll be going back to that restaurant!

After lunch we made our way across town to FAO Schwartz. Amanda has been wanting to play on the Big Piano, so that was an easy activity to cross off her list. I assume because it was a Tuesday afternoon, the store was actually pretty empty, so we had no trouble getting on the piano and playing around for a bit.

I tried to play some chopsticks, but I'm just not flexible enough.
Also, while we were there, I got to "cross off a couple of items from my
list
," in a way! I held a koala and petted a penguin. Ha! Get it? (Obviously this doesn't actually count, but I found it funny.)
After FAO Schwartz, we continued our journey east, stopping for a little shopping on the way. Our primary destination of the day was Serendipity, a very famous dessert shop. I had tried to take my mom and Aunt Debbie there during
their visit
in September, but the over-an-hour wait for a table discouraged us. Serendipity is probably most famous for their Golden Opulence Sundae, which is the world's most expensive ice cream sundae - with a price tag of $1,000! Don't believe me? Oh, believe it, my friends. I even took a picture of a small portion of the "Sweets" part of Serendipity's giant menu (who knew they also have regular food?) that includes the Golden Opulence Sundae: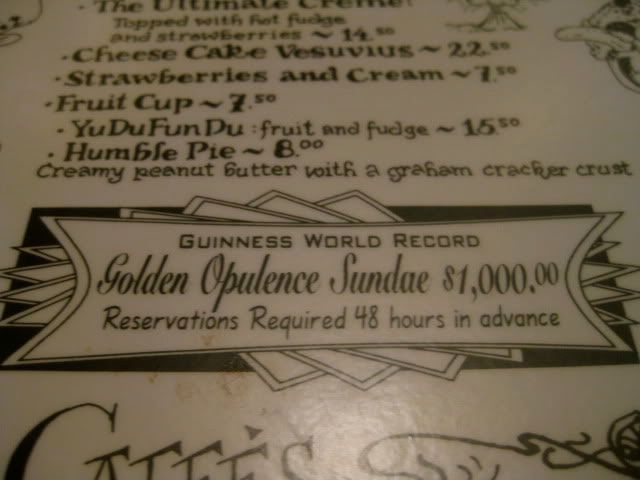 Wow. Are you wondering what on earth could make a sundae cost $1,000? I did a little googling for a description and a photo. This is what I learned:
Five scoops of the richest Tahitian vanilla bean ice cream infused with Madagascar vanilla and covered in 23K edible gold leaf, the sundae is drizzled with the world's most expensive chocolate, Amedei Porceleana, and covered with chunks of rare Chuao chocolate. The masterpiece is suffused with exotic candied fruits from Paris, gold dragets, truffles and Marzipan Cherries. It is topped with a tiny glass bowl of Grand Passion Caviar. It's sweetened and infused with fresh passion fruit, orange and Armagnac. The sundae is served in a baccarat Harcourt crystal goblet with an 18K gold spoon to partake in the indulgence and topped with a gilded sugar flower by Ron Ben-Israel.

Oh yeah, and this is what it looks like: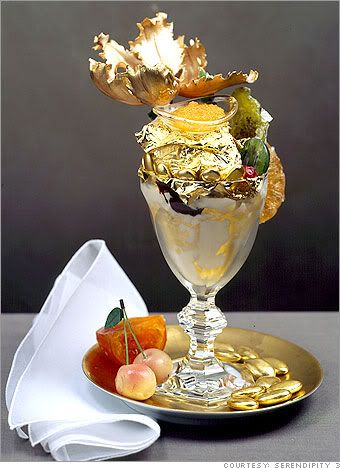 Incredible. There are just no words.
For the less financially frivolous folks (that's me), Serendipity also has another famous dessert on their menu: their Frozen Hot Chocolate. THAT is what Amanda and I were there for. We were pleasantly surprised that there was no wait for a table this time, another perk of doing touristy things on a random Tuesday afternoon in January. We walked right in and got a nice little table in a corner. Our waiter was excellent and only laughed at us a little bit when we showed our obvious Serendipity-rookie-status by ordering two Frozen Hot Chocolates AND a Blackout Cake to split. The cake came out first, and it was
divine
.
Serendipity's Blackout Cake
Before we could even make a dent in our slice of
heaven
cake, our Hot Chocolates arrived. And all I can say is, WOW. Wow, wow, wow. They were ENORMOUS. Just a huge goblet of delicious chilled chocolately goodness, topped with whipped cream and chocolate shavings.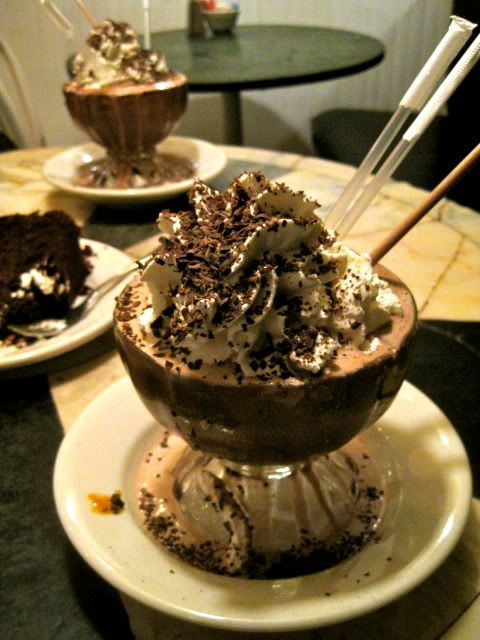 Amanda got the Classic Frozen Hot Chocolate, but I decided to try the Peanut Butter version, and again I say, WOW. It was like drinking a Reese's Peanut Butter Cup.
The proud owner of a Peanut Butter Frozen Hot Chocolate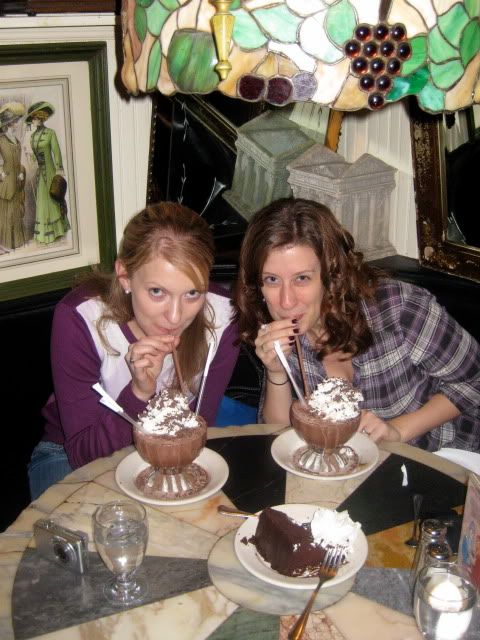 Needless to say, it was only a few minutes before Amanda and I both ended up in a chocolate coma. Everything started to get hazy and our belts started to feel too tight and it was just too much. Our rookie mistake really was the chocolate cake first - it was so rich that by the time our hot chocolates came out, we were already nearly chocolated out. In the future, I might suggest sharing a hot chocolate and then also ordering something a little lighter, like cheesecake (well, at least it's a different flavor) or something fruity. So, we did what we could with our desserts then boxed everything up to take it with us.
From Serendipity we hopped on the subway and headed down to 34th Street for some more shopping. We hit a few stores before making our way back home. While shopping, we were treated to this gorgeous view of the Empire State Building and the moon: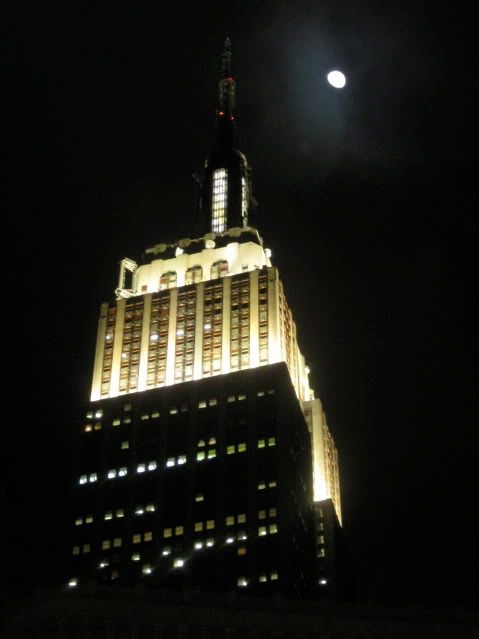 And that was our day out! It was such a nice, New York-y kind of day. Stay tuned to see what else we have planned for the rest of Amanda's time in the city!