This weekend, Eric went down to Florida to visit his mom. It sounds like he had a great weekend - he was so pleased with the progress Toni has been making. He was amazed at how she is participating in conversation (by mouthing words), and even tells jokes. It sounds like she's really becoming more and more herself every day! Plus, Eric got to golf with his brother while he was in town, so all around it sounds like it was a nice weekend for him.
While he was away, Amanda and I lived it up a little bit. On Friday I braved the absolutely frigid temperatures to go out to the TKTS booth to get tickets for an off-Broadway show entitled "Naked Boys Singing." I waited in line forever and nearly froze to death, but I did get tickets! Seriously people, it was so cold this weekend. That wind is just brutal, especially when walking west because it just pounds you in the face as it blows in off the Hudson. Considering that I live almost all the way west on the island, I have no choice but to walk west whenever I want to go home. After leaving TKTS, it was so awful on the walk home that I literally cursed out loud, and I am not one to have much of a potty mouth under normal circumstances. It was THAT COLD. And, now I have officially crossed over and become that crazy person who walks down the streets of New York muttering profanities, so that's awesome. IT WAS JUST THAT COLD.
Anyway. Amanda and I met up that night for the 10:30 p.m. show. It was the craziest show ever! The title really doesn't lie - it was literally 90 minutes of naked boys singing. No plot, just eight naked men. We had thought maybe they would be naked but would use a lot of strategically-placed props so you never really saw anything, but that was not the case. I mean, they weren't naked the WHOLE time, but most. Some of the songs included "Gratuitous Nudity" (so true), "The Naked Maid," "Bliss of a Briss," and "Nothin' But the Radio On." It was so awkward at first - especially because our seats were awesome, so we had, um, a really good view! Like, I felt like they were making eye contact with me. AWKWARD. But once you sort of got over the initial shock of the nudity, it was just funny, and the boys actually were very good singers. It was really fun! Amanda and I laughed and laughed and had a great time - definitely a unique experience! I just hadn't expected so much...uh...flopping about, shall we say?
Outside the theater after the show
On Saturday, Amanda had to work, and so did I! I had more work from the local jury consultant I have been helping out, which was great. It sounds like I will have more work from her in March, as well, so that's wonderful.
Saturday night I met up with Amanda and her friend Lauren and took the subway to the Village to hit
McSorley's Old Ale House
. Amanda has been here before, and I was excited to check it out. McSorley's is the oldest Irish pub in New York City, and is the oldest bar in Manhattan operating continuously in the same location. It was founded in 1854 by John McSorley, an Irishman who came to the U.S. as a result of the potato famine. As the pub's front window proudly proclaims, "This is our 155th Year and Ale is Well." Much of the inside is as it was originally, with the only major structural change being the addition of a women's restroom after McSorley's was forced to allow women into the pub by a Supreme Court ruling in 1970. Can you believe it took that long? Before that time, McSorley's motto was "Good Ale, Raw Onions and No Ladies." Funny! Now the motto is, "Be Good or Be Gone." I would say that's a fair rule.
"Be Good or Be Gone" inscription behind the bar. Also, lots of stuff.
McSorley's is said to have been patronized by some rather famous faces, including Presidents Abraham Lincoln and Teddy Roosevelt. It even inspired the poem "I Was Sitting in McSorley's" by E. E. Cummings. There are countless artifacts all over the place, and I highly recommend you read up on it before visiting so you know what you're looking for. For instance, there is an original "wanted" poster for "Assassin John Wilkes Booth," a newspaper headline about the Titanic sinking, and a pair of Houdini's handcuffs locked to the foot rail at the bar.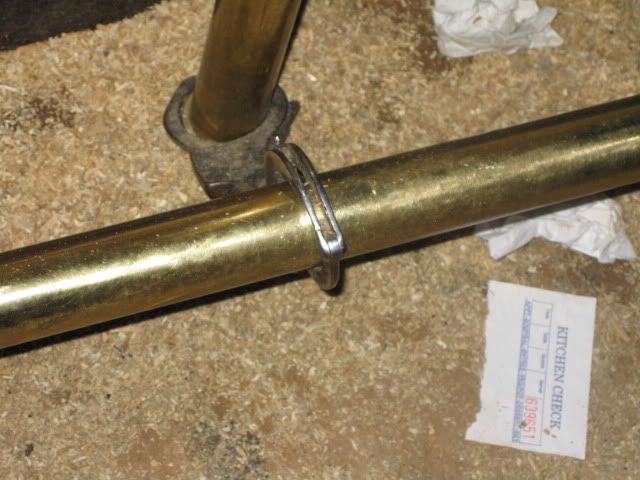 One of the craziest artifacts is an old gas lamp that hangs over the bar, covered in these things that you can't even guess what they are unless you look closely. They are wishbones hanging from the lamp, and legend has it that they were hung there by boys about to go off to fight in World War I. When the boys returned, they would remove their wishbone. But, not all came home, so the wishbones remain as a memorial and have not been touched since, including dusting. They are so caked with dust they are nearly unrecognizable. It's pretty gross, actually.
Wishbones hanging from the lamp
The bar only serves McSorley's Ale, of course, so the only choice you have to make when ordering your drinks is "light" or "dark." Each order is actually two beers - if you just order one, you end up with two mugs in hand, usually slammed down on your table by a rather gruff Irishman. We stood for a while at the bar, right next to the coal-burning stove that was keeping us warm. Eventually a table opened up in the back room (near the fireplace, naturally), and that's where we spent the rest of our time. It was a table for 10, and since there were only three of us, we made friends with the various people who took up the remaining seats, including a family from Poland, some financial-type guys who live just blocks from me, and some Navy boys from Staten Island who we are convinced were no older than 18 (ah, the joys of an establishment that doesn't do much in the way of I.D.-checking). We had a great time drinking our ale and talking to strangers.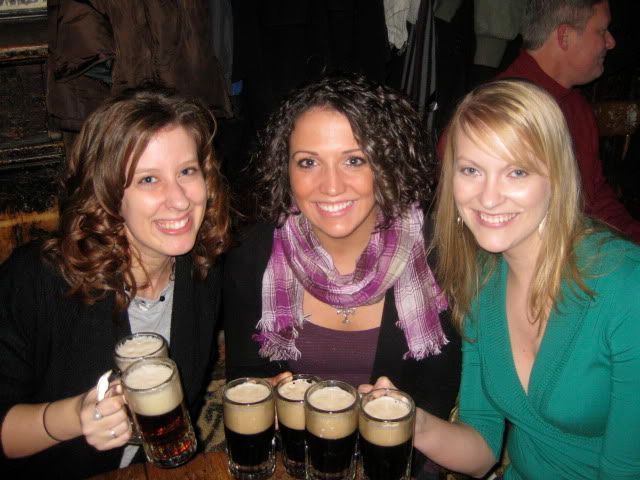 Me, Lauren and Amanda at our table with a round of beers in hand.
Unfortunately, McSorley's closed at 1:00 a.m., so we were forced out before we were ready to leave. We were not ready to end the night, so we took a cab to a bar called Amity Hall, not far from Washington Square Park. There we met up with some more of Amanda's friends, and spent some time chatting with an Englishman and a couple from Scotland. What a U.K. kind of night, eh?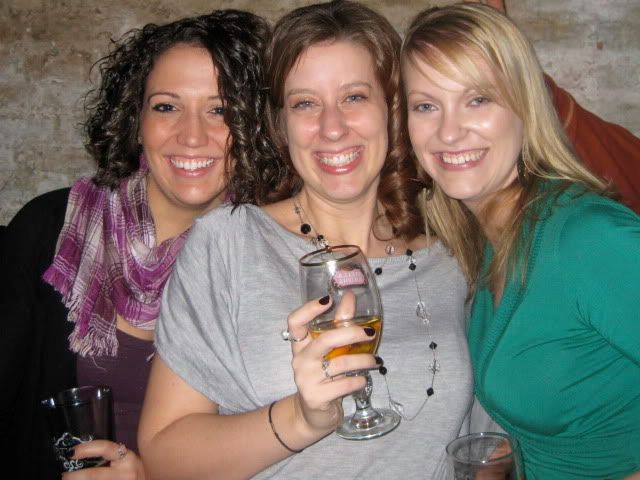 From there we decided to hit another bar that Amanda and I have really enjoyed in the past, so we hopped in another cab up to Stumble Inn on the Upper East Side. Lauren had to go home at that point, but Amanda and I stayed there until closing at 4:00 a.m. Can you believe it?! I haven't been out that late in ages.
After that late night I slept in a bit late on Sunday (almost till noon! Something else I haven't done in ages), then in the late afternoon Amanda and I met up for some diner breakfast. After a night out on the town, the only proper way to recover is diner breakfast. This is a true story. It hit the spot! Then we parted ways and I spent the rest of the night cuddled up in my Snuggie with Achilles, watching movies and the Grammys. Perfect.
So, although we were apart, Eric and I both had a very nice weekend. Hope you all did the same!