Heather in Kudasi, Turkey with her ship in the background

As I mentioned
many months ago, my sister Heather is currently working as a singer on Princess Cruise Lines. Since she left, I often get questions about where is she, how is she doing, how does she like it, etc., etc. Through the magic of the internet, I have been able to keep in touch with her a bit through Skype and see what she has been experiencing through her pictures. So, I thought I would post a Heather Update to share with you what is going on for her! Care to take a look into Heather's glamorous cruise ship life?
Heather seems to be adjusting fairly well to life on a ship, although she did struggle with seasickness a little bit at the beginning. I guess that's better now, but she is still more aware of the boat rocking than other people. She has her own room, which is nice. She sent out these pictures of her first room on the ship:
I guess she has changed rooms since these pictures were taken, but she says her new room is very similar, just with two smaller windows instead of the big one.
She also seems to be adjusting well to the shows she performs in. To be honest, she doesn't talk much about the shows (at least with me - we talk more about the things she's seeing!), but she did send out a few pictures and a couple of videos. Unfortunately, I can't figure out how to get the videos posted here, but if you want to see them, check out
this link
(contains two videos) and
this link
(one video). I just love watching my sister perform. Would you believe I get teary-eyed every time I watch her, even over video? I'm such a sap.
And of course, in addition to living in a small room and performing for cruise passengers, Heather has been seeing one or two cool things. Okay, she's been seeing LOTS of cool things. Right now she is on the Caribbean leg of her trip, which includes exotic destinations such as Curacao, Trinidad, Barbados, St. Vincent, St. Kitts, St. Thomas, San Juan, Grand Turk, and Santo Domingo. As I type this, she is in Aruba. I mean, how jealous are you? Or rather, how jealous am I??? Very. The answer to that question is
VERY
.
Before this Caribbean portion of her trip, Heather cruised the Mediterranean for a couple of months before crossing the Atlantic to Brazil and then heading up towards her current port, Ft. Lauderdale. This included an Equator-crossing ceremony, which apparently involves pouring goo on passengers and making them wrap fish around their faces. Who knew?
While Heather was touring the Mediterranean she saw some really incredible things, as you might imagine. I have taken some of her pictures from various cities and put them into little collages to give you a sample of the unbelievable experiences Heather had on the first leg of her cruise. I just can't even imagine the things she has seen and done, and I'm so excited that she has had this amazing experience. Check it out:
(Note:
I tried to post these a little larger than I usually post pictures, but if you need a closer look, click on each collage. It should open in a new window so you can see it a little larger.)
Ephesus, Turkey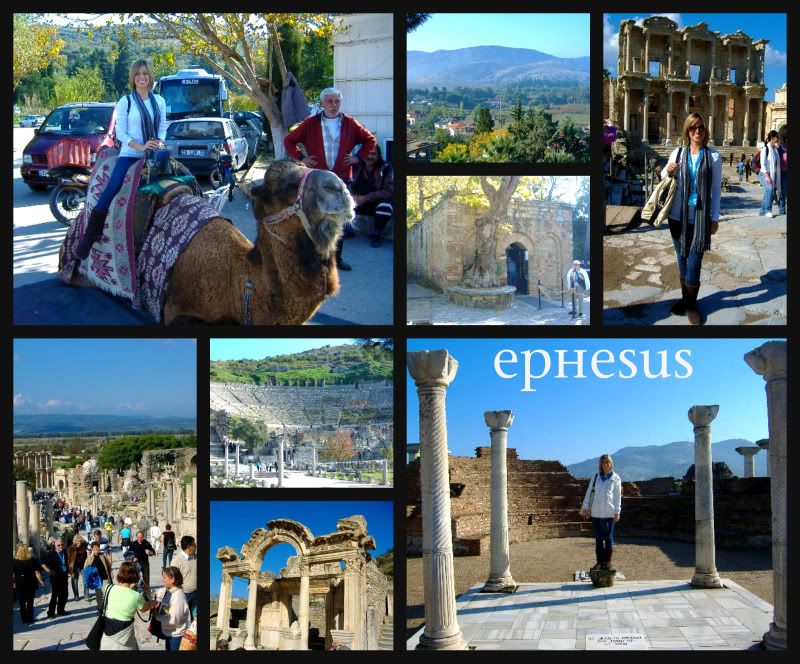 I'm going to try to caption these collages as well as I can, and hopefully if Heather reads this and catches any mistakes, she can let me know! In the top row, we have Heather sitting on a camel (she paid one euro to do so!), a view from the mountain, the last known residence of Mary, and Heather in front of the ruins of the library. On the bottom row, we have what used to be the main street, the theater (where John used to preach), the Temple of Hadrian, and Heather standing in the Tomb of St. John. Heather sent my Gramps a vial of Holy Water from Ephesus for Christmas!
Santorini, Greece


This collage is mostly just gorgeous scenery. To quote Heather, "I guess I wouldn't mind living here if I really had to!" She also went to a wine-tasting at 8:30 a.m. while in Santorini. Poor, poor, Heather...what an awful life she leads! Also, in the bottom row, the top small picture is of a cable car ride to the bottom of the mountain, with her ship in the distance. I find this to be really not okay. She said you could also take a donkey or a lot of stairs. I think either one of those sounds more appealing, personally. My fear of heights can barely even look at that photo.
Venice, Italy

Here again, we mostly just have gorgeous scenery from Heather's stop in Venice. If I wasn't totally dying to go there before this, now I REALLY am. Thanks, Heather.
Dubrovnik, Croatia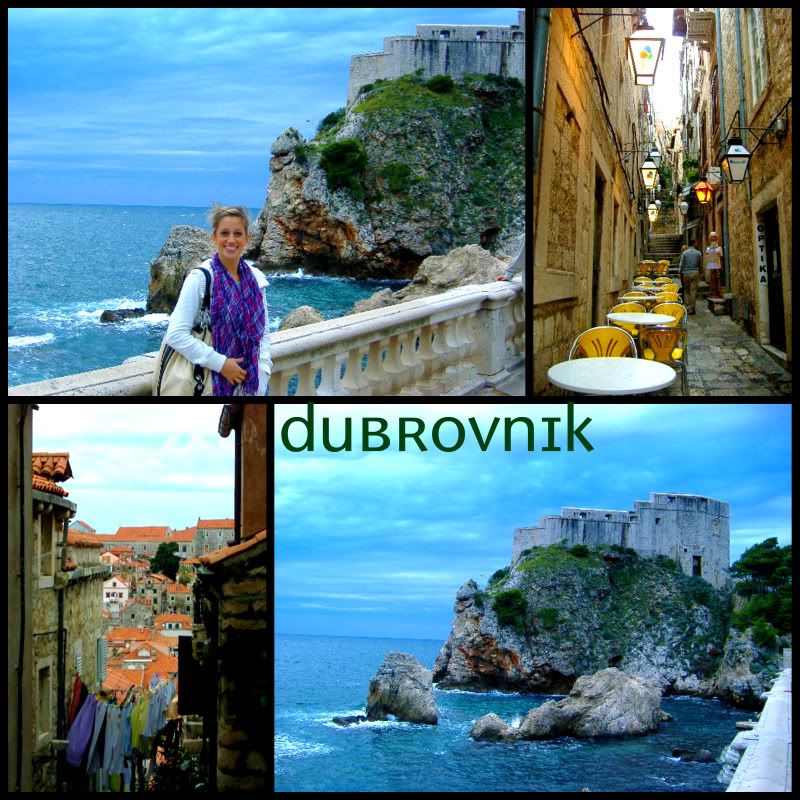 Hey, how about some more gorgeous scenery? My college roommate Kristina is Croatian, and she has always said I would love Dubrovnik. Judging by these pictures, she's probably right.
Naples, Italy
(Mt. Vesuvius and Pompeii)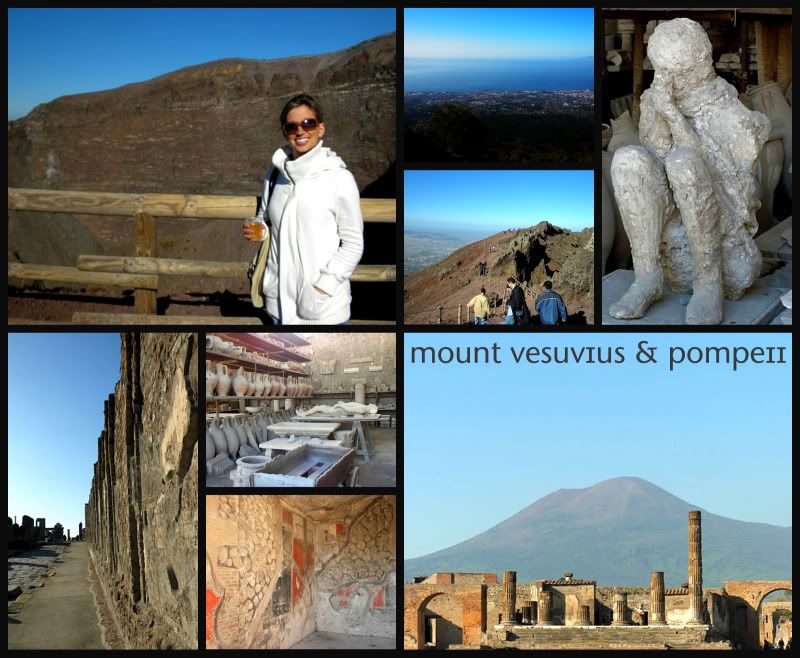 In Naples, Heather visited Mt. Vesuvius and Pompeii. Let me try my captioning here...in the top row of this collage, we have Heather enjoying a glass of local wine at the top of Mt. Vesuvius (why is she always drinking wine in cool places?), a view from the top of the mountain, a photo from their trek back down, and remains from Pompeii. In the bottom row, we have more views of Pompeii, and a view of Mt. Vesuvius
from
Pompeii. Incredible!
Rome, Italy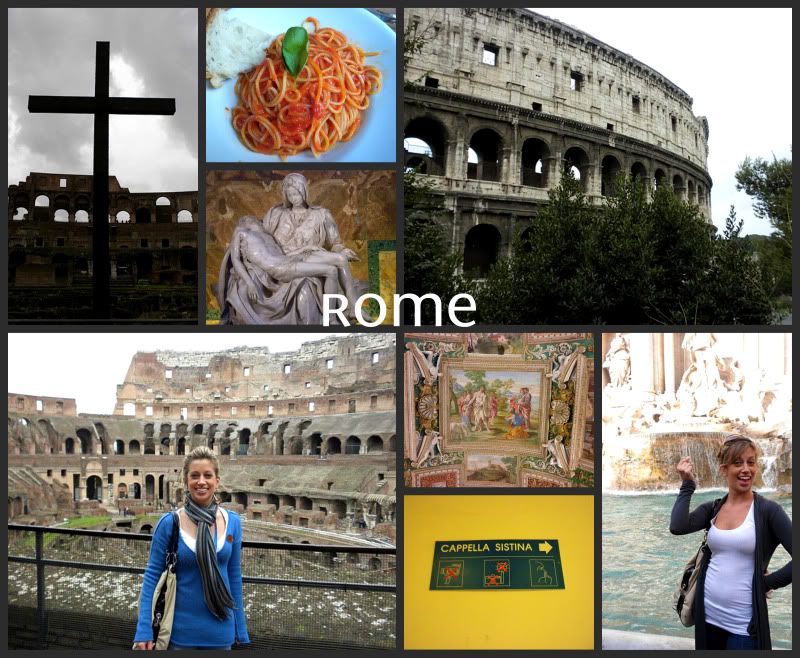 Heather visited Rome a couple of different times, from what I understand. The first time she actually almost missed the ship at the end of the day! But, all is well, and she got to see some great things. In the top row, we have a view from the Colosseum, Heather's "delicious lunch," La Pieta by Michelangelo, and the Colosseum. In the bottom row, we have Heather in the Colosseum, a beautiful ceiling shot from the Vatican Museum, the "no cameras" sign from the entrance to the Sistine Chapel (she did go in), and Heather tossing a coin over her shoulder into a fountain and promising to come back to Rome - and since this was taken on her first visit, she did in fact come back!
Florence/Pisa, Italy


In the top row of this one, we have scenes from Florence, including a Statue of David replica, the Church of St. Mary the Flower, Heather's lunch spot (which used to be an old jail!), and more from the Church of St. Mary. The bottom row is Pisa, including Heather completing an item on my "bucket list": taking a picture holding up the Leaning Tower of Pisa! Jealous.
Istanbul, Turkey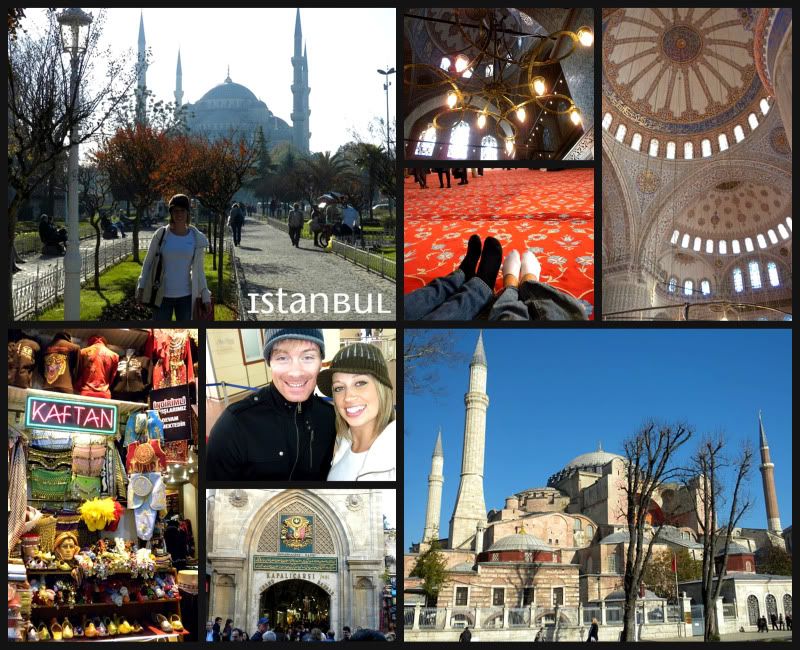 Top row: Heather in front of the Blue Mosque, and some pictures from inside the Blue Mosque (they had to take off their shoes!). Bottom row: two shots from the Grand Bazaar, Heather and her friend Peter, and a castle. Cool!
Cairo, Egypt


Oh hey, wanna guess how my sister spent her Thanksgiving? I'll tell you: she was TOURING THE PYRAMIDS. Do you believe that? I don't. What an experience! Here are some shots of Heather in Egypt, including pyramids, the Sphinx, a camel, hieroglyphics, the Citadel of Qaitbay, and the Roman Theater. Can you believe that my sister has actually walked inside a pyramid?
Monaco and Cannes, France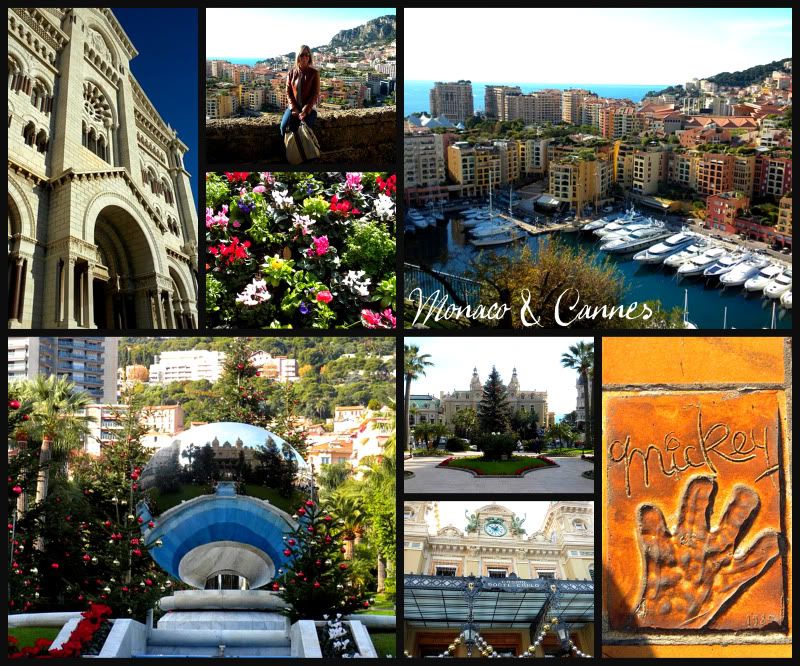 The top row here is scenes from Monaco, including the church that holds the tombs of Prince Albert and Grace Kelley, and Heather sporting a super-cute new Italian leather jacket. The flowers in the top row are from Monte Carlo, as are the first three pictures in the bottom row. Mickey's handprint is from Cannes.
Barcelona, Spain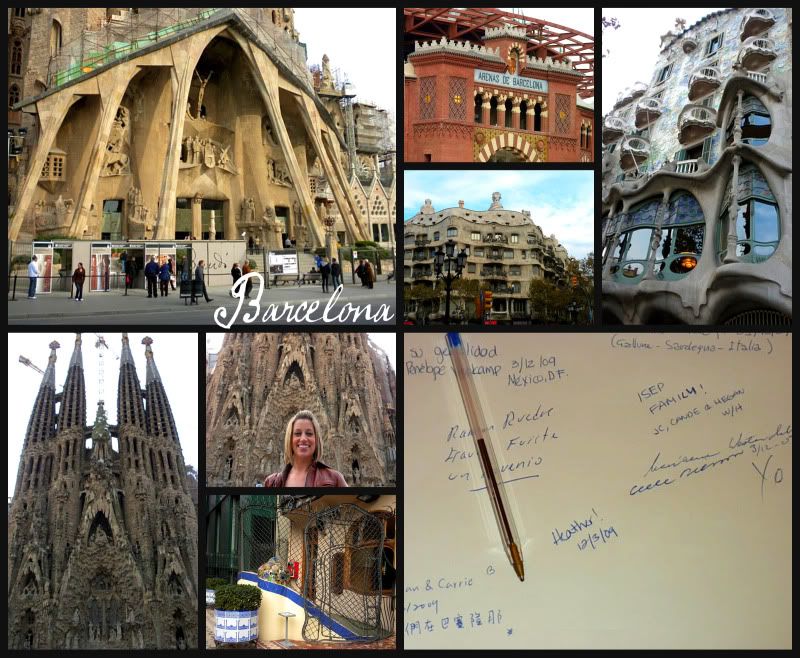 Last but not least, we have Barcelona, perhaps most famously known as the site of my cousin
Molly's engagement
this past summer! However, this collage contains no pictures of that event. Rather, it includes La Segrada Familia, Gaudi buildings, a curved wrought iron fence (Heather said there were lots of them), and Heather's signature proving that "Heather!" was there!
Amazing, yes? Heather has taken some fabulous pictures, and these are just a small sample of them. If you want to see more, check out
Heather's Picasa site
. If you have a Picasa account, you can even add her as a "Favorite" so you will get emails when she uploads new pictures. Also, another cool thing that I have been enjoying is Heather's ship's webcam. You can
click here
and see the view from the bridge of her ship, and see where she is or where she's headed next. I check it nearly every morning to see where my sister is each day!
Hope you enjoyed this look into Heather's exotic life! Perhaps I'll post a second installment with Caribbean pics later on. Heather - glad you're having such a great time! Continue to enjoy every second of it. I'm proud of you and I miss you!