Yes, that's right - I'm going on my sister's cruise! It became
pretty much
official this week
(that one was for you, Dad!)
. By that I mean that the paperwork has been filed to get me on Heather's ship and I have booked flights to Florida. I guess the paperwork has to go through some sort of approval process. It has already been approved by Heather's cruise director and the ship captain, but has a couple more channels yet to go through. I won't find out for 100% absolutely positively sure that I'm able to get on the ship until much closer to my cruise date, but in an act of confidence I went ahead and booked my flights.
And what is my cruise date, you ask? February 12, less than one month from now! The plan is this: I will fly to Florida on the evening of Wednesday, February 10th. I will spend the evening with my dad, and then will split my time the following day between visiting my grandmother and Toni. I had planned to take a trip to Florida this month to do that anyway, and part of the reason I thought this cruise thing wouldn't work out was because I would have to choose between visiting family and cruising. But, I have managed to make it into a joint trip. Perfect! And I'm very eager to see both of these women. I haven't seen my grandmother in far too long, and I am very excited to see the improvements that Toni has made. I haven't been back to see her since November, when just opening her eyes was big news, but now I hear she is very expressive and even mouthing words. What an incredible, awe-inspiring woman, yes? She just flat-out rocks.
So, Thursday, February 11
th
will be spent visiting wonderful women. Then on Friday the 12
th
, my dear father has agreed to make the journey from Tampa to Ft.
Lauderdale
so we can meet up with Heather when she docks there. It's a lot of driving for not an excessive amount of time visiting, so I'm very grateful to him for providing my transportation! We will spend the day together, then I will get on Heather's ship when it's time to go back out to sea and we will start the cruising fun.
Surely you want to hear about the cruise itself, am I right? Well, it's a two-week cruise. I know, that's really long. That was probably my biggest hang-up when I was trying to decide if I should do this. I
hate
to be away from Eric that long. I feel so guilty that he's stuck here working while I'm cruising around the Caribbean. HATE THAT. But, this opportunity really is incredible, and a situation like this most likely won't present itself in the future. I mean, I'm able to get a two-week cruise with my sister for basically just the cost of airfare and whatever spending money I want. That's pretty hard to pass up. And honestly, I know nobody will believe me when I say this, but the fact that I'll be in the Caribbean is really just an added bonus. I really just want to see Heather and what her life is like now. If she was cruising in Iowa, I would want to go on that one, too. (I know it's not actually possible to cruise in Iowa...I'm just trying to make a point by naming a particularly boring place.) (Sorry if anyone reading this is from Iowa and is now offended. I'm sure Iowa is just lovely.)
So. Back to the cruise details. I will depart from Ft.
Lauderdale
on February 12
th
, and will then be at sea for two days. Our first stop will be Aruba, and the following day we will be in Curacao. After another sea day, it will be nonstop island fun for quite a few days in a row: Trinidad, Barbados, St. Vincent, St.
Kitts
, St. Thomas,
Santo
Domingo and, last but not least, Grand Turk. Then another day at sea before we arrive back in Ft.
Lauderdale
and I fly back to NYC. Wow!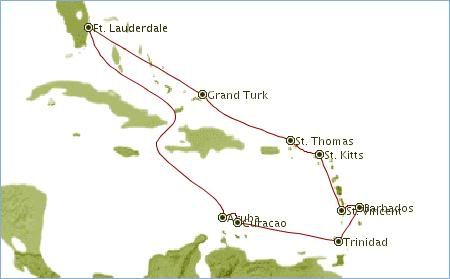 Map of the cruise itinerary, stolen from the Princess website
I'm really excited about spending so much time with my sister and seeing what her life is like on the ship. I'll be staying in her cabin with her, so I'll really get the full experience. I've never been on a cruise at all before, so the whole thing will be new and interesting. Plus, Heather and I have not spent this much consecutive time together in ages, especially not just the two of us. I think it's going to be great.

And of course, I'm excited about the places we'll see and the things that we'll do. Heather has already requested that I get my adventurous side ready, because she has some excursions she has been wanting to do, such as
zip-lining
in Barbados and swimming with sea lions in St. Thomas.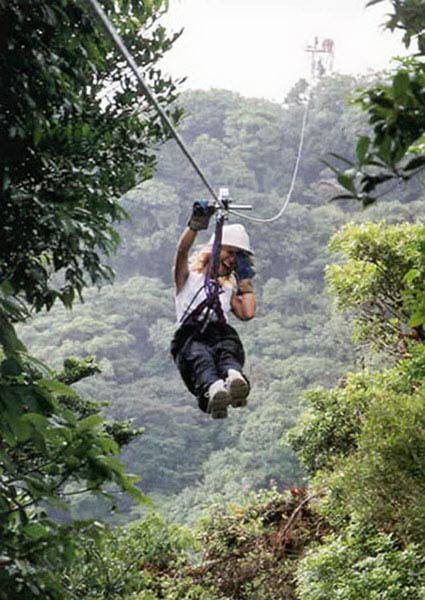 Will my fear of heights really allow me to do this?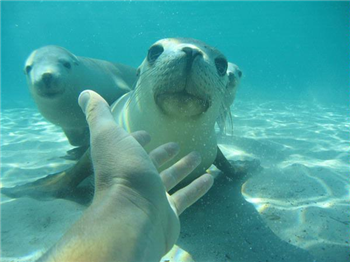 Now THIS I can handle. Awww!
I've got my eye on a couple of excursions, myself. You know, just little things like an introduction to scuba diving in Aruba, a waterfall hike in Trinidad, and maybe a rum tour in
Santo
Domingo. Add in some snorkeling and good old-fashioned beach time, and I'll be one happy girl. But, there is one excursion that I have already told Heather we are ABSOLUTELY DOING, NO EXCUSES: a beach horseback ride and swim in Grand Turk. Not only do you get to ride a horse along the beach, which I have always dreamed of doing, but then you unsaddle your horse and ride bareback into the water. That, my friends, is an item on my "bucket list." I'M DOING THIS.
So, that's my big news as of late! Is it time to start packing yet?