Happy New Year, friends!
I feel like I have been on quite a blogging hiatus, though I suppose it really hasn't been
that
long. Plus, it has been the holiday season, so I'm sure all of you have been on a blog-reading hiatus, as well. Since my last recap-type post, we've celebrated a wonderful Christmas together, I've traveled to the Land of Cleve (better known as Cleveland, I guess), and we rang in the New Year in low-key fashion. In the coming days I'll backtrack and tell you about our Christmas, but for now, I want to kick off 2010 with a recounting of our New Year's Eve festivities.
Last year
, we spent our New Year's Eve freezing to death for hours on end in Times Square to see the ball drop. If I'm being nice and positive, I say it was an experience we are glad to have. If I'm being brutally honest, I say that while we are glad to have experienced it, the experience itself was UNIMAGINABLY AWFUL and something we would never, ever do again. Seriously, you may think you can imagine how bad it was, but trust me, it was SO MUCH WORSE than whatever you are imagining. As we stood on Broadway for seven hours in one-degree weather (without factoring in windchill) last year, all we wanted was a warm apartment, champagne, and pizza. We vowed that this year we would watch the ball drop from the comfort of our home and make that dream come true.
It ended up being a very good thing that we did not have big fancy out-on-the-town plans, because about the moment I landed in NYC after my trip to Cleveland, I came down with a cold. So, any big, fancy plans we may have made would have been cancelled, anyway. As it was, my illness did change our dining plans - we had originally thought pizza (to fulfill last year's dream), but then considered cooking up some steaks and other deliciousness. In light of my lack of taste due to congestion, we opted instead for soup and bread, with a snack of cheese, crackers and pepperoni later on. That ended up being perfect.
But wait. Let's backtrack here.
We woke up on Thursday morning to a very snowy New Year's Eve. It snowed pretty heavily for the better part of the morning. Eric got a couple great pictures of a snowy Rockefeller Center on his walk to work.
Even though Eric's office closed at 3:00, he ended up being stuck there a bit later than he had hoped thanks to some project. I think he finally left around 5:30 or 6:00. He made his way home (he had to walk north a bit to get past the Times Square blockades, considering they start closing streets around 2:00 p.m.), and was sweet enough to stop and get our dinner stuff, champagne, and our "2010!" glasses. He's so good to me.
When he got home, we spent most of the night relaxing, watching football, and eating our soup and snacks. Very nice and quiet. At 10:00, of course we started watching the Ryan Seacrest coverage from Times Square. Would you believe it was a full
30 degrees
warmer out there this year than last year?! But, it was raining, so pick your poison, I guess. I know from
experience
how lousy standing in a crowd with umbrellas can be. But still,
30 degrees
, people. That's downright balmy.
Between 11:00 and 11:30, we kicked the party up a notch. The glasses came out. I pulled out all our freebies from Times Square last year. Champagne was poured. Eric started dancing. I was waving pom poms. Even Achilles got into the spirit!
As midnight approached, we moved into the bedroom for a better view. You see, we can see the New Year's Eve Ball from both our living room and bedroom, on a normal day. But now they've been building this new building across the street from us. As it started to go up, we were so scared they would go too high that they would take our view of the ball. Well, the building itself will not take our view - but the scaffolding they have around it while they continue to work on it blocks our view from the living room. Sheesh. But, from the bedroom, we still had a pretty clear shot. So, we went in there, opened up the window, turned on the TV and got ready to count down.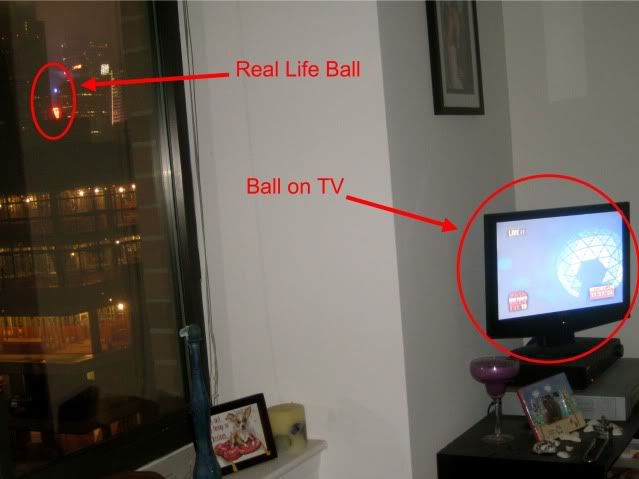 Our view of the Real Life Ball and the TV Ball (I guess technically they are actually the same thing) from our bedroom

And count down we did. We were able to see the ball dropping, and the fireworks going off when that 2010 lit up. The TV was on a slight delay, so I like to think we saw the New Year before everybody else, ha! (Well, us and the 750,000 people that were actually in Times Square, of course.)
VIDEO: The ball drop, as seen from our bedroom
After watching the ball from a distance, we went back out to the living room to rewind it on TV and rewatch it again as the rest of the world saw it. Because now, for the second year in a row, we were almost too concerned with getting pictures and video of that stupid ball to really enjoy the moment. So, we rewatched, smooched again, and enjoyed.
I also was treated to a brief "cheers!" with my cousin Molly and my Gramps via Skype. It was great to see them to kick off the New Year!
And that was our celebration! We stayed up for about another hour, watching the rest of the New Year's Eve performances on TV and finishing up our champagne. Then I just had to go to bed. Stupid cold.
Our New Year's Day was equally mellow - lounged around, ate some good food, watched a LOT of football, finished it all off with an awesome 51-24 Sugar Bowl win for the Gators, a great way for Tim Tebow to end his career. He will be missed, for sure!
Hope you all started your New Year off right! Here's to all that is to come in 2010!