Last night, I participated in another New York City holiday tradition: the Rockefeller Center Christmas Tree Lighting. Eric and I did attempt this one
last year
as well, but were so incredibly wrong about how early we would need to arrive, and were unable to see anything. Plus it was freezing. So, we bailed before the tree even got lit - not that we would have been able to see it even if we had stuck it out.
I wasn't sure if I wanted to try the Tree Lighting again this year, since I knew I would have to be hours and hours early to get any kind of decent spot, and Eric likely wouldn't be able to leave work that early, so I would be waiting for hours and hours alone. Not so appealing. But, now that my friend Amanda is in town and ALL ABOUT anything New Yorky, I knew she would be game to wait with me. So, wait we did. We got there between 3:30 and 4:00 (a full 2 hours earlier than we arrived last year) to try to stake out a spot.
And guess what? That was still almost too late. The pedestrian pens were filling up fast (I just love that they pen us in like cattle at these events). There was no way we would be close enough to any of the stages to see any performers, but after roaming through the Plaza for a bit we did find a relatively uncrowded (at the time) pen that gave us a great view of the Tree and a screen that we could watch the performances on. And so, there we waited.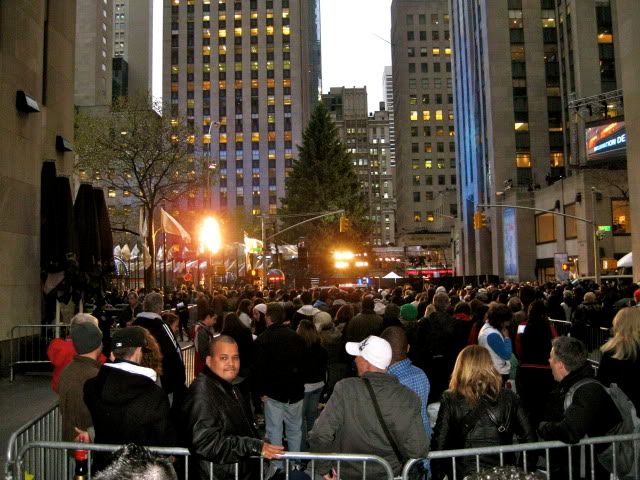 The view from our spot. Don't you love the pens? But, we had a good view of the tree, and that screen up on the building to the right.

Since we were settled in to our spot by 4:00, we had three hours to wait until the show started, and five hours until the tree would actually be lit. That's a lot of time to pass. We alternated between standing around (most of the time) and sitting on the street (ewww, but my feet hurt). I also advised Amanda to bring a sandwich or snack, so we did eat a little bit. We chatted and got annoyed with the out-of-control kids next to us (who didn't make it to the show before their parents had enough). We also prayed for the rain to hold off as it started to drizzle. But, hold off it did not.
The rain was light while we were waiting, but as the show finally got started, it got heavier and heavier. People were putting up umbrellas, which was nice for dryness, but bad for blocking views AND just because of the crowd situation. Have you ever been in a crazy crowd with everyone holding umbrellas? It's so cramped and umbrellas are hitting each other and poking people in eyes and dripping all over everybody and it's awful. But, with the way the rain was coming down, it was the lesser of two evils for sure.
But, the show was underway, so at least we had some entertainment. And as things continued, the rain tapered off for a bit. Of course, it then picked up again, but did slow down enough to lower the umbrellas by the time the tree was lit. And the performances were enjoyable - we saw Barry Manilow, Rob Thomas, Michael Buble, Rod Stewart, Alicia Keys, Aretha Franklin, the Rockettes, and even the Muppets. Good show!
VIDEO: Aretha Franklin's Second Performance ("Joy to the World")
At last, at 8:55 p.m., it was the moment we had all been waiting for: time to light that enormous tree! We all counted down, then TA-DA! Beautiful!

VIDEO: The countdown and lighting!

Interestingly enough, we had already seen the tree lit up BEFORE the official lighting. Around 6:00, it lit up for just a few seconds! I don't know if they were testing it, or it was an accident, or what, but the crowd all gasped and scrambled for their cameras, but it was off just as quickly as it had turned on. Amanda and I then joked as the rain picked up that we could always just leave because we had already seen it lit!
After the OFFICIAL lighting, we fought our way a little closer to get some pictures before dealing with the mess of getting out of there.
And that was it! I can officially cross this event off the list now. As soon as we got out of there I hurried home to my warm, dry apartment where my husband and a big ol' bowl of turkey soup were waiting for me. Ahhhh.
Now, let the holiday season officially begin!