Last night was the Rockefeller Center Christmas Tree Lighting, and frankly, it was a little disappointing. Not because the show wasn't entertaining, but because we once again grossly underestimated how early we would need to arrive to get a good spot. We got there between 5:30 and 6:00, and I knew that arriving at that time would push us pretty far back, but I had no idea HOW far back. By the time we arrived, they were announcing that "all pedestrian viewing pens are full," and the closest we could get to the action was about a half block down the street. They were also announcing, "the Jonas Brothers will not be performing live tonight," which I took to mean "all you kids who are just here to scream in a high-pitched voice at these teen boys can go on home and make room for everybody else." That did not apply to me, so we carried on. I am too old to scream at the Jonas Brothers (or the Jonai, if you will), or even to know any of their songs. Ah, adulthood.
Anyway, they had a monitor set up so that you could see what was going on, but basically all we were doing was standing outside in the cold, in a big crowd, watching on a giant screen what we could have been watching (and many of you may have been) on TV in the comfort of our living room. Regardless, we decided to stick around a bit and see what happened. And we did gradually move forward as the night went on, but not very far, and certainly not even close to being able to see the Tree, the Plaza or any celebrities of any kind.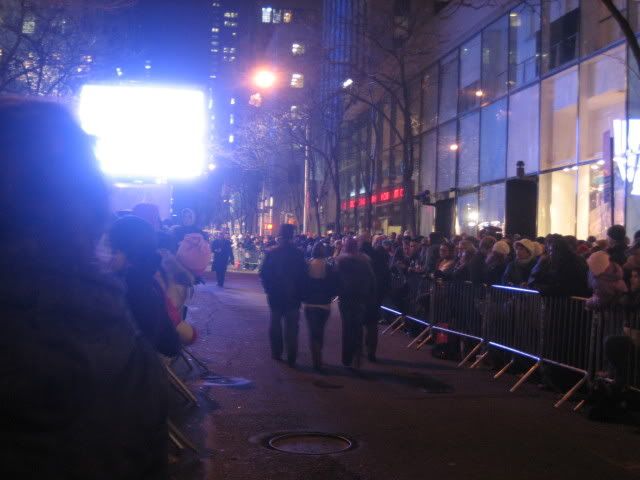 Crowds lining the street up towards the Plaza. That blinding light is the screen we watched the show on.


In case the pictures don't give you a good enough idea of the crowds, I took this video of our surroundings. That's Tony Bennett on the screen, if you're wondering.
I don't want to sound all pessimistic. It definitely was entertaining, and as with all of these types of things we've done so far, it was just cool to be there and be a part of it. And now we know for next year to get there super early to try to get a decent spot. Or, just stay home and drink hot chocolate. But we'll decide on that when the time comes.
We ended up leaving around 8:00pm, which is when it actually started being shown on TV. They had begun with a show at 7:00 just for the crowd, I guess, and were broadcasting live on TV from 8-9pm. We did see (via monitor) performances by the Jonai, Miley Cyrus, David Cook, Faith Hill, Harry Connick Jr., Tony Bennett, Rascall Flats, and Kristin Chenoweth. And the Rockettes, of course! We ended up leaving early though because we just didn't see it as very likely that we would end up close enough to see anything, it was very cold, and Eric hasn't been feeling well. He rarely gets sick and he was definitely a trooper (that's that "mental toughness" I mentioned in his birthday post), but we decided that a warm living room was the best location to view the last hour of the show. So we left after hearing Rascall Flats sing "My Wish," which was the last dance song at our wedding. We thought that was a fitting end to our Christmas Tree Lighting attempt.
begging
a cop to let him through to where we had been, saying that he and his family had driven through the night from Indiana to be here for the Tree Lighting. The cop's response was a simple, "well, you should've gotten here about 4 hours earlier." Craziness. So, I guess we didn't have it as bad as we thought!
Anyway, here are a few more pictures we snapped while we were there!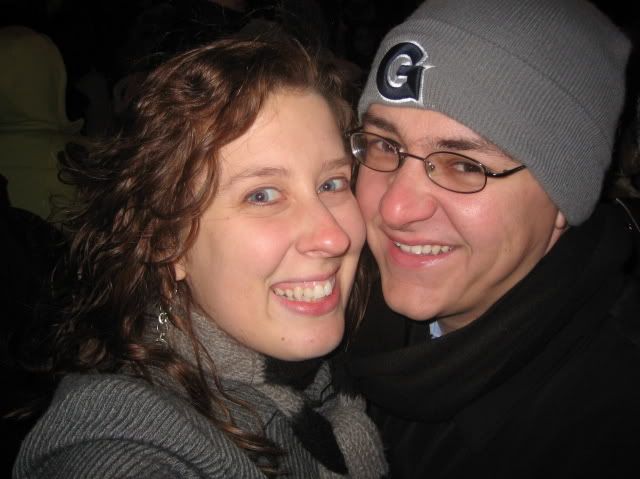 All together now!


It's a little disappointing that we didn't get a picture of the tree, but Eric snapped this one with his phone on his way to work this morning, and we have plenty of time to get back and get a good night shot of it. One of these nights we're just going to roam the city and take pictures of lights and decorations, so we'll be sure to get a picture of it then!