I realized last week that I've been showing you pictures of Christmas decorations all over the city. We've just loved seeing them all, so we've been having a great time. But, I realized that I have not shared any pictures of our
own
Christmas decorations! So, today I'm going to share with you some pictures of our own home decorated for Christmas!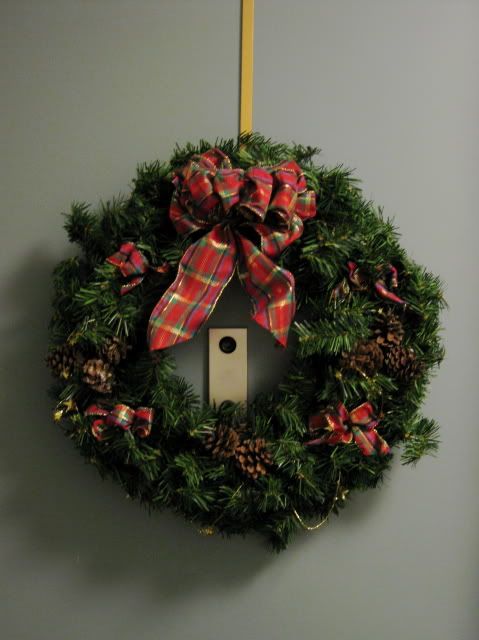 Welcome to the W. Holiday Home! This is our wreath on our front door. My mom made this for me several years ago.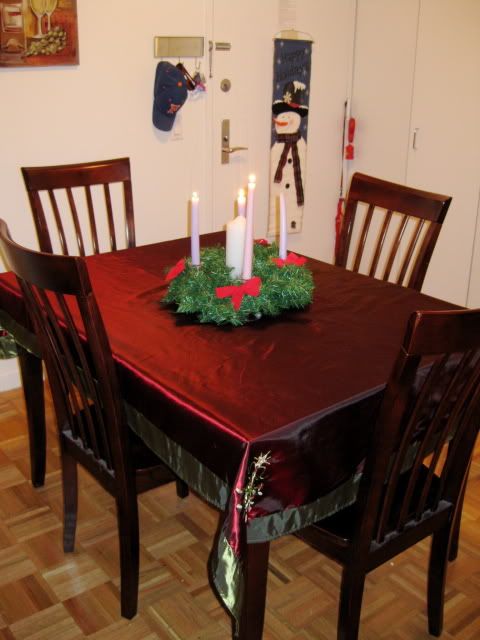 Our dining room, with a new Christmas tablecloth and the Advent wreath I made. We're kind of excited that this will be the first year since I made it years ago that we'll still be in town on Christmas day to actually light the Christmas candle! Also, you can see our "Happy Holidays" snowman banner hanging on the back of the front door.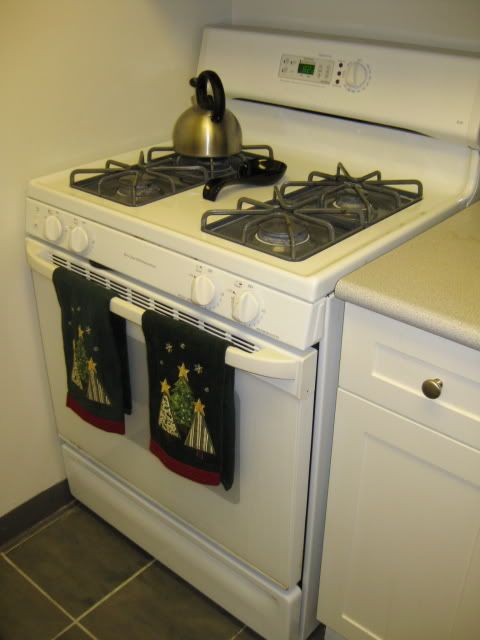 Our pretty Christmas towels in the kitchen. (This is the scene of the crime where Eric will be making our Christmas lasagna, a tradition in his family! He already started on the homemade sauce yesterday. It smelled delicious. I'm pretty psyched about that lasagna.)
Our hallway, with mistletoe on the ceiling and Christmas cards hung down the wall.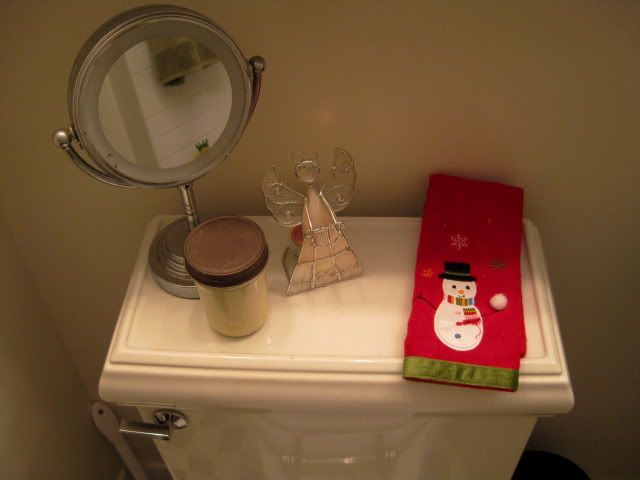 Angel figurine and Christmas towels in the bathroom.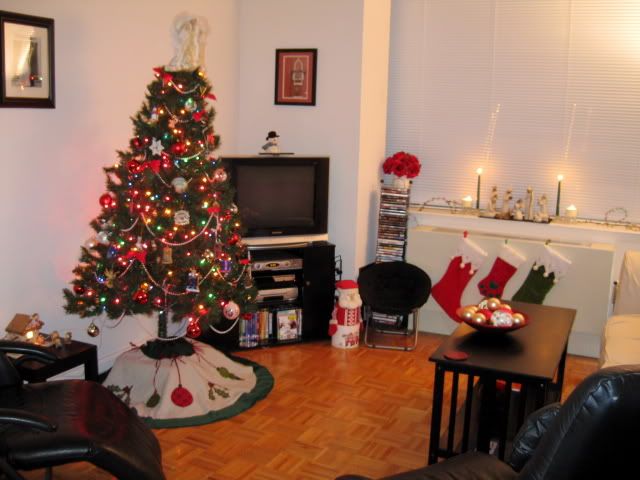 And finally, the main event! The living room. Let's look at this one a little closer, shall we?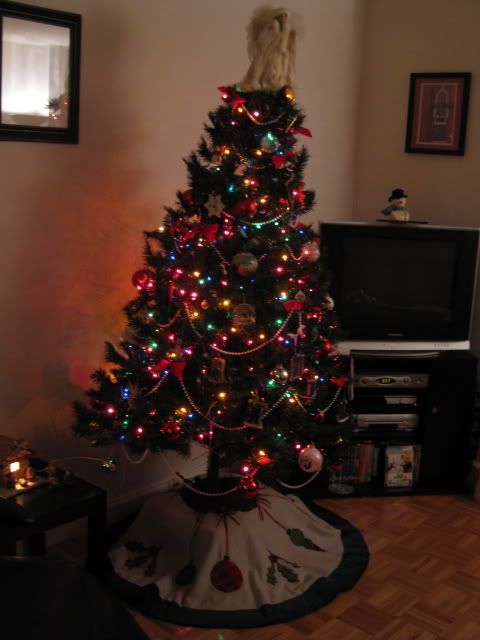 Our Christmas Tree, with a new tree skirt this year! Our ornament collection has really been growing since we first got this tree three years ago. When we first got it, it was mainly decorated with store-bought ornament sets. Now it's much more eclectic as we've added more personal ornaments over the years. Eric and I exchange ornaments every Christmas, which is one reason that has happened. Plus we've gotten ornaments as gifts from other people, brought ornaments back from our trips to the Caymans, etc. I love it.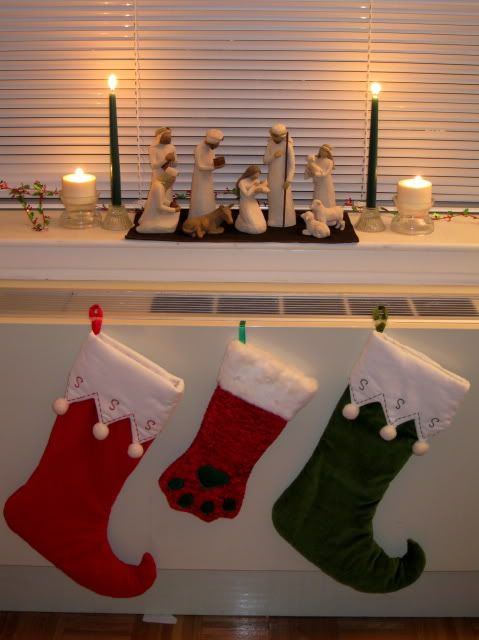 This is probably my favorite part of our decorated apartment. The stockings are also new this year, replacing old dollar-store stockings we bought back in Gainesville. Eric is the red stocking, I'm the green, and Achilles is clearly the paw. In this picture, you can also see my Willow Tree Nativity Set. Here's a closer look: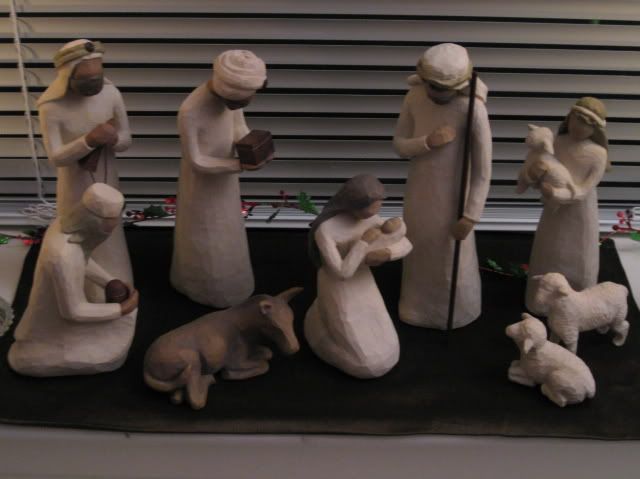 It was a gift from my mom. She gave us the main pieces last year, and this year she gave us the wisemen. She's going to keep adding to it until we have the complete set. It's one of my most favorite decorations. I love nativity sets. I have two others in the apartment: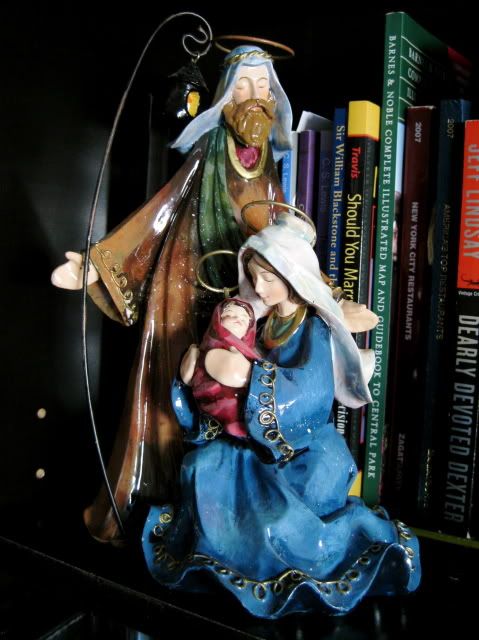 This one was a gift from my dad a few years ago. I think it's just beautiful. We have it on the top shelf of the bookshelf in our living room.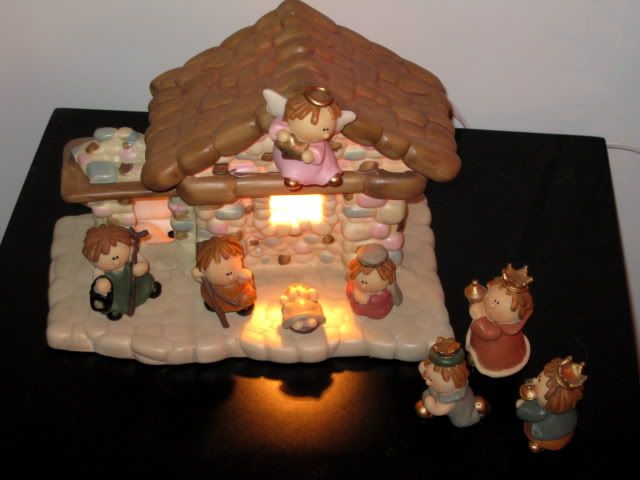 This one was also a gift from my mom. Isn't it adorable? They're so cute! And there's a light in it that shines out on the Baby Jesus, aww. This one is on a little side table next to the Christmas tree.
Another shot of our living room, but the other side, including our bowl o' ornaments on the coffee table.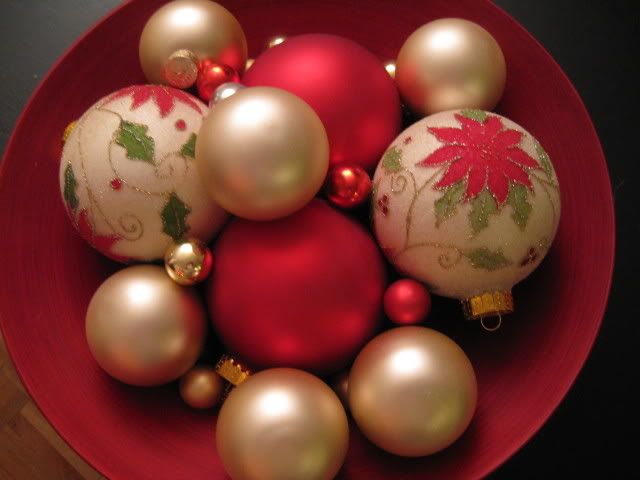 A closer view of our ornament bowl. I was testing out the "macro" setting on our new camera. Turned out pretty well, yes?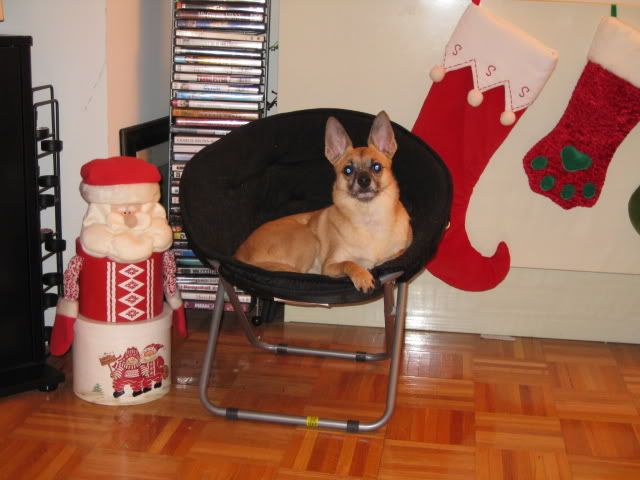 And last but not least, a picture of Achilles enjoying the holiday cheer!
That's our holiday home!