As promised, I'd like to tell you about a very exciting moment in our Gator lives...we have officially been in the presence of Superman!
Last weekend was the Heisman Award Ceremony at the
Nokia
Theater in Times Square. Eric and I decided that this would be a perfect time to try to catch a glimpse of Tim
Tebow
, live and in the flesh. Eric researched and researched online to try to find information about Heisman weekend - when were the candidates arriving? Where would they be staying? Were they going to be signing autographs anywhere? Where would they be sightseeing? What time would the arrive at the theater for the ceremony? Etc., etc. However, this is one event in NYC that seem to be trying to avoid a crowd. There was virtually NO information to be found. ANYWHERE. Nothing was advertised. We were only able to find out that there was a
pre
-reception at the
Nokia
Theater before the award ceremony began at 8:00p.m. on Saturday.
So, we left the house around 2:00 on Saturday afternoon. We have been guilty of severely underestimating the early arrival of crowds at other NYC events, and we did not want to be scooped this time. Of course, that early in the day, there was NOTHING going on at the
Nokia
theater. No barricades set up, nothing on the marquis, no sign of any big event. So, we spent the next few hours basically wandering Times Square and surrounding areas, stopping back by every so often to make sure we hadn't missed anything.
Holy cow, was Times Square crowded. It was pretty unpleasant. It was also very cold, which didn't help. We tried to go into Toys 'R Us for some shopping, but it was about as crowded in there as it was at the Macy's Thanksgiving Parade, so we left immediately. We tried to go to the Hard Rock Cafe for drinks to kill some time, but the wait time was an hour and a half. We did wander out to 6
th
Avenue and took a couple more Christmas decorations pictures, and we saw a group of carolers on the street. So that was nice. But after a while, we just needed to get in out of the cold, so we stopped into a
McDonalds
to get something to eat and just sit in a warm building to kill some time.
Christmas lights on 6th Avenue
VIDEO: Carolers on 6th Avenue
Around 5:00 we went back over to the theater and things were starting to look promising. There were a couple other people in Gators apparel hanging around, along with a very friendly Texas fan named David, who we talked to for a while. Barricades were being brought out, and official-looking guys in suits were roaming around. Over the course of the next half hour, more fans started to show up, but by the end of things there were probably about 20 people total, so you can tell how
un
-advertised the whole thing was. And the Gator Nation was certainly represented - I would say that of the 20 or so fans, 16 of them were Gators.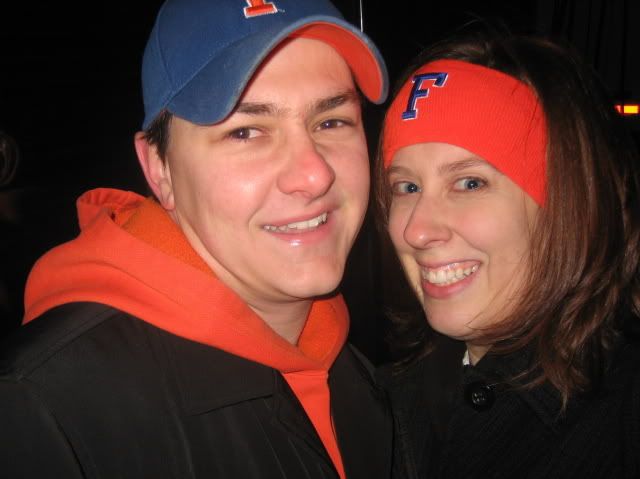 Hopefully waiting in front of the Nokia Theater
All of a sudden I heard a commotion and some of the Gators saying, "It's Urban Meyer! Urban Meyer!" at the front of the building. So, I dashed around there, camera all ready to go. Sure enough, there was the Florida Gators head coach headed in to the building, so I snapped his picture! He went right inside, so there wasn't much time. But now we were really excited!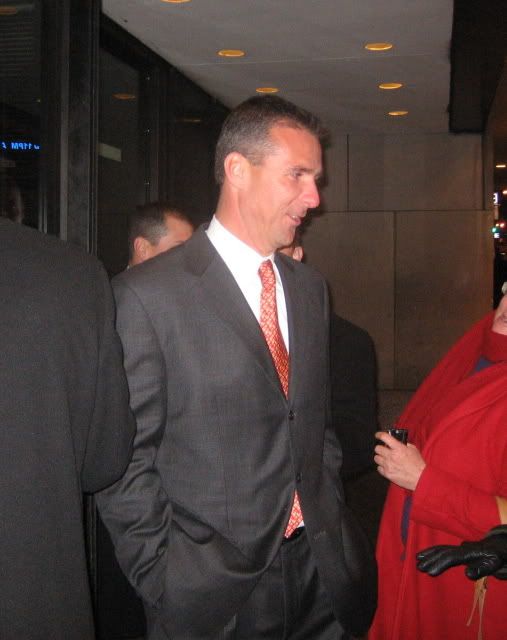 In anticipation of
Tebow
arriving, I decided to brave the cold and unbutton my coat to show off my
Tebow
jersey underneath. To do so I needed to remove my gloves, but as I pulled them off, I forgot that I had the camera strap around my wrist. And so, the camera hit the ground. Hard. And would not turn on. THE CAMERA WOULD NOT TURN ON! Mere moments before
Tebow
was supposed to arrive!
And arrive he did, along with Colt McCoy and Sam Bradford, the other finalists. They posed at the end of a walkway for pictures, then walked down the walkway and into the theater. We had brought our Gators helmet in the hopes that
Tebow
would sign it, but no luck. And the camera STILL WOULD NOT TURN ON. I tried my best to get a picture of him with my cell phone camera, but without much success. This is the best I could do: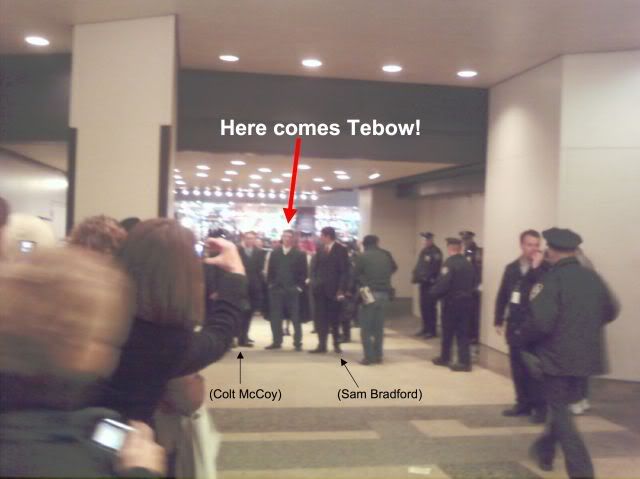 There he is! With Colt McCoy on the left and Sam Bradford on the right
In just a few seconds, it was over. But still a very cool experience! We did talk some of the other Gator fans after the event, and a couple of them got some really good pictures that they promised to email to us, so we're hoping that really comes through. That's actually the reason I didn't post about this immediately after it happened...I've been hoping to have better pictures to share with you. But, we still haven't heard from the girl who got the pictures, and I couldn't wait any longer. If the pictures ever show up, I'll be sure to share them!
And that was our close encounter with Tim
Tebow
! Go Gators!
In other news, please send good thoughts and healing vibes my sister's way today. She had an appointment at 8:00 this morning to have her wisdom teeth removed, and she was pretty nervous about it. I know she'll be fine, but think good thoughts for her for an easy procedure and speedy recovery! Get well soon, Heather!
UPDATE: (12/23/08)

We got the pictures from our fellow Gator fan! There were a couple pretty good ones in the batch she sent, but apparently the lighting was just bad so they're still a little fuzzy. But, here they are! These might at least give you a better idea of how close we were to him.