First of all, before I get down to business, did everyone watch the
Glee
season finale last night? Loved it! I loved seeing all the scenes
we saw them filming in New York
(they were all mashed up into the very first song!), and that
script
I got from a crew member turned out to be accurate with only one small exception (there was a line the script had being said by Mr. Schue that Quinn said instead). I loved, loved,
loved
Lea Michele and Chris Colfer's rendition of
For Good
...but that's all I'll say about the episode in case any of you haven't watched it yet! No spoilers here!
Last night I dusted off my cowboy boots, and Eric and I went to yet another fun New York-y event, once again thanks to
1iota.com
. This time, it was a free performance by country singer Brad Paisley - they were filming it now to air on the Fourth of July as part of the Macy's Fourth of July Spectacular! It was held at 230 Fifth, a fabulous rooftop bar with breathtaking views of the Empire State Building, which was lit up red, white and blue for the occasion. Our nasty weather finally broke this week, and it was an absolutely gorgeous night (albeit a little humid, but beggars can't be choosers). Perfect for a night out on the roof!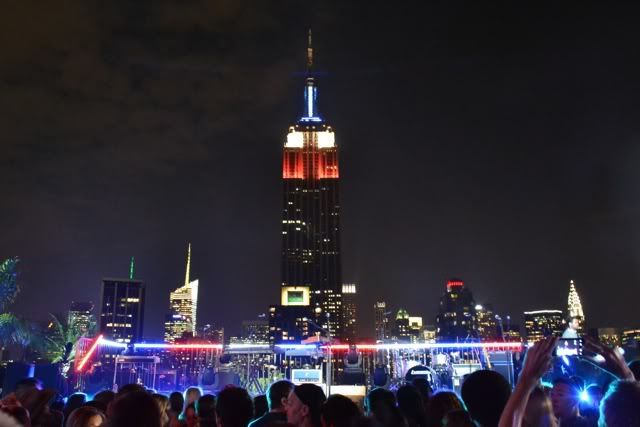 The view from the rooftop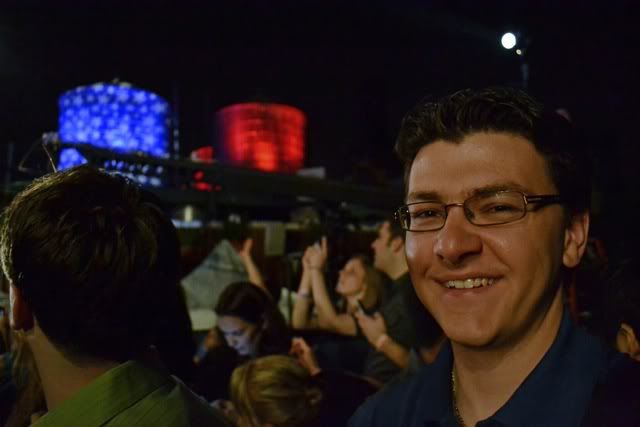 My handsome husband amongst the patriotic lighting on the roof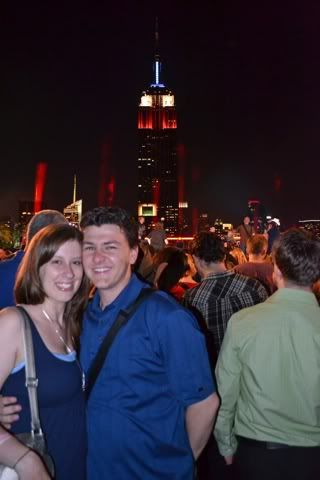 When they had everyone in position on the rooftop, they passed out glow sticks and gave us instructions for the performance: cheer wildly, take pictures, wave your glow sticks, clap, be ready for Brad to come out into the crowd. We were ready!
Get those lights a-going, it's show time!
Brad soon came out and got things started. He performed two songs: "American Saturday Night" and "Welcome to the Future." They did two takes of each, while the crowd cheered on and cameras whizzed past our heads (and even brushed the tops of our heads on occasion!).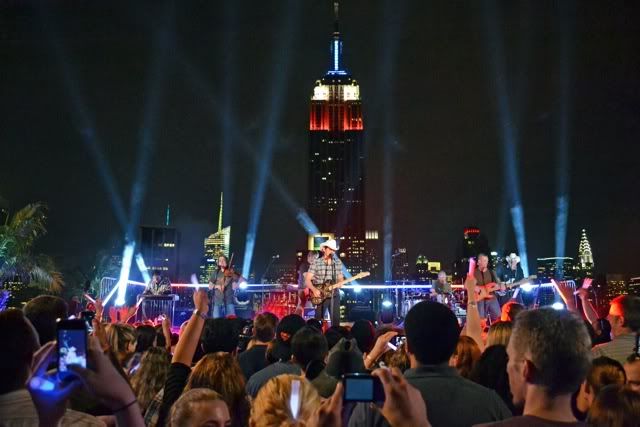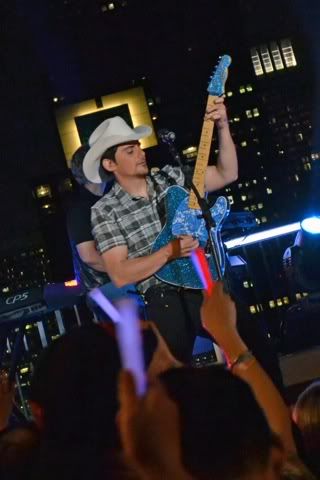 In between takes, Brad waved to the crowd and signed things for fans, including people's hats, cowboy boots and even sneakers. I can't say I'm a country music fan, but I don't
hate
it, and Brad seemed like another nice celebrity. You know how I like that sort of thing.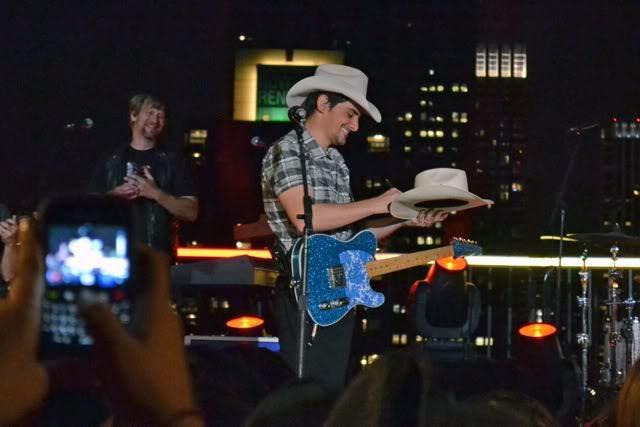 After they finished the two performance takes of each song, he did another take (or at least partial take) of each song so the cameras could shoot the audience. Of course, everyone went crazy, dancing and waving their glow sticks in the air. I was no exception.
I thought this shot Eric took was artsy - the ESB, the flag, the camera swiveling around. Good stuff.
That's me in the front on the left, dancing around
And just like that, it was over! Short, but rather fun. If you want to see a quick video of snippets of the performances, click
here
. My favorite part was when Brad yelled out, "Happy Fourth of July!" It's funny because it's actually May right now, get it?
If your Fourth of July plans this year find you at home, vegged out on the couch, watching coverage from New York or D.C. or wherever floats your boat, be sure to check out Brad's performance on the New York coverage! It will air at 9:00 p.m. ET on July 4th.
There sure are some awesome things to do in this city, let me tell you. It was a perfect New York night!