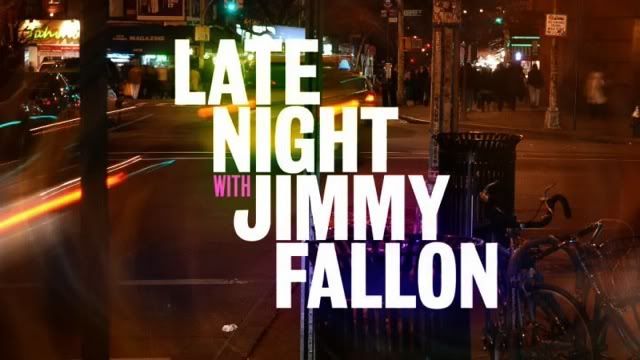 Tuesday afternoon we continued what is quickly becoming our tour of television show tapings around NYC. We've already checked off the
Late Show with David Letterman
,
The Daily Show
and
The Colbert Report
, and next on our list was
Late Night with Jimmy Fallon
. Tickets to all these shows are free, it's just a matter of picking a date and putting in a request. When you live in a place where you can do these things whenever you want, it's easy to put them off and then you end up never doing them at all, so we make plans to make them happen.
NYC To-Do List
to the rescue!
We were instructed to meet at the cafe on the second floor of the NBC Store in Rockefeller Center by 4:15 p.m. on Tuesday. Eric and I met up around 4:00, got checked in and then spent some time people watching from the second floor.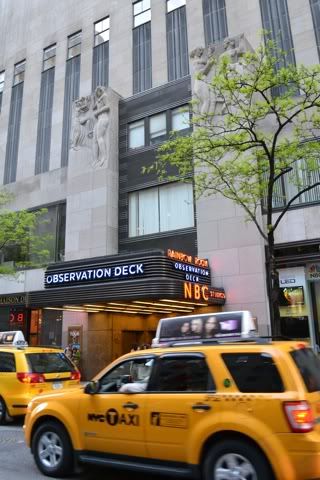 NBC Studios at 30 Rock, home of Late Night with Jimmy Fallon
View of the Plaza from the second floor of the NBC Store
At 4:15 they got us lined up (in a rather roundabout way), and then it was time to stand in line for 45 minutes or so. These shows always involve a lot of waiting around, but this one wasn't too bad.
Colbert Report
is by far the worst for standing around. And
Jimmy Fallon
is nice because they let you check in early (so long as your whole party is present) and then they give you a numbered ticket, and that's how the line order is established. That means that rather than standing in line for hours before your scheduled arrival time to get a good spot, you can just show up, check in, then go do what you gotta do until arrival time. Very convenient.
After the obligatory waiting around, they took us through security, then up to the studio. We didn't know about the "show up early then go about your day" trick, and we got there pretty late, so we were waaaaay in the back top corner, in the row right in front of the band benches. (We learned during our
NBC Studios Tour
that the band benches are where they seat the portion of the audience that they bring down onto the stage during the musical numbers. The benches then fold down once the people are on stage, so any shots of the full audience don't reveal empty seats. Tricks of the trade!)
The warm-up guy came out and did some chatting with the audience to get us laughing, then he introduced The Roots, who took the stage with the tuba in the lead. They played for a while and were, of course, awesome. Then we were ready for the show!
Jimmy came out and the crowd went wild. He did his monologue, and the audience dutifully lost their minds with laughter when appropriate.
The guests for Tuesday night's show were actress Keira Knightley, tennis star John McEnroe and musician Chris Cornell. Keira spoke about dancing Scottish dances at her brother's recent wedding (and being a bad bridesmaid), and promoted her movie
Last Night.
Jimmy and John McEnroe talked for a bit before getting into a quite lengthy beer pong battle, which John McEnroe eventually won. Chris Cornell performed a beautiful cover of Bob Marley's "Redemption Song" for Bob Marley week (see video
here
). All in all, a great show.
Jimmy interviewing Keira Knightley
At the end of the show Jimmy came around and high-fived the audience, and then it was over. Good times!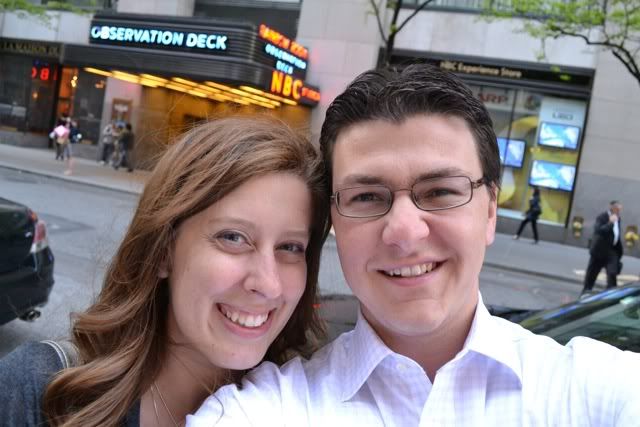 Outside 30 Rock after the show
We then spent some time admiring the statues in front of Christie's right across the street.
Sculptures in front of Christie's
On our way home, we stopped at Magnolia Bakery for a cupcake, because we have developed a serious (and borderline alarming) cupcake addiction. As you know, Magnolia is Eric's favorite cupcake bakery, and his position was reinforced by "Black Thought" of The Roots (the lead singer), who was in front of us in line. I guess if the bakery is good enough for The Roots, it's good enough for us.
We did watch Tuesday night's show, but you are spared from pictures of my TV showing us ON TV because of our way-up-in-the-back-corner seats. No great shots of us in the audience this time! It's always fun to watch these shows on TV after watching them tape live, though, to see what jokes get cut and what make it. We definitely had a great time at
Late Night with Jimmy Fallon
, and are already making plans to go back. Next time, we'll try for band bench seats!