You may recall that
last year
we went to the NFL Draft thanks to the Gotham Gators (local Gator alumni group) securing a block of tickets for Gator fans. We went to the second round because it was anticipated that my beloved Tim Tebow would be drafted in the second round, and the Gotham Gators wanted to be there to cheer him on. Of course, he gave us all the slip and went in the first round (way to go, Tebow!), so there was no Tebow cheering to be done at Round 2. However, we still had a fabulous time and thought it was a very cool event. This year, when Draft tickets popped up on
1iota.com
, we figured, why not? Only this year, we did far more Draft-related activities in addition to attending Round 2 (which I will be telling you about tomorrow): that Bud Light Party I already recapped, and the Red Carpet at Radio City Music Hall on Thursday night.
We actually got
tickets
to the Red Carpet (again, through 1iota), which meant that this was not our usual red carpet stalking from across the street, straining and stretching to try to snap photos between the heads of real paparazzi. This time, we actually got to be right up along the red carpet, on an elevated platform just behind the writers and bloggers. That meant we got a great view of the attendees, and most of them even stopped for interviews right in front of us!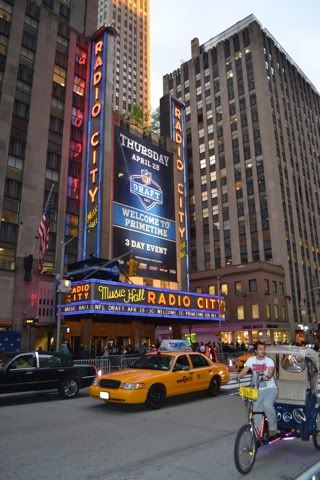 Radio City decked out for the Draft
A look down the red carpet
Crowds of fans across the street, hoping to catch a glimpse of some athletes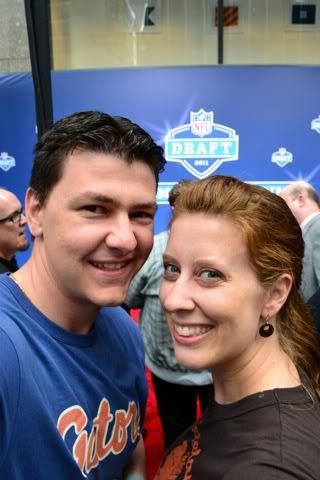 Hanging out at the red carpet!
(Between the two of us, we had my two teams covered: I wore my Browns shirt, and Eric supported the Gators!)
We were able to get a good look at many of the top recruits, and most everyone was very nice and took their time with reporters and fans on the red carpet, with one exception: Cam Newton. He was the first to arrive at the red carpet, and basically made a beeline past the press straight inside. He was the only one who didn't spend any time interacting. But, I never liked him anyway, so whatever. I was also a little bummed that Mike Pouncey didn't walk the red carpet, because I was hoping for a little Gator chomp action! But overall, we had a great time checking out the athletes up close and personal.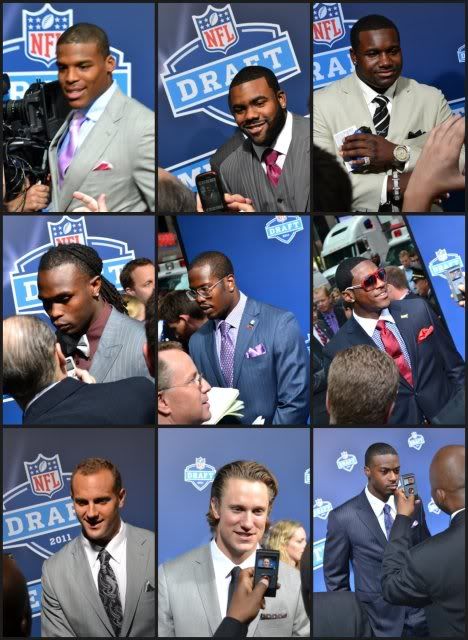 TOP ROW: A quick shot of Cam Newton (Auburn QB, drafted 1st overall by the Panthers) as he sped past; Mark Ingram (Heisman-winning Alabama RB, drafted 28th to the Saints); and Marcell Dareus (Alabama DT, drafted 3rd overall to the Bills) showing off his excessive "bling."
MIDDLE ROW: Julio Jones (Alabama WR, drafted 6th to the Falcons); Von Miller (Texas A&M OLB, drafted 2nd overall to the Broncos); and Patrick Peterson (LSU CB, drafted 5th to the Cardinals).
BOTTOM ROW: Mark Herzlich (Boston College LB); Blaine Gabbert (Missouri QB, drafted 10th to the Jaguars); and A.J. Green (Georgia WR, drafted 4th to the Bengals)
One more to give you an idea of the press situation! This is Cam Jordan, drafted 24th by the Saints
We also saw a handful of past NFL greats (including Barry Sanders, Charles Hayley, Deion Sanders, Marshall Faulk, Shannon Sharpe, Anthony Muñoz, Jim Taylor and Richard Dent), NFL Commissioner Roger Goodell, and a random TV celebrity: Chris Meloni of Law and Order fame.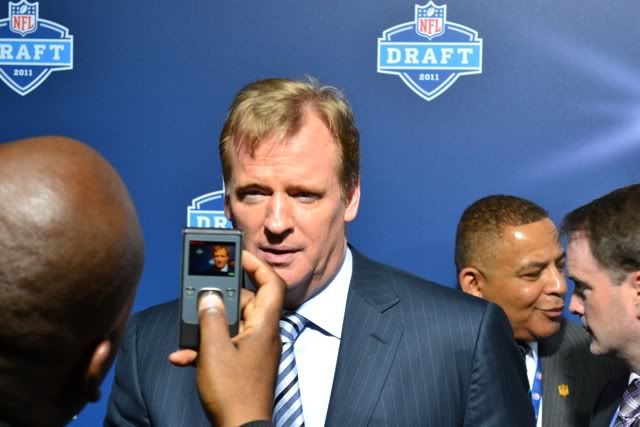 Commissioner Roger Goodell
After about an hour or so of solid celebrity-sighting fun, the red carpet shut down and we headed out, since we didn't have tickets to Round 1. We'll be back for Round 2, though! Stay tuned for that recap tomorrow!