How was everyone's St. Patrick's Day? Eric and I had a nice, quiet evening in with delicious stew and a lovely look at a festive Empire State Building, which was lit green in honor of the holiday and stayed lit until dawn (usually the lights turn off at 2:00 a.m.) in honor of anniversary of the ESB groundbreaking in 1930. Yay for trivia!
St. Patrick's Day Empire State Building last night
You know about our
Hoboken St. Patrick's Day
celebration, but last weekend we also did another Irish-inspired activity: we took a walking tour of Hell's Kitchen (our old neighborhood!) that covered the Irish political history of the area, and New York in general. Very interesting!
Just a little bit of information and brief history - Hell's Kitchen generally refers to the area west of 8th Avenue, between 34th Street and 59th Street. (Our old apartment was at the corner of West 54th Street and 10th Avenue, so we're definitely in that range!) In the mid-19th century, Irish immigrants (many fleeing the Great Famine) settled in this area. The Irish population grew rapidly, and at one point it was estimated that there were more Irish living in New York than non-Irish. The congestion and poverty in Hell's Kitchen led many Irish immigrants to gang life and gangs soon ran the neighborhood, including one led by the notorious Owney Madden, who is said to have been the model for F. Scott Fitzgerald's character of Jay Gatsby. As gang life turned to more organized crime during Prohibition, Owney Madden became one of the most powerful mobsters in New York.
Hell's Kitchen was also the inspiration for West Side Story, which highlights the conflict between the Irish and Italians in the neighborhood when the Puerto Ricans moved in during the 1950s. The area continued to be home to violent gang life until gentrification in the 1980s changed the demographics of the neighborhood. Section 8 housing was set aside for actors and those making a living in the nearby Theater District, and campaigns were launched to run out the pornography stores and prostitutes from the area. Today, Hell's Kitchen is an increasingly upscale neighborhood, home to many young actors and young professionals.
Got all that?
Our walking tour started at St. Patrick's Cathedral, continued west through Times Square over to 10th Avenue, then south to 42nd Street. Our guide was clearly exceptionally knowledgeable about Irish political history, and told us all about Owney Madden, Tammany Hall, Jimmy McManus and other notable New York Irishmen. Although the tour was very informative, there were not a lot of sights to see, so I felt it might have been better suited for a lecture hall than a walking tour. However, I do love Hell's Kitchen, so I am always glad to go back "home!"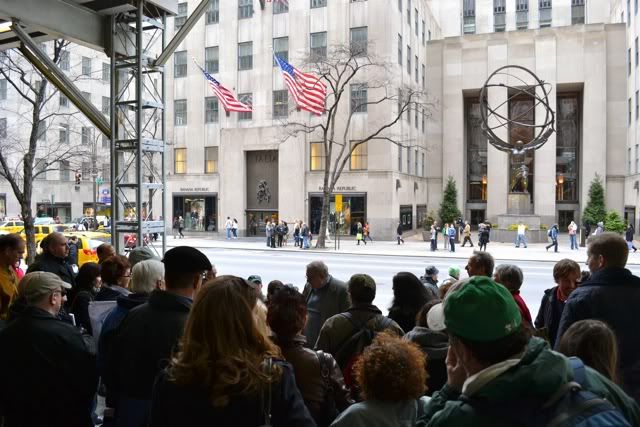 Our tour group listening to our guide's introduction on the steps of St. Patrick's Cathedral
An interesting piece of trivia from the tour: See how the building in the foreground is shorter and doesn't match the buildings around it? That's Magnolia Bakery, formerly Hurley's Pub, owned by an Irishman. When Rockefeller wanted to build his center, he bought up any surrounding buildings to use the land. Hurley refused to sell his pub, and so Rockefeller built around it!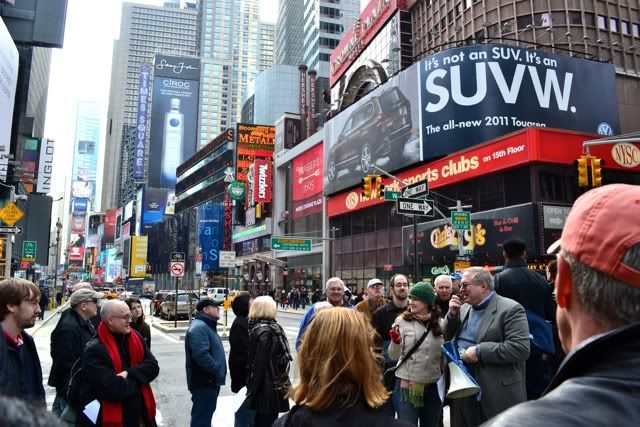 Listening to our guide in Times Square, telling us about Broadway stars Al Jolson and Ruby Keeler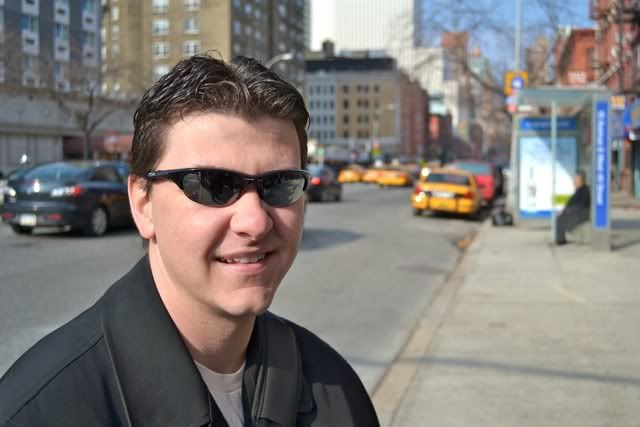 My handsome husband in Hell's Kitchen, just a few blocks south of our old apartment
Because I don't have many pictures to share with you from the tour, I thought it might be fun to take a look back at OUR experiences in Hell's Kitchen. I know, our pictures have nothing to do with the Irish political history of the area. But, Hell's Kitchen itself is very near and dear to my heart now, and we had some great times there. So, since we're on the subject, why not take a quick trip down memory lane?
Here are few of my favorite things/sights/places/memories of Hell's Kitchen...
Frequent street festivals in the warm-weather months, including the Ninth Avenue International Food Festival:
Watching the Fourth of July fireworks from the West Side Highway:
The Intrepid, movie nights on the deck of the Intrepid, and the surrounding parks:
Beautiful sunsets to the west (including
Manhattanhenge
), and great riverside parks in which to enjoy them:
Great shows taping within blocks of our apartment:
Fun shows to see at New World Stages, a great off-Broadway theater just blocks from us:
All the delicious food you could ever want (including our favorite regular spots: El Centro, City Lights Diner, and Daisy May's BBQ):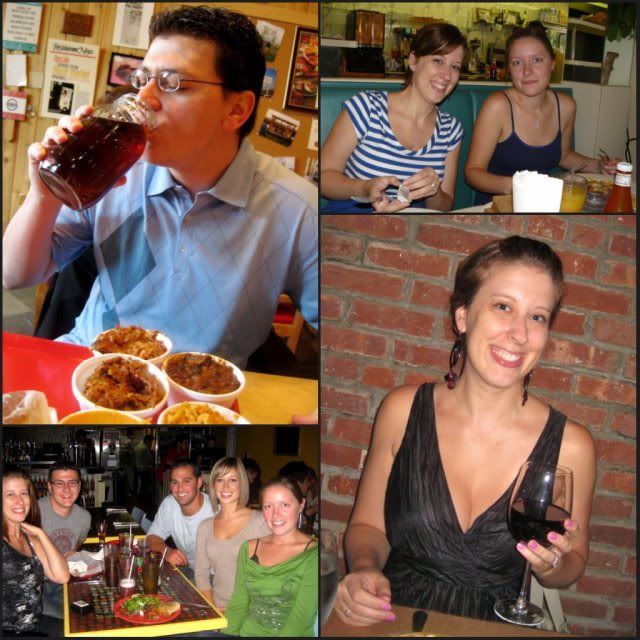 And of course, I love that in Hell's Kitchen, city zoning regulations prohibit buildings from being over a certain height. It was this regulation that enabled us to have our old view, because if there had been skyscrapers across the street, we never would have been able to enjoy this:
All in all, it was a great place to live!