Whew! We just finished up one fun weekend! We did lots of great things in the past few days, so I have lots to tell you about. But first, I want to take a quick moment to wish my little sister Heather a very happy birthday! She is 26 years old today and I wish I could be there for her awesome party, but I will see her later this week. (And remember to check her out in
Songs for a New World
at the New American Theater in St. Pete!) HAPPY BIRTHDAY, HEATHER!
Also, a big CONGRATULATIONS to my cousin Beth and her husband Kevin on the birth of their baby boy! Alexander Stephen was born yesterday, March 27th. Welcome to the family, little one!
Now, back to business. Let's start with Friday night, when Eric and I kicked off our weekend with a preview performance of
Wonderland
on Broadway. As you may recall, I saw
Wonderland
in
Tampa in January
. It originally premiered in Tampa in 2009 and returned to the Straz Center for two weeks (when I saw it) before making the move to Broadway. When I went home to visit my family, my dad treated us to the show. I very much enjoyed it, so when I saw that awesome $25 preview ticket deal they were offering on box office opening day,
I was all over it
. I was glad Eric would get a chance to see it, too.
So, Eric and I met up in Times Square Friday evening and walked over to the Marquis Theater together. I had never been to that theater, but it is fun because it's right in the heart of Times Square. Actually, it's on an upper level of the New York Marriott Marquis, better known as
the hotel into which I chased Tim Tebow
.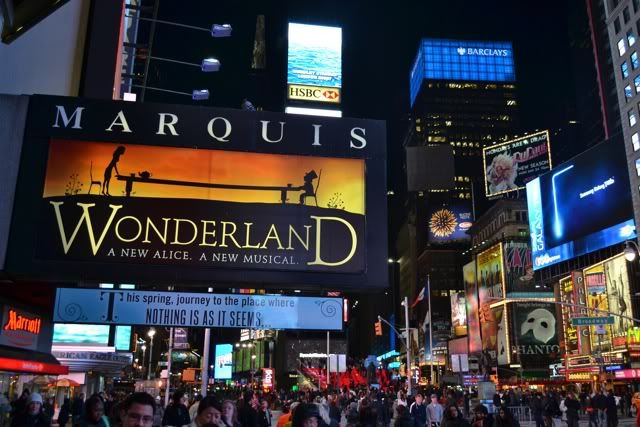 The theater marquis in the heart of the Times Square action
Our seats for this show were
awesome
. Because we are usually discount ticket buyers, we don't usually get awesome seats (Example A: very, very tippy top back row seats for
Anything Goes
). And that's fine, there usually are very few bad seats in the house. But this time, we were in the center of the orchestra level, row M. Hooray!
I snuck this photo from our seats with my Blackberry. Shhh, don't tell.
The show was great, as I expected. However, I did not expect it to be
so different
from what I saw in Tampa! I figured they were still tweaking it as they prepared for Broadway, but the script was drastically changed. The main character's career, the entire opening number, the premise of how Alice gets to Wonderland, the Mad Hatter's plot, the final fight scene, and the overall "lesson" were all different. The music stayed the same and the whole story still worked, but I was so surprised at how much they changed!
Overall though, I do recommend this show. As I said before, it was a fun new take on the classic tale of
Alice in Wonderland
, and it's very funny with a good overall message. Last time my favorite characters were El Gato (the Cheshire Cat, with a little Latin flare) and the Caterpillar, but this time the White Knight really won me over. He (along with his backup Knights) was just hysterical. He was definitely a crowd pleaser!
So, another great night at the theater under our belts! Do you know that this was the 20th show I have seen on Broadway? Actually 21, if you count Chicago twice (I saw it once with Eric and once with my sister). If you add in off-Broadway shows, I'm up to 23. And I don't plan on stopping any time soon!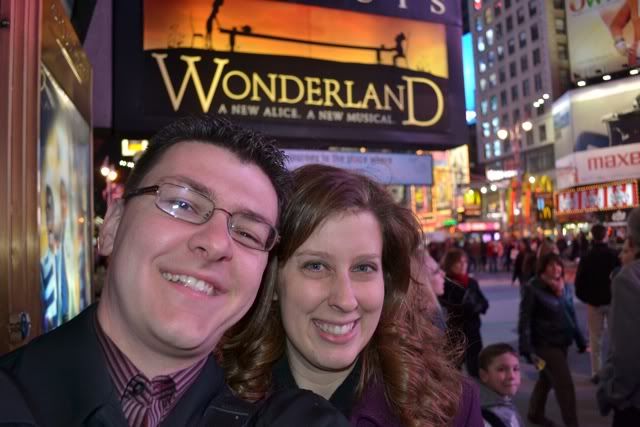 Outside the theater after the show
After the show we were feeling very nostalgic, so we stopped at the Hard Rock Cafe for a drink. You see, when Eric was a summer associate here, I would come up from D.C. to visit him whenever I could. We usually tried to catch a show during my visits, and afterwards we always went for drinks at Hard Rock before catching a cab back up to his tiny apartment on W. 116th Street. I don't know why we never ventured out from Times Square for our post-show cocktails; I guess just chalk that up to still being tourists. (Also evidence of our tourist-ness: we took a cab home instead of the subway because it was night time. We've gotten a bit "braver" in our 2.5 years of NYC life!) But regardless, we always had a great time on those fun summer nights, so for old time's sake we stopped back in to Hard Rock on Friday.
Hard Rock in Times Square
Eric waiting for his name to jump to the "now seating" side of that board
Rows of guitars at the entrance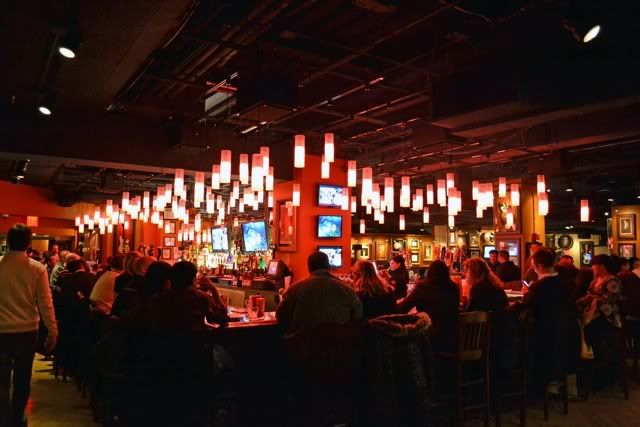 During my most memorable post-show Hard Rock visit with Eric, we sat in that lower level there. I remember having probably one too many Washington Apple martinis and being rather giggly. I just felt happy to be with Eric (we were about to get married in a month or two) and excited about the prospect of living in NYC someday.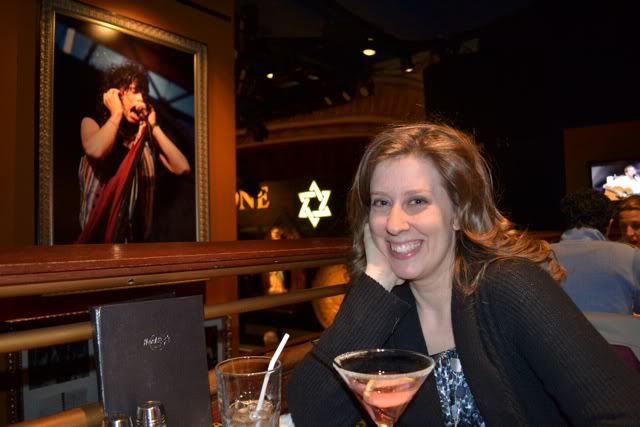 Back at Hard Rock for old time's sake
After drinks and a shared appetizer, we headed back to the PATH train. Along the way, we passed Macy's, where they were setting up for the Flower Show that is going on now. They always do an amazing job decorating the interior and window displays with flowers around this time of year. It was kind of fun to get a sneak peek as they were still setting up!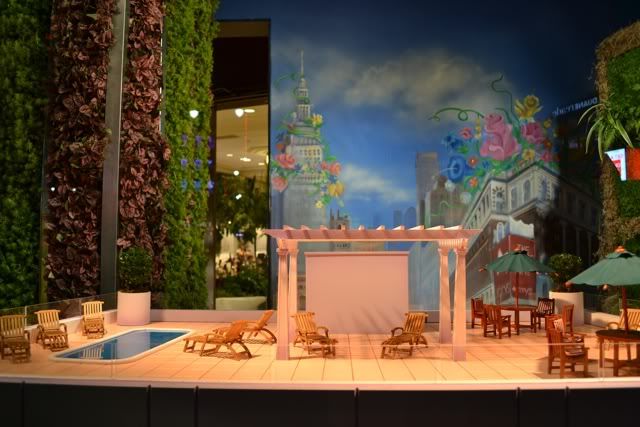 One of the window displays, featuring a model of an awesome rooftop deck with an Empire State Building draped in flowers behind it
Flowery Eiffel Tower window display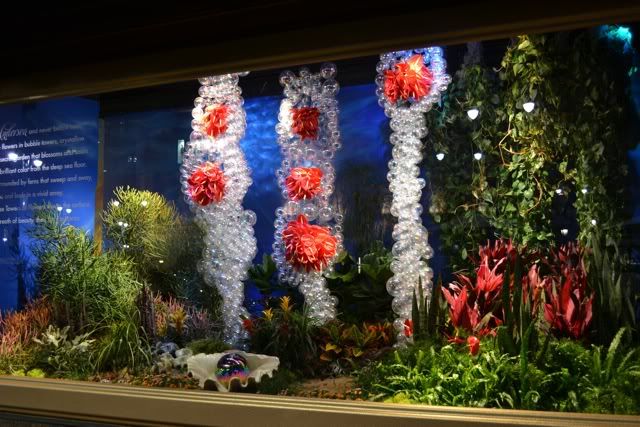 This window display is meant to look like the ocean floor. Beautiful!
All in all, it was another fabulous New York evening! I love this city.