Sorry for the exceptionally uncreative post title.
This past weekend, I spent some time in Florida visiting family, and it was a wonderful time as always! I was supposed to fly down to Tampa on Friday morning, but we were hearing all about this impending snowstorm, so I decided to fly down Thursday night instead to avoid the risk of some flight-canceling disaster if the snow was bad. My airline was waiving change fees, so off I went within a few hours. Of course, my new flight out Thursday night was delayed 45 minutes (and super full so there was no room for my carry-on bag and I had to check it), but my original flight on Friday was only delayed about 15 minutes. That figures. But hey,
Tom Papa
was on my new flight. Does that count for anything? Minor celebrity? No?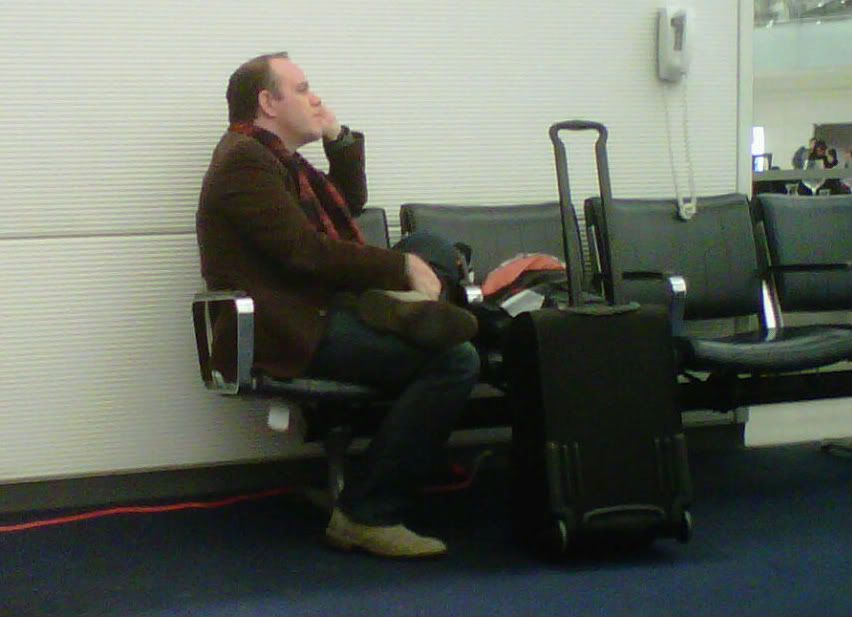 Yeah, that's right. I snuck a picture of Tom Papa on my cell phone. What about it?
Anyway, I arrived in Tampa around midnight on Thursday night (or Friday morning, I guess), and my dad picked me up at the airport. I pretty much crashed as soon as we got in. I was very pleased to see the bed in the office made up for me so nicely - complete with chocolate on the pillow! Such accommodations!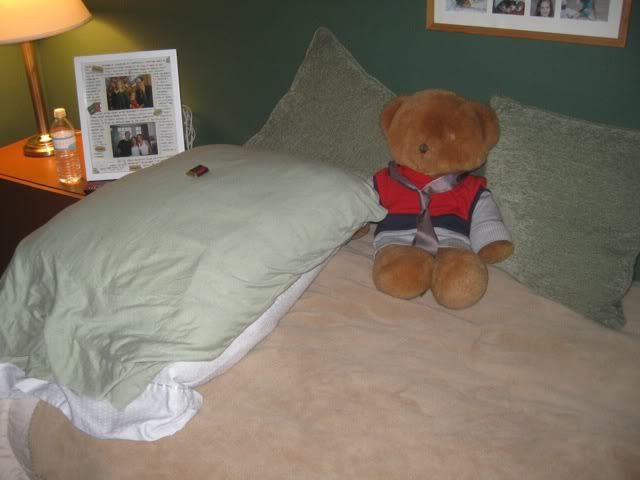 Lovely bed, with a Hershey's Dark Chocolate on the pillow
Friday morning I got up and drove my dad to work so that I could use his car for my usual "Hooray, I'm back in the land of Targets!" Target run. And a successful run it was - I finally got my hands on a Kindle! Eric and I have been trying to find one to buy in person in NYC for quite some time but everywhere has been sold out. Target to the rescue! The Target in St. Pete had three in stock. Awesome! And, P.S., I'm in LOVE with my Kindle. My life is forever changed. In fact, I'll just go ahead and apologize now if my blogging schedule takes a hit because I'm too busy reading on my new Kindle. You have been warned.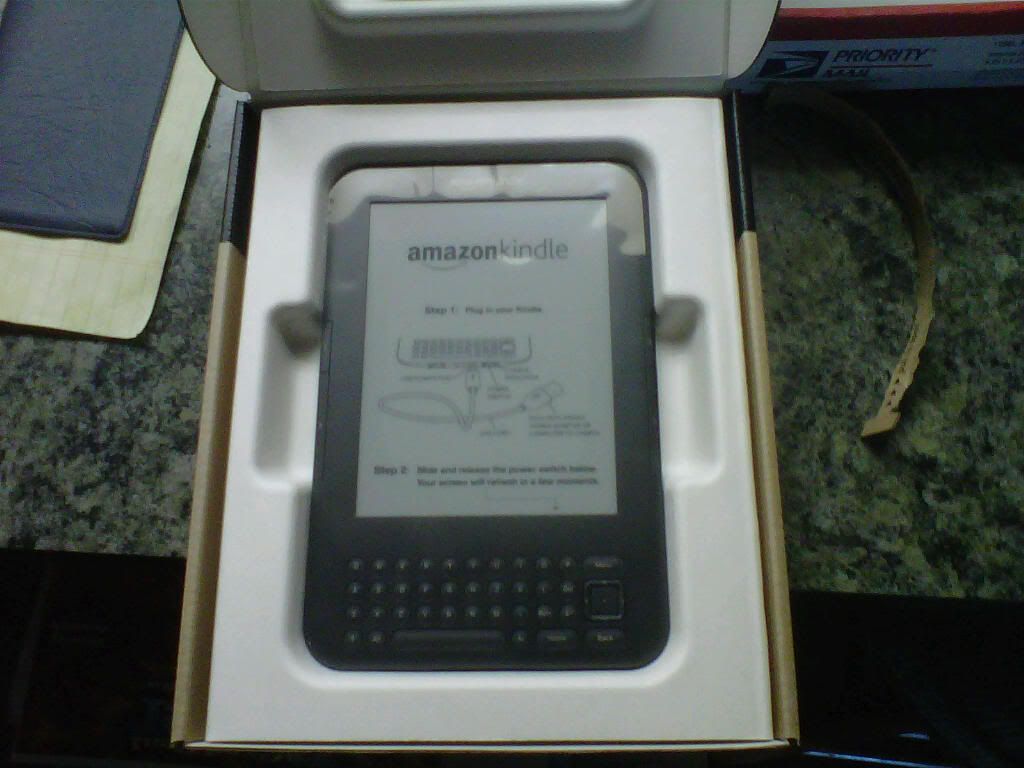 Lousy cell phone picture of the new Kindle - I had to send Eric a picture to prove I was in possession of such a coveted device!
From Target I went back to pick my dad up from work, and we stopped for lunch at Arby's then went back home. I napped (sooo tired) until Heather got home from an audition in Orlando, then my dad made a lovely dinner for us (pasta, fresh bread with oil and herbs, etc.). Yum!
Heather and Dad at dinner. Clearly, Heather is already chowing down on bread.
After dinner, my dad treated us to a show at the Straz Center:
Wonderland
!
Wonderland
will be opening on Broadway later this spring, but it premiered in Tampa in 2009 and returned for a two-week engagement this month before making the move to the Big Apple. I was very excited to see it before it makes its Broadway debut, and I thought it was a great show. It was long, I will say, but very entertaining. It was a fun twist on the classic
Alice in Wonderland
story, with my favorite characters being El Gato (the Cheshire Cat) and the Caterpillar! All in all, we had a great night at the theater. Thanks, Dad!
Wonderland: A New Alice. A New Musical.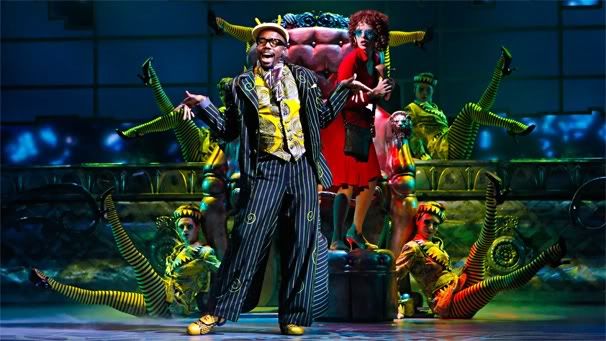 Caterpillar scene from Wonderland, featuring Tommar Wilson as the Caterpillar and Janet Dacal as Alice
Saturday morning I had my W. Family Time. I met up with Kelley and Toni at Einstein Bagels, where Susan was working. Kelley, Toni and I had a nice breakfast and did some good catching up, and Susan visited with us when she could. After Toni got picked up and taken home, Kelley and I went over to Publix to say hello to Gramz at work. It was so great to see everyone, and I'm always so grateful that they make time to see me when I'm in town! Special thanks to Kelley for always organizing our get-togethers!
Breakfast at Einstein's with Toni and Kelley
I spent the rest of the day Saturday hanging out at the house with my dad, and then we went out to dinner at Fourth Street Shrimp Store. Yum! Love me some shrimp. After dinner I spent the evening hanging out with Heather, just watching TV and chatting.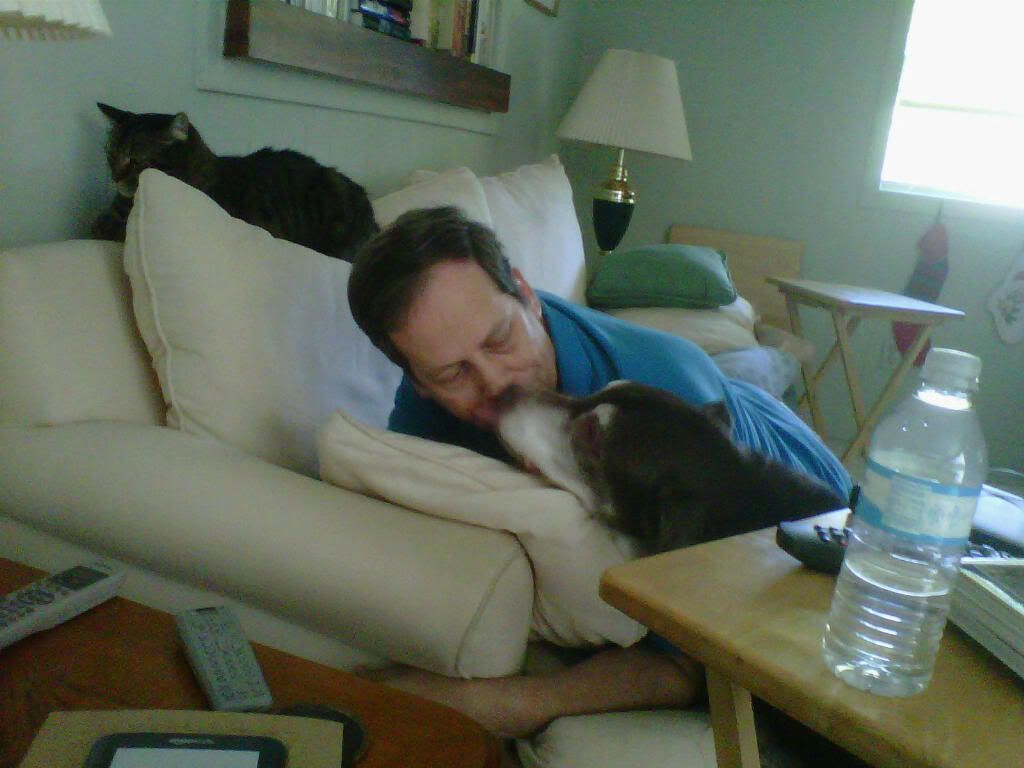 Mellow afternoon at home, and my dad sharing a moment with the animals.
Sunday morning Heather and I went for breakfast at Steak 'N Shake (fun fact: did you know I got my first job at Steak 'N Shake at age 16 so I could pay to take Eric to my junior year homecoming dance?). Surprisingly enough, a few people I worked with in my S'NS days are still there!
After breakfast we went up to Weeki Wachee to spend the day with my mom. We did some chatting at her place, then got out of the house for a bit and went to the Weeki Wachee River to look for manatees. I did get to see one - he really rose up out of the water! That was fun. We also saw a woman hook a bird when she cast out her fishing line, which was not fun. Poor bird.
This just looks so "Florida," doesn't it?
After our time at the river, we went back to my mom's house for a delicious dinner, then went out for ice cream at Papa Clyde's. After that, Heather and I went back to my dad's house. I was exhausted so I went to bed soon after.
Monday morning I caught my 9:00 a.m. flight back to NYC, which was much more pleasant than my flight down. The flight was not full, so I had an open seat next to me and plenty of room for my carry-on bag in the overhead bin. I spent the whole flight engrossed in a book on my new beloved Kindle, and we landed a half hour early! Perfect flying experience.
And that was my trip! It's always so nice to see everyone. Thanks, all, for making my trip so enjoyable!
Meanwhile, back in New York, Eric enjoyed a bachelor weekend filled with good food, video games, and continued Hoboken apartment hunting. He found some potentially good things in his apartment search, but I'll fill you in on that when we know more after this weekend!