The title of this post perfectly describes our Friday evening! I have
Anything Goes
to thank both for the title inspiration
and
the aforementioned wonderful night out.
As you may recall,
my Valentine's Day
was spent running around town in pursuit of cheap Broadway tickets, including three hours spent waiting in line for $10 preview tickets to
Anything Goes
at the Steven Sondheim Theater. As I stood there forever and ever I remember thinking to myself,
this show better be worth it
. Well, it was!
The show is scheduled to officially open on April 7th, but previews started Thursday night. So, we saw it on only the second night of previews. And it was
fabulous
. This revival stars Tony Award-winner Sutton Foster as Reno Sweeney, and Tony and Academy Award-winner Joel Gray as Moonface Martin. (Full cast listing
here
, if you're interested.) Eric and I both thought the show was superb. It was rather entertaining and just an overall very enjoyable night of theater. The cast was excellent, the dancing was delightful, the music was great, it was just good wholesome fun. My favorite numbers were, of course, the two big showstoppers: the "Anything Goes" tap number at the end of Act 1, and the ever-so-showy "Blow, Gabriel, Blow" in Act 2. Overall, we really enjoyed it. (I'm not a very eloquent theater reviewer, but I did find
this review
that I thought was pretty spot-on, if you want to read more.)
To add to the fun, the audience was rather enthusiastic, probably the most "into it" crowd I have seen at a Broadway show. Every song was met with thunderous applause and hoots and hollers from the audience. Also, we were surrounded by what seemed to be a high school group (a choir trip, apparently), all sporting their letterman jackets (class of 2010, seriously?). They were just so excited to be there, which was really sweet. When the overture started, they all started bouncing excitedly in their seats, and they sort of danced along with a few of the numbers during the show. It was very cute!
All in all, there's just nothing like an evening at the theater, don't you think?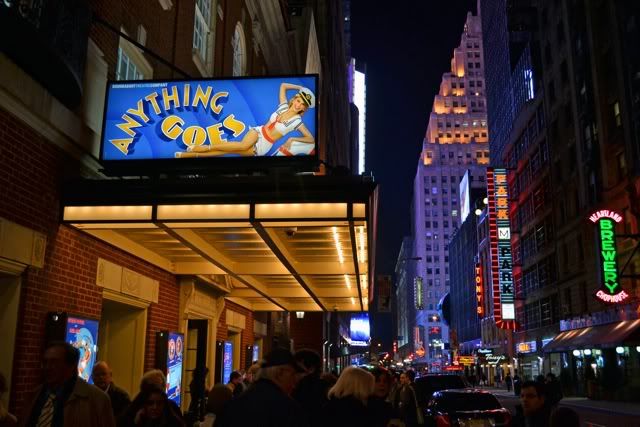 Anything Goes at the Steven Sondheim Theater
After the show, we wandered over to Times Square for a bit. Even though I generally try to avoid Times Square like the plague, sometimes it's nice to just be a tourist and take it all in.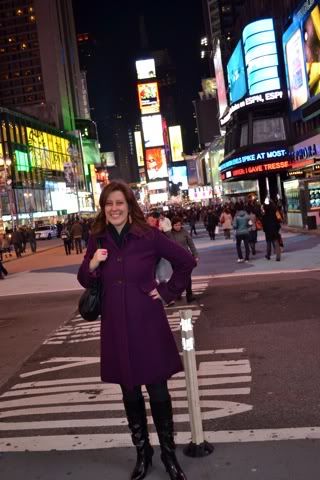 Hanging out in Times Square
They say the neon lights are bright on Broadway...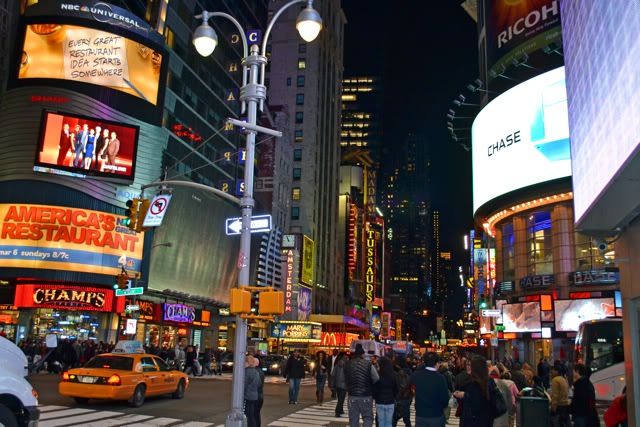 Tell all the gang at 42nd Street that I will soon be there...
(Yes, I am singing two separate songs in this post. Well, three, if you count my post title. Times Square does that to me.)
As we made our way back to 34th Street to catch the PATH train home, we also caught sight of the Empire State Building up-close-and-personal. It was lit up blue, red and white for the Big East Basketball Championship, happening right up the street at Madison Square Garden (we went to it
last year!
). I do love that big ol' beautiful building.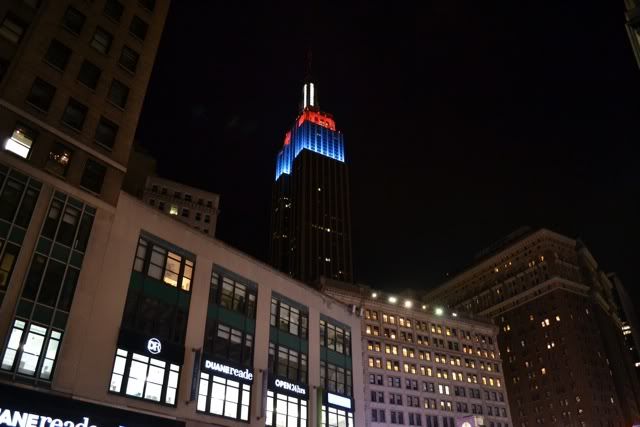 Empire State Building towering above 34th Street
When we got back to Hoboken we picked up some food on Washington Street and then called it a night. It really was a lovely evening out and about in my most favorite city!