Yesterday, I had a rather busy day that turned into a very nice low-key Valentine's Day evening!
I spent my day basically running around midtown Manhattan in pursuit of discount Broadway tickets. The box offices for both
Wonderland
(which
I saw in Tampa
last month) and
Anything Goes
both opened yesterday, and both were having great promotions for preview tickets.
Wonderland
was offering $25 tickets for their preview shows to the first 100 people at the box office, and
Anything
Goes
was selling $10 tickets to their first four performances to the first 600 people. I am all about a Broadway deal!
The
Wonderland
box office opened first, at 10:00 a.m., so Eric and I left around 9:00 to head over to the Marquis Theater to get in line. Eric hung out with me for a few minutes before he had to go on to work, and I was plenty early enough to be one of the first 100 patrons at the box office so I got great orchestra-level seats for us on March 25. Score!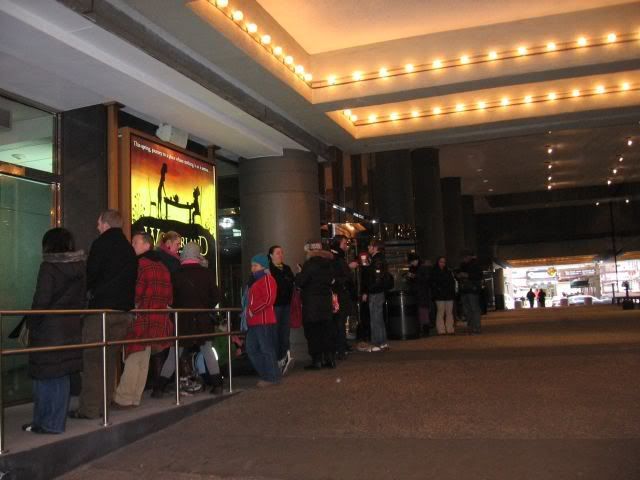 People in line at the Wonderland box office (photo Twittered by WonderlandBway)
The
Anything Goes
box office wasn't scheduled to open until noon, and the line at
Wonderland
had been so small, so I figured I had some time to kill. I went wandering through Times Square a bit, checking out a couple of things they had going on including a Valentine's Day art installation called "Light Hearted," and a Live Ken Doll display. I also ran some errands (including picking up Eric's silly Valentine's Day gift) before heading down to the Steven Sondheim Theater.
"Light Hearted" art installation (read more about it here)
Live Ken Dolls on display in Times Square
The
Wonderland
line definitely gave me a false sense of security, because the
Anything Goes
line was LONG. I mean, LOOOOONG. I got in line around 11:15, and as I mentioned, the box office opened at noon. I finally left with tickets in hand at 2:00! It was insane. I didn't get a picture of the line, but I did find
this video
on Twitter that really shows you how long that line was (and yes, I'm in this video, about 19 seconds in. I'm wearing a blue coat, with a white bag on my arm, looking down at my phone!). It just moved soooo slowly. They did give us fetching hats, though.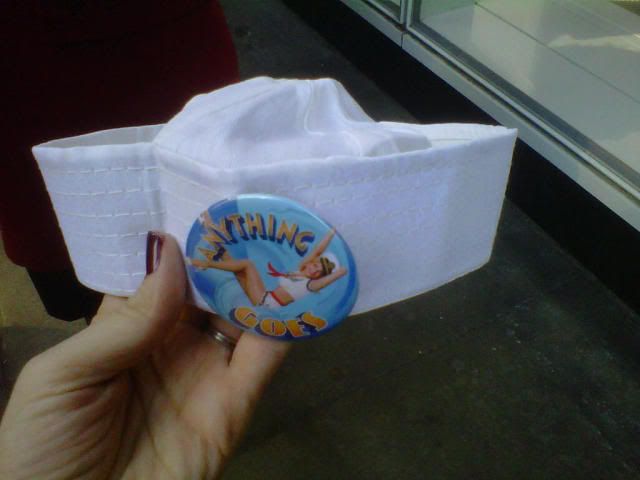 My free Anything Goes sailor hat!
I had a pretty crazy experience while in line for this show. The older gentleman behind me was, well, crazy. He did NOT want $10 tickets; he wanted to buy regular-priced tickets. Yet he chose to wait in line for over two hours. Like, dude. Take yourself home and order by phone or internet. He claimed he didn't want to do that because they charge you $10 in fees, which I get, but seriously - isn't your time also worth something? To me, it would be totally worth it to pay $10 more to not have to wait in that line. Or if you must get tickets in person, come back tomorrow, or even later in the day, when this line has gone down! Craziness. Then, to add to it all, as we were almost to the front of the line, he fainted! He was leaning on a wall and then just fell backwards onto some steps. The people behind him in line revived him and he insisted on standing back up, but was leaning on the wall again and you could see his legs wobbling and shaking. Another person in line alerted line security, who came to bring him some water. He then passed out again! The theater manager came out and brought him a chair and they called 911. An ambulance came and they checked him all out. He was fine, and as soon as he felt well enough they let him go in and buy his tickets, but again, THIS IS NOT WORTH SAVING $10 IN FEES. It was madness.
But, I did get my $10 tickets. They're terrible seats, but hey, they were $10! So we've got that scheduled for March 11 now. I'm pretty psyched that we got tickets to two Broadway shows (four tickets in total) for only $70, which is about what you'll pay for ONE discount ticket at the TKTS booth. What a steal!
Although the ticket prices were awesome, the best part of the afternoon was that Eric came to meet me at the
Anything Goes
line, and we had a quick lunch before I went back home. It's always a nice treat to see Eric midday!
Back at home I worked on organization for our move to Hoboken ONE WEEK FROM TODAY. People, this is happening fast. Our apartment is in shambles but the packing has officially begun. I hate every second of it.
Eric worked a little late last night, and he paused to take some pictures of interesting things on his way home, including a fashion show in the Audi store on the ground floor of his office building, Rockefeller Center looking nice as always, and the very festive Empire State Building.
Fashion show at the Audi store
Runway set up in the Audi store
Rockefeller Center at night
Empire State Building lit up red, pink and white for Valentine's Day
When Eric arrived home at last, I had set up a lovely dinner table for us. He cooked a wonderful meal (shrimp scampi) and we drank a bottle of wine and some champagne. For dessert, we had Crumbs cupcakes, because no better dessert exists. We also exchanged small gifts (Godiva truffles for me from Eric, and an awesome
Nintendo controller belt buckle
for Eric from me) and spent some time talking and enjoying each others' company.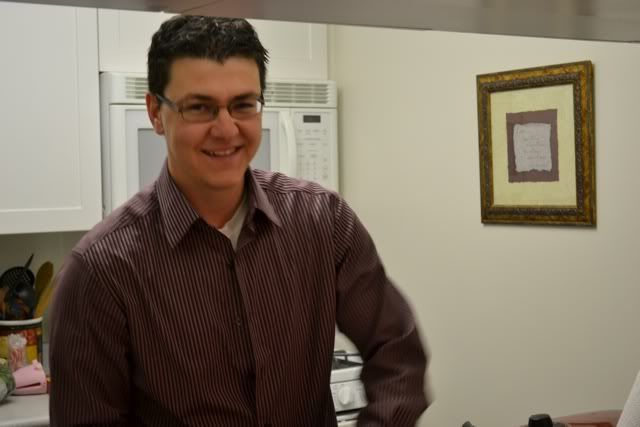 My handsome husband making us a delicious dinner
Our Valentine's Day table (and a moving box trying to sneak in the picture on the left, because they are taking over our lives)
And that was our Valentine's Day! Now, back to these moving boxes that are totally invading my personal space...