Well, we're in! As I type this I am sitting at my desk in our new living room, looking west out our window at lovely (
read: boring, flat, not exciting, I miss my skyline view
) New Jersey. We are officially no longer residents of Manhattan. Sad face!
The move really went very smoothly. My injured toes manned up and helped us get everything done, we got everything done in time, the movers were absolute machines, and here we are. We've had a few hiccups since then, but nothing unmanageable so we really can't complain.
The night before the move, Achilles realized I packed all his comfy spots in his crate and made himself right at home.
The state of our apartment on moving day
Eric and I got up early on Tuesday morning, a couple hours before the movers arrived, to take care of that last minute stuff that
has
to be last minute: stripping the bed and packing the bedding, packing bathroom stuff, sealing up last minute boxes, etc. The movers arrived right on time, although it took a few minutes to find parking in front of our building. As soon as they showed up at our door, I leashed up the dog and took him out for an hour-long walk. I figured getting him out of the house was the best way to minimize his psychosis and save our sanity, rather than sitting and holding him and telling him to SHUT UP ALREADY the entire time the movers were there. So, he and I went for a very nice walk in Central Park. He loved running through the snow (boring video of it
here
), and I loved the quiet, nearly deserted park. It made me kick myself - why have I not been taking Achilles for walks in Central Park every morning? Missed opportunity!
We got back to the apartment around 10:15, where I was shocked to see that nearly all of our stuff was already out of our apartment and waiting to be loaded on the truck. Those guys moved fast! I relieved Eric of "stay with the movers" duty then, so he could run over to Hoboken to get into the new place and meet the movers there. Thankfully, the movers finished up soon after, because sitting in the kitchen (to stay out of the way) as Achilles growled nonstop was not super fun.
VIDEO: Achilles growling at the movers
The movers arrived in Hoboken in good time, and although they had to wait to move in for a few minutes because of an earlier move-in still in progress, they got everything unloaded super fast once again. Eric stayed in Hoboken for a bit to take care of some things (setting up our amazing Sleep Number bed, dealing with maintenance issues, etc.), then came back to NYC with Daisy May's BBQ in hand for us to enjoy for lunch. Oh, I shall miss you, Daisy May's!
While Eric was in Hoboken, Achilles and I stuck around the old apartment to clean and paint our accent walls back to white. Well, I cleaned and painted. Achilles discovered the great sun on the windowsills and settled in for a nap (lucky dog), and when the sun ran out, he found the one "soft" spot in the house to sleep on - his doggy carry-bag.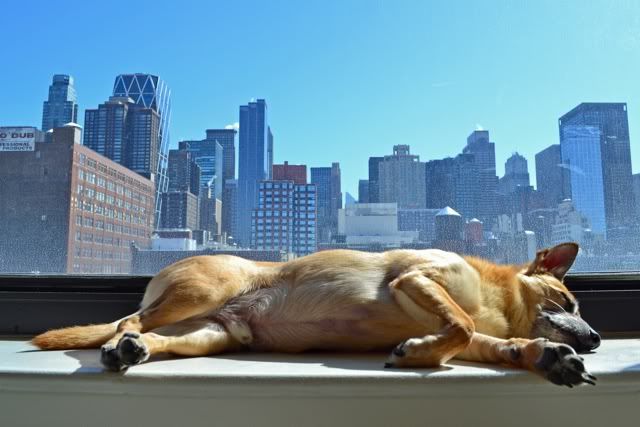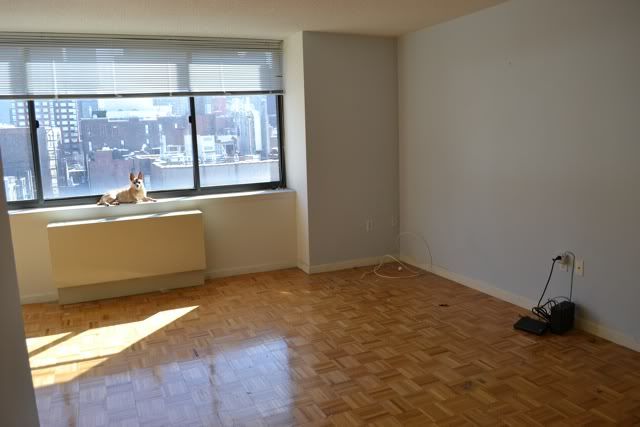 Our very empty living room. Boo!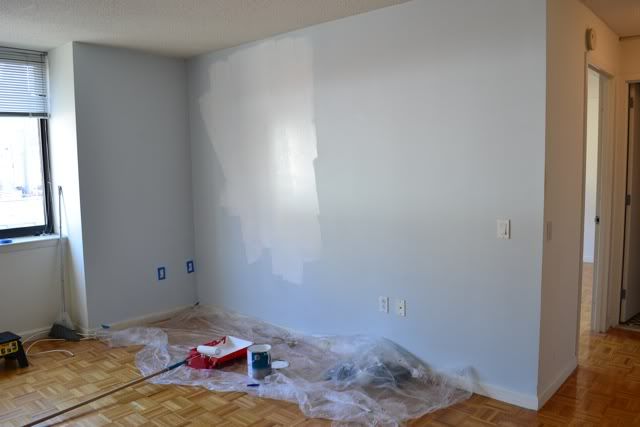 Painting colored walls back to white is not nearly as fun as vice versa.
Sleeping on his doggy bag with his tongue out, because that's how he rolls.
When Eric did rejoin me, he dove right in and was a kitchen-cleaning all star. We ended up staying at the apartment until about 10:00, just finishing up. The apartment sure did look awesome when we were done, though! At that point, we realized we had grossly misjudged how much stuff we needed to keep with us for our cleaning day - we should have sent
a lot
more of it with the movers. We were able to carry almost everything, but we were really loaded down with four bags each. We gathered our things, bid a sad farewell to our fabulous apartment, and made our way to the subway/PATH train for the ride over to Hoboken, Achilles' first on the subway. He was not a fan of the waiting around (or the being in a bag), but he didn't mind the ride so much once we were in motion.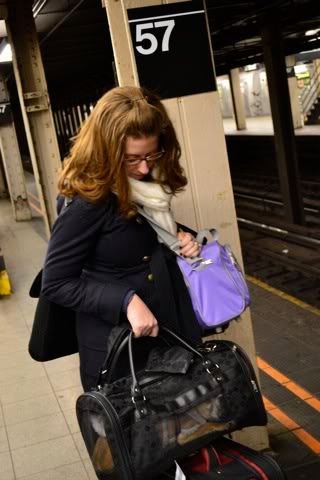 Waiting for the subway at 57th Street
On the PATH train to New Jersey
At last, we made it to the new place. We grabbed a quick (VERY late) fast food dinner, then set up the shower curtain and put linens on the bed before we crashed.
The state of our new apartment upon our arrival Tuesday night (living room, bedroom, kitchen, and my beloved washer/dryer!)
Can I just pause for one second to say something about moving? I have moved quite a bit, and in a variety of different ways. I have packed myself and rented U-Hauls/vans and moved myself (with help from family, of course!). I have packed myself and rented space in a truck, which I loaded and then the company drove to my destination, then I unloaded it. I have had movers pack for us and move everything for us. And, now, I have packed myself and then had movers do the moving. Personally, I think this way is definitely the best. Of course, when I was driving myself crazy with packing last week, I was fantasizing back to
our move to NYC from DC
and how the wonderful men came and put all my stuff in boxes for me and took it away. During the packing stage, that sounds glorious. However, the downside of that arrangement is the
un
packing. By not packing your own boxes, you have two obstacles to face when you go to unpack: 1) you didn't get the chance to purge, so everything you own shows up in the new place, whether you want it to or not (seriously, those movers even packed the trash in the trash cans); and 2) when you want to unpack, you have only very, very vague ideas where anything is. This time around, not only did we lighten our load by throwing away/donating/selling TONS of crap, but when we got to our new place and I wanted to put up the shower curtain so I could shower and put fresh linens on the bed, I knew exactly which box the shower curtain and linens were in, because I put them there. It was really nice to not have to go fishing through a million boxes with vague labels to find what I needed. So, I think this is the best system. Note to future self!
So, yesterday morning we woke up to our first day as New Jersey residents. It was quite a day, and this is where those "hiccups" I mentioned come in. For one, Eric got a late start leaving for work, since he forgot his keys and had to come back. He needed his keys because he planned to go back to the old place for a move-out inspection and would hand in our keys then. Of course, when he got to the PATH station, the train he needed wasn't running due to track problems, so he had that to deal with.
Then, when he did get to work and called the old place to schedule a time to come by for inspection, they informed him it had already been inspected and was about to be painted. He decided to run over there real quick, only to find that yes, they had already changed our locks and were in there painting, despite a few things we had left in there to come back for the next day. This made us pretty irritated, considering that they would not at all work with us on when we could end our lease. We had asked to move out and end our lease a couple days early, but they said no way, you are paying through midnight on February 23rd. Well then, although we moved out on Tuesday the 22nd, that apartment was ours until midnight yesterday. Yet they had already changed the locks and taken over! Eric brought that to their attention and they gave him a $50 Visa gift card as an apology, and we know they didn't do it intentionally or maliciously (it was just some confusion with one of the doormen that wasn't double-checked), but it was frustrating.
Meanwhile I was back in Hoboken waiting for Verizon FIOS to come install our cable and internet. We had booked them for a morning install but apparently they double-booked their technician and he asked if I would mind if he did the other guy's place first, so fine. I waited. Then he finally came, and at the same time maintenance came to take care of some stuff, so I kept Achilles in his crate in the kitchen with me while I unpacked. Achilles was surprisingly good, maintenance was very nice, and our apartment is now connected to the TV and internet world, so my day was considerably less stressful than Eric's. And I got the kitchen entirely unpacked, hooray!
And then I sat myself down on the couch and checked out our new evening view. I still prefer our old one, but I do think we'll see some nice sunsets out here. Eric got home from work around 9:00, after a quick stop at our new grocery store on the ground floor, where things (milk especially) are wicked cheap. Hooray for saving money on groceries AND taxes AND rent!
Sunset view from our living room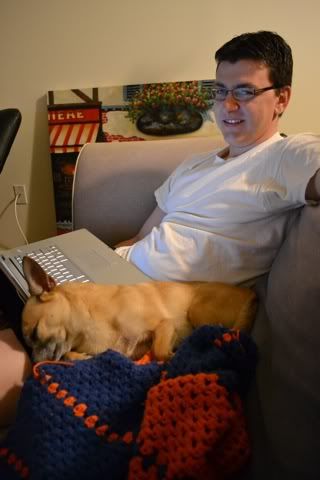 Two boys who are happy the move is behind us and now there is time to relax on the couch
So, that's my very long-winded story about our move. In true post-moving fashion, I'm pretty sure every muscle in my body is sore, I'm bruised and scratched up, and I'm exhausted. I'm certainly going to be taking my time with unpacking this time around, which is something new and different for me. The
last time we moved
I had
my mom coming to visit
just days later, and
the time before that
I was going out of town on business and
Eric's brother came to visit
as soon as I returned. So, both times I rushed around to get the whole apartment set up before our guests arrived. Not this time, my friends. And for the most part I know where everything is in these boxes, so we just might live like this forever!
Oh, and can I just say that the closet space here is way worse than I remembered? I mean, it makes me want to cry. I miss our closet space! And, I have no idea how all our stuff will fit. We do have a lot more cabinet space in the kitchen, though. So it's entirely possible I will end up storing Christmas decorations or some such thing in the kitchen. Is that weird?
Other than that, so far, I'm really sad to be out of Manhattan. I keep joking that everything is backwards here - we switched sides of the bed, switched sides of the couch, and are facing west instead of east. I have my back to my city right now! But, I'm focusing on settling in here, and hopefully this weekend we can spend some time exploring and getting acclimated. I know it will end up just fine!