I may have gotten myself in a little over my head here.
Yesterday, Eric messaged me from work and asked if I had any interest in signing up for the 2011 TD Bank Five Boro Bike Tour on May 1st, in which participants bike ride 42 miles, passing through all five boroughs. I think I have officially gone mad, because that sounded AWESOME. Ride bikes all over the city? See all five boroughs in one outing? BE OUTSIDE IN PLEASANT WEATHER? Yes! Yes! Yes!
So he signed us up.
And now I'm freaking out.
I am, uh, not in the greatest physical shape of my life. And even when I
was
in the greatest physical shape of my life, it wasn't even that good. I'm what you might call "super duper unathletic." Although, I do like bike riding, and I own a bike (we bought them in DC and rode together in our neighborhood and along the Potomac) but I haven't ridden since moving to New York. And I most certainly have NEVER ridden 42 miles. My max is maybe 15 miles in one outing? And if I remember correctly, that was only because we got lost and ended up taking the "scenic route."
How long does it even take a person to ride a bike for 42 miles?
But, Eric assures me that our friend Jose did this last year with no training, so maybe it's not totally outrageous. And our new apartment has a really nice gym, where I can start getting myself in gear. And we do have bikes we can ride outside as soon as the weather gets a little nicer. And I have been meaning to get in shape. So I'm thinking that although this sounds crazy, having a goal like this just might be good for me. And I know that once it's over, I will feel so great!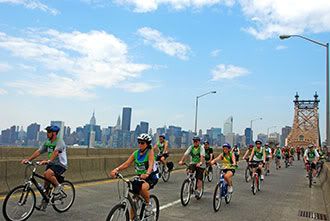 This will totally be me on May 1. Uh oh.
So, that's the plan. On May 1st, I will be riding a bike for 42 miles. According to the
Bike Tour website
, this is the path we will be taking:
Taking place the first Sunday in May each year, the adventure starts in Lower Manhattan. The ride heads north through the heart of Manhattan into Central Park and continues on to historic Harlem and the Bronx, returning south along the East River on the FDR Drive. From there it crosses into Queens and then Brooklyn, where cyclists take over the highway before making the thrilling climb up -- and down -- the Verrazano-Narrows Bridge to Staten Island. The route is 42 miles, mostly flat except for bridges...

The ride lands on Staten Island at a lively outdoor Festival, including bike demos, giveaways, games, a wonderful food concession, product samples, stretching, massage, a photo booth, and official merchandise on sale. Leave plenty of time to check out the exhibitors and activities and then visit the Fort Wadsworth Overlook for a scenic photo before continuing the final three miles to the ferry.
So what do you think? Can I do this? I sure plan to work hard and make it happen. I also think it will be great for Eric and me to do something like this together. I know he always wishes I would take up running so I can run races with him, but to be frank, I hate running. Running a marathon sounds like the worst thing ever to me. Why on earth would you want to run for hours on end? No, thanks. But bike riding? That I can do. This will be BY FAR the most athletic thing I have ever done, but I really think I can do it.
At least I hope so...