Well, I must say, we didn't waste any time hosting our first visitors in New York! I got back from my business trip to D.C. on Tuesday evening last week. Wednesday morning when we got up, Eric and I buckled down and finished as much unpacking as possible (everything is unpacked except for our desk stuff, because we still need to buy a desk), then Eric's brother Ronnie and his friend Tom arrived Wednesday evening! So, it was kind of a whirlwind...we had visitors before we had even had a chance to really get settled! But, it was really nice, because it gave us a reason to get out and do some sight-seeing and really enjoy the city.
Wednesday night we all walked out to Times Square to check things out, do some shopping, and have dinner. We had some NY Pizza to start things off, and visited the M&M Store, Times Square Toys 'R Us, Yankees Store, a souvenir store or two, and had drinks and played games at ESPN Zone.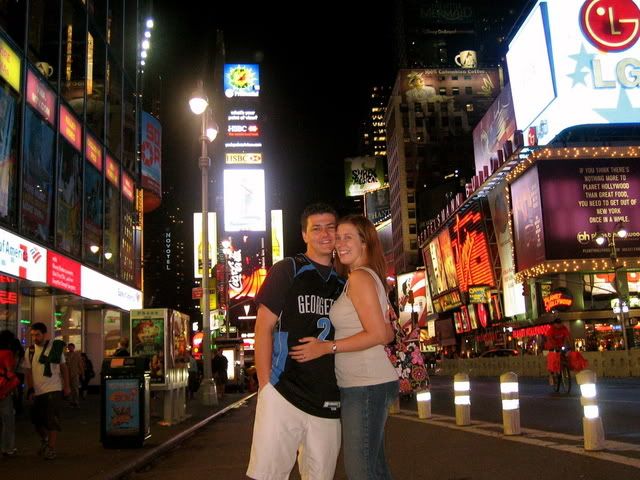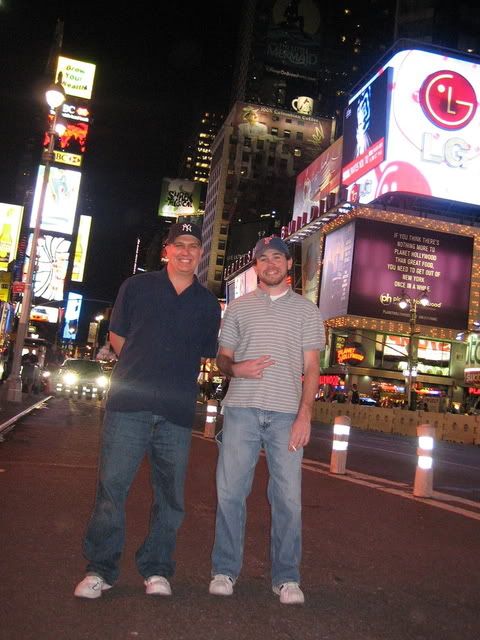 Ronnie and Tom in Times Square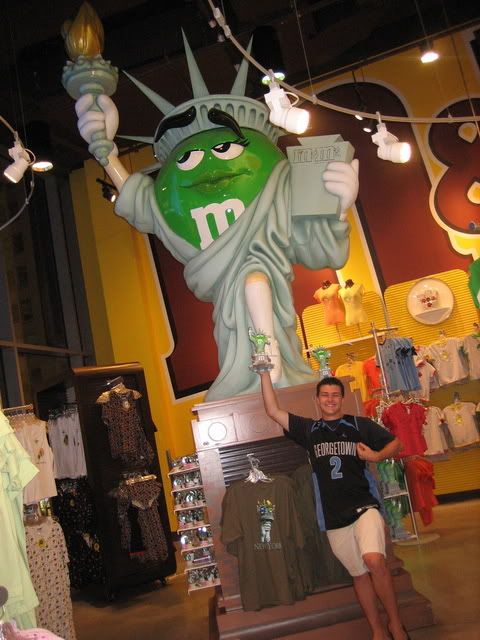 Eric having some fun in the M&M store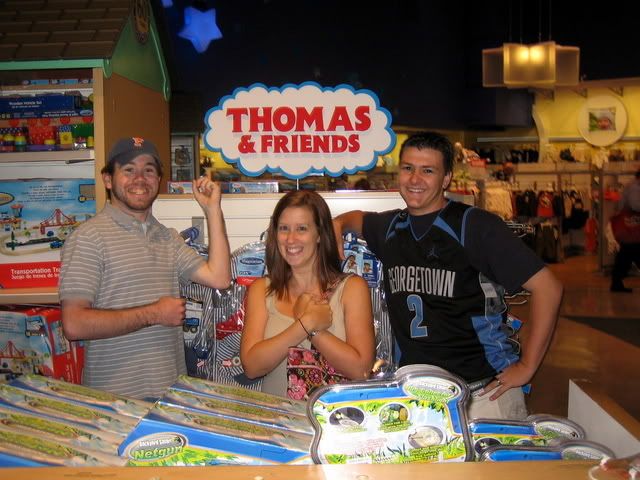 Thomas and friends in Toys 'R Us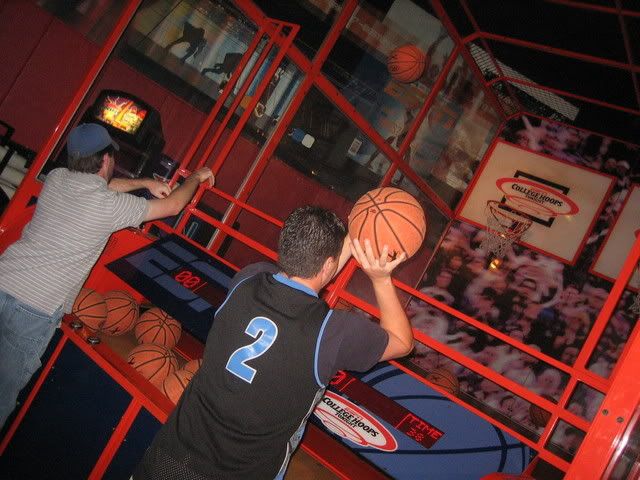 Tom and Eric shooting hoops at ESPN Zone
From there we walked back home and pulled out the Wii, which led to an epic Wii baseball game between Ronnie and Tom. Tom had a no-hitter through 9 innings, it was tied 0-0 till the 12th inning, and Ronnie finally scored on an error. Amazing!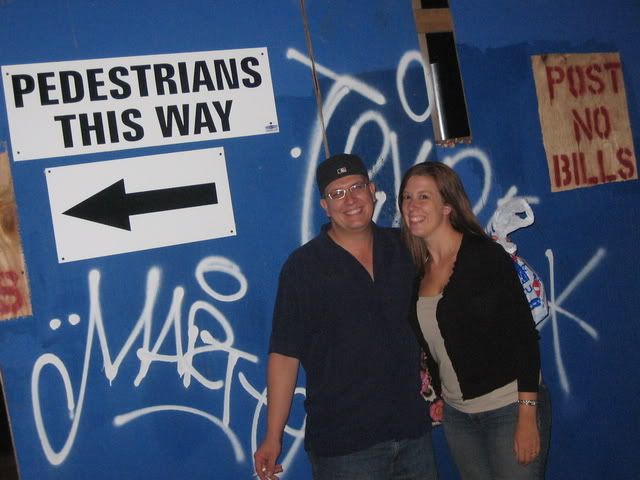 With my brother-in-law on the walk home
Wii baseball craziness (and me enjoying a nice martini)
Thursday was our big sight-seeing day, and it was also September 11. We started the day off by heading downtown to Battery Park to view the Statue of Liberty from afar. Then we went over to Wall Street and saw the Bull and the Stock Exchange.
With Ronnie and Tom, and the Statue of Liberty in the background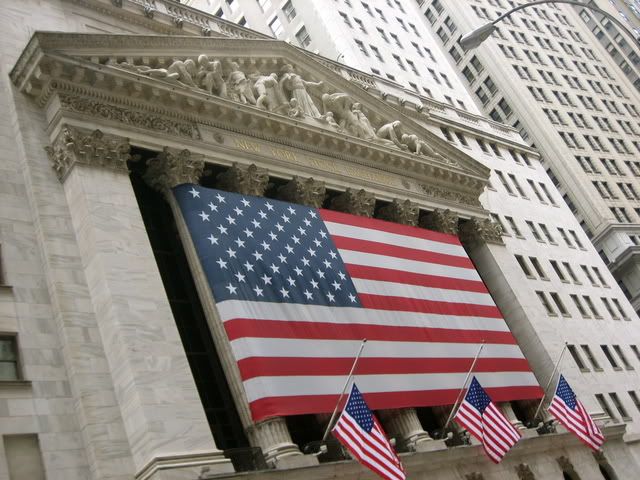 Then we walked from Wall Street up to Ground Zero, which was naturally pretty crowded. It doesn't look like much - just a really big construction site - but it is still sort of shocking because the whole area is surrounded by big buildings, with this gaping empty space where the World Trade Center used to be. And of course, there were flowers and flags all over the place in memory of the victims. Later that night Eric and I watched a replay of the original "as it happened" 9/11 footage, which still is so shocking and so emotional, even 7 years later.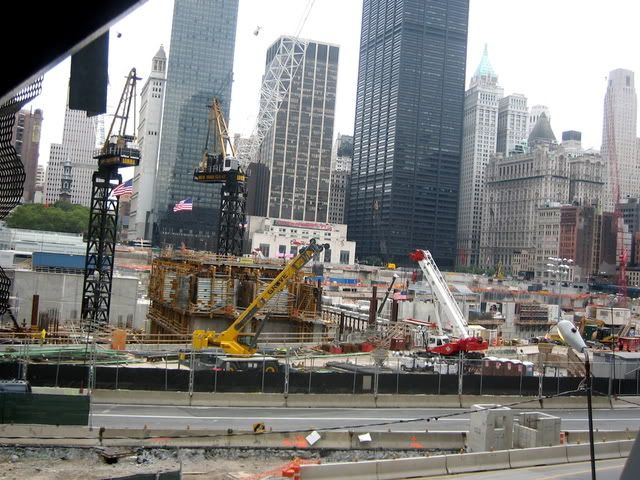 Construction at Ground Zero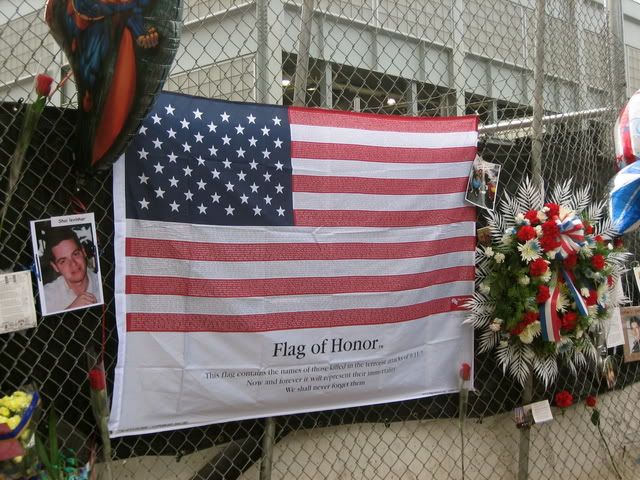 Flags and mementos in memory of lives lost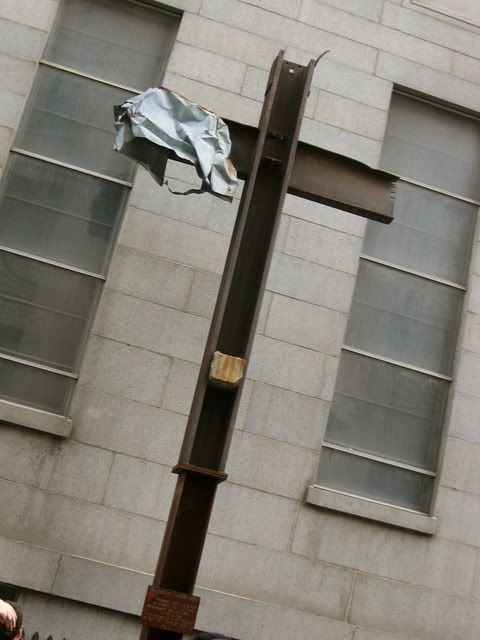 The World Trade Center cross...I was in NYC 6 months after 9/11, and actually was able to see this cross amidst the rubble at Ground Zero. Pretty incredible.
We also saw a very large group of protestors near Ground Zero, chanting over and over "9/11 was an inside job."
From the World Trade Center, we walked up through Chinatown and to Little Italy for lunch. Lunch was, of course, delicious, and then we continued on through Little Italy, which was set up with booths all along the street like a fair.
Ronnie and Eric in Little Italy
From there we made our way further north and walked past the Empire State building and the Herald Square Macy's. Then we went back to our apartment and rested up for a bit before going to a local Irish pub for happy hour, and picking up some local Chinese food for dinner. That night Ronnie and Tom went out bar hopping in the Village, but Eric and I opted to stay in and relax!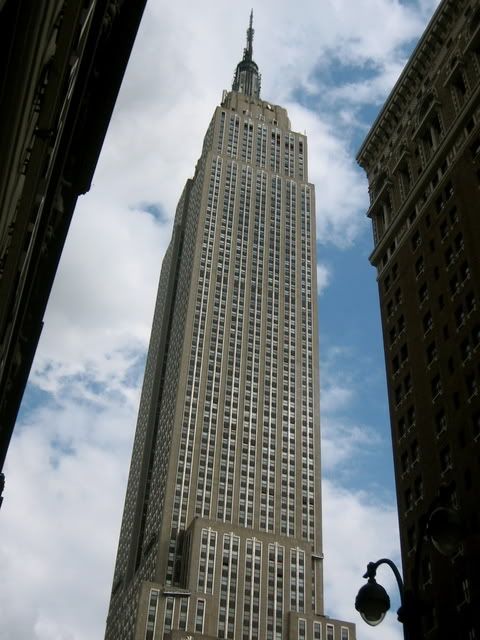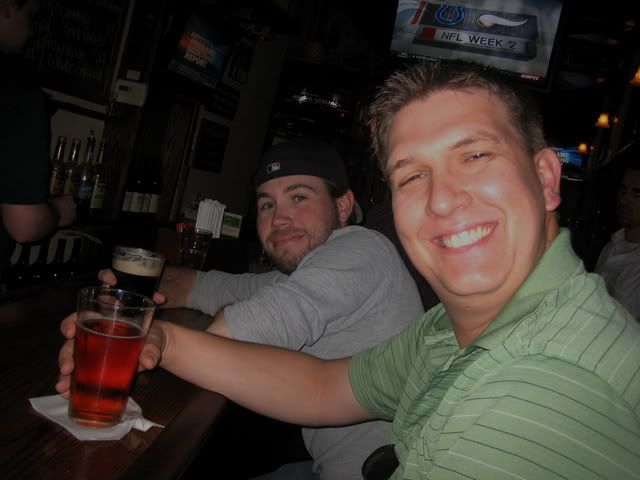 Ronnie and Tom at the pub
Friday morning we all slept in for a while (Ronnie and Tom had a late night!), then we went out to lunch at Carnegie Deli, not far from our apartment. We had to wait in line outside for a table, the place was so packed! And the sandwiches were HUGE! They're so big, they serve them with extra bread because they know there's no way you can fit your mouth around the thing as it comes. They also have amazing cheesecake...it's $10 a slice, but a slice is also enormous. I got a slice of strawberry cheesecake to go, and I've been working on it for days now!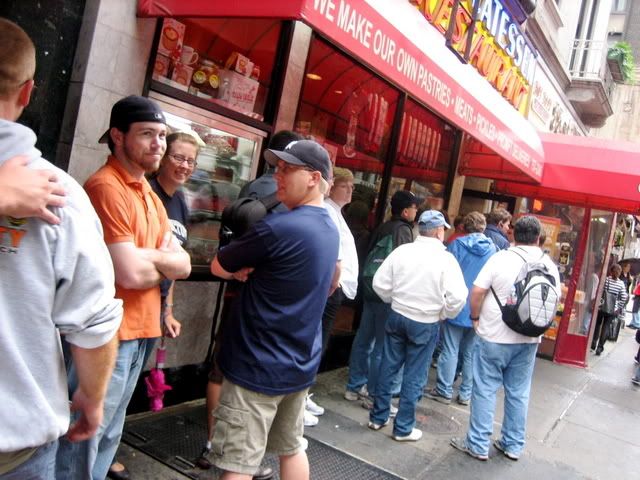 Ronnie, Tom and I in line at Carnegie Deli
How in the world am I going to eat this thing?
After lunch we went back to the apartment to prepare for the whole reason for Ronnie and Tom's visit: they had tickets to the Rays v. Yankees game! Ronnie and Tom really wanted to see a game at Yankee Stadium before they tear it down at the end of the season. Unfortunately, Game Day was also Nonstop Rain Day, so they left for the game knowing there was pretty much no chance the game would go on. But, they did end up being able to get in, buy some souvenirs, walk around the stadium, and see Monument Park, which they were really excited about. (I stayed home and ate my cheesecake through all this rainy baseball fun.)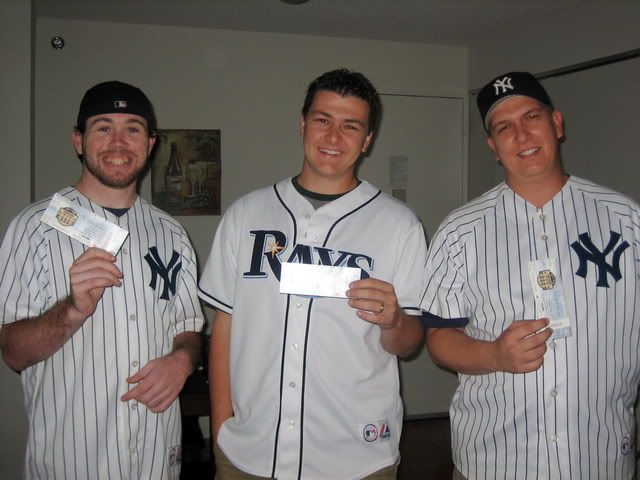 The boys before the game: trying to be optimistic despite the bad weather.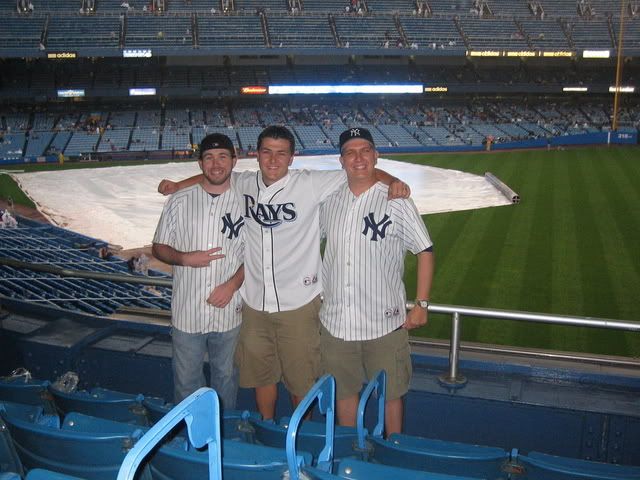 The boys at Yankee Stadium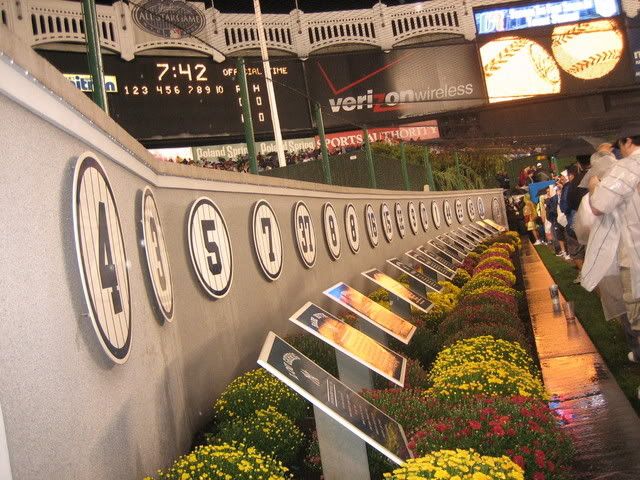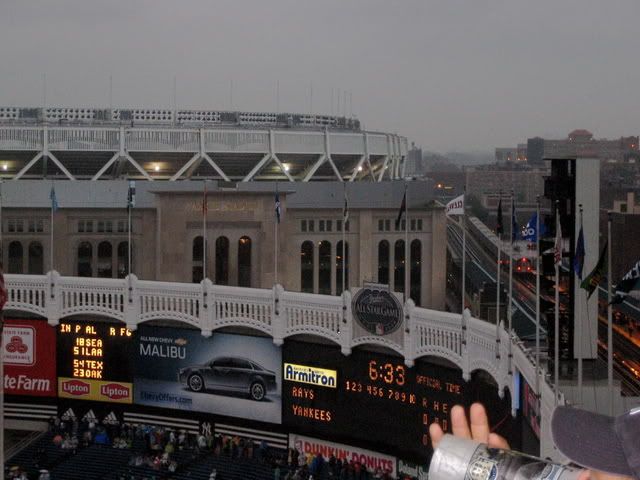 The current Yankee Stadium scoreboard, with the new Yankee Stadium behind it
The game did end up being called after a while, so the boys came back home and we spent the rest of the night hanging out at the apartment.
Saturday morning we did a little more sight-seeing: We saw Radio City Music Hall, Rockefeller Center, St. Patrick's Cathedral, Eric's office building, FAO Schwartz, more NYC pizza, 5th Avenue, and the lower parts of Central Park. Then we went back to the apartment for a bit before Tom headed off to the airport to catch his flight back home, and Ronnie and Eric went to the ESPN Zone to watch some Florida State football for a bit.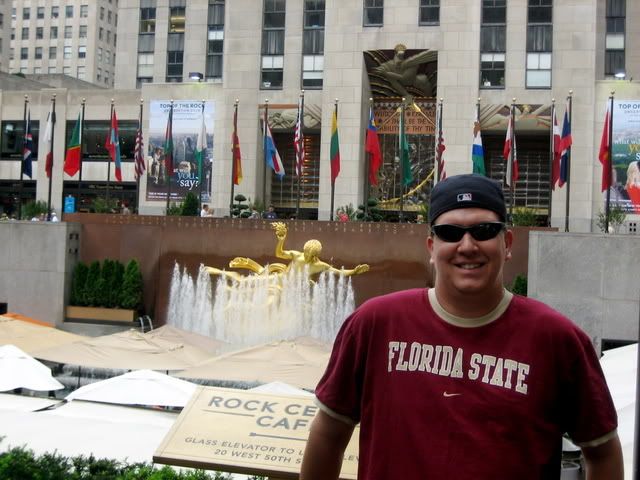 Ronnie at Rockefeller Center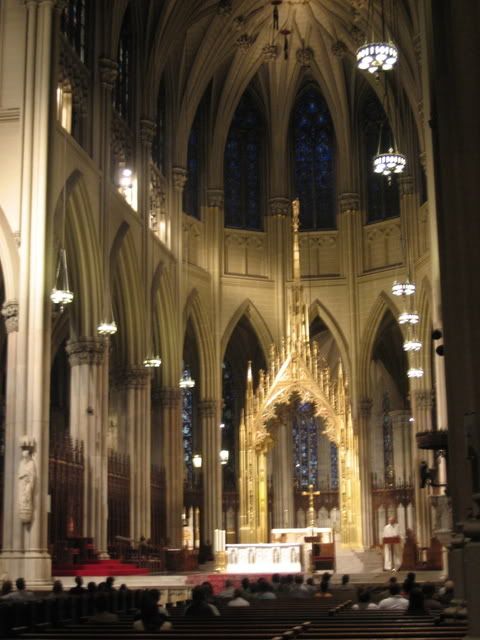 Inside St. Patrick's Cathedral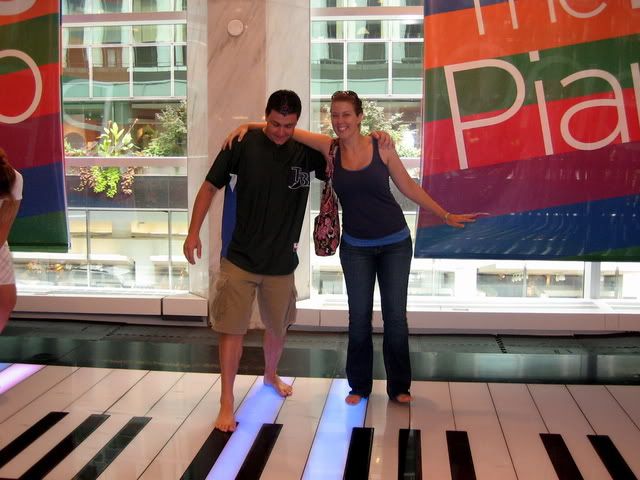 Eric and I playing the Big Piano at FAO Schwartz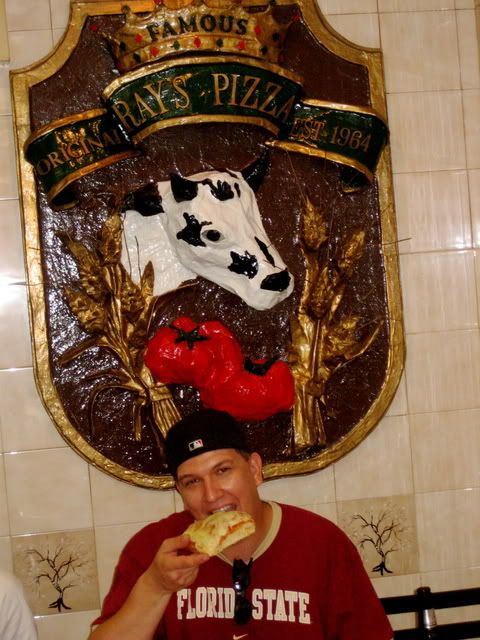 Ronnie enjoying Ray's Pizza
Eric and me in Central Park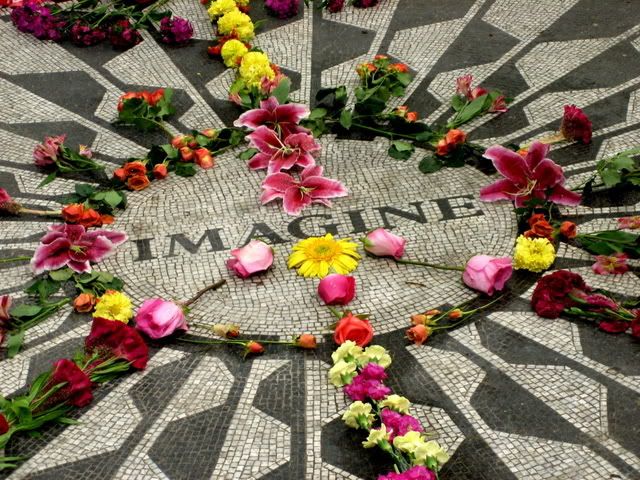 Imagine mosaic in Strawberry Fields in Central Park
After the boys returned from ESPN Zone, we debated a bit about what to do next. The cancelled baseball game was rescheduled for that night, and it was starting to look like rain again! But, we decided to chance it and make our way out to the Bronx to see if we could see some baseball. I even went along because since Tom had to fly back, he couldn't see the rescheduled game. So, I used his ticket. The game did end up happening, and included a Rays grand slam (first grand slam I've ever seen in person)! However, the Rays ended up losing. Boo. It was fun nonetheless!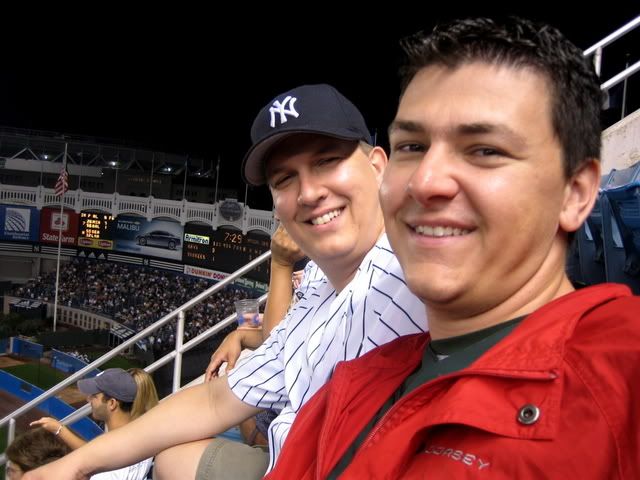 Ronnie and Eric at the game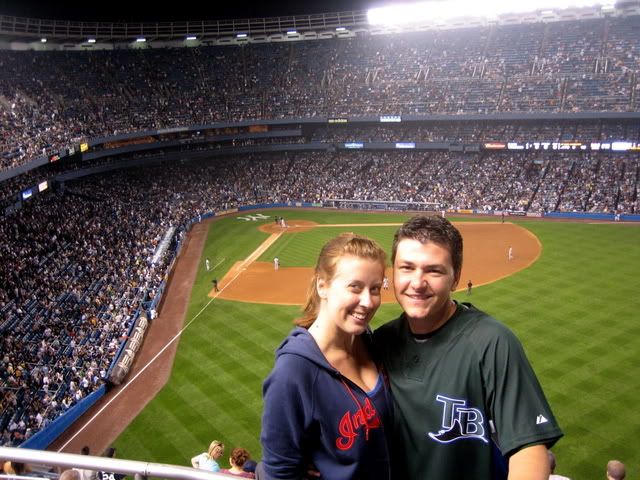 An Indians fan and a Rays fan in Yankee Stadium!
After the game we went back to Times Square so Ronnie could pick up a couple of souvenirs (and some more pizza!) then back to the apartment. Ronnie left early Sunday morning, and that was the end of our weekend!
We had a great time! Thanks for visiting, Ronnie and Tom! So, who wants to be our next visitor(s)?