Eric's first weekend as a working stiff was great! He was able to leave work a little early on Friday, and we started our weekend off with a movie rental and carry-out Italian food from a nearby place.
Saturday was, of course, Gator game time! We met up with Eric's friend Jose (the friend who helped us with moving our stuff in to NYC; he works at Eric's firm) and Jose's girlfriend Karen, plus a few of their friends, down in the Village to watch the game. We had planned to join the NYC Gator Alumni Group, "Gotham Gators," at one of their bars designated for viewing parties, but the place was packed by the time we arrived 45 minutes before the game, so we went to a different bar called "Bounce." It was really nice actually, we got an outdoor table so we could enjoy the beautiful (albeit slightly chilly) afternoon. Plus they have these giant 100 oz. beer things you can order, so our group went through a couple of those! The game, of course, was a lot of fun, because it's always nice to see the Gators beat a big rival...in this case, Tennessee.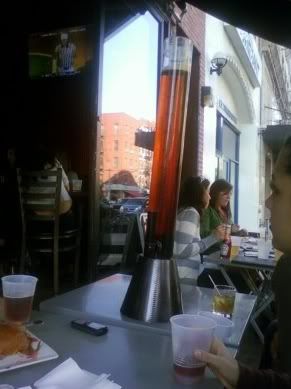 That's 100 ounces of Sam Adams in that pillar!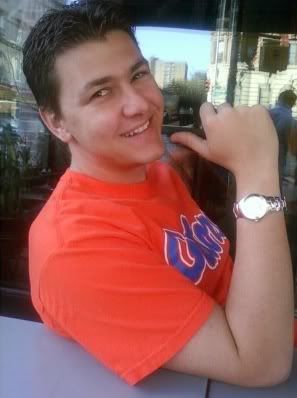 After the game, we stopped off at a little "
Pomme
Frite
" stand for some Belgian french fries. They serve them with all sorts of dipping sauces, and they were SO GOOD. Really, really good. I tried the roasted garlic mayo dipping sauce, and it was great. Apparently this little hole-in-the-wall place is pretty well known, as it had a consistently long line out front of people waiting to get their fries!
Sunday was another awesome day. The weather was gorgeous: 79 degrees and perfectly sunny. So, we decided to treat the dog to an afternoon on the town. We headed out towards Central Park, and along the way we wandered along 8
th
Avenue. On the weekends, they close off 8
th
Ave. to traffic and set up a sort of street fair, with all sorts of things for sale (jewelry, paintings, crafts, I Heart NY
tshirts
, etc.), and lots to eat, like candy apples, cups of watermelon, burritos, corn on the cob, etc. We picked up a cup of fresh-squeezed lemonade for $1 and walked through the fair, checking things out, before making our way over to Central Park.
8

th

Avenue on a Sunday afternoon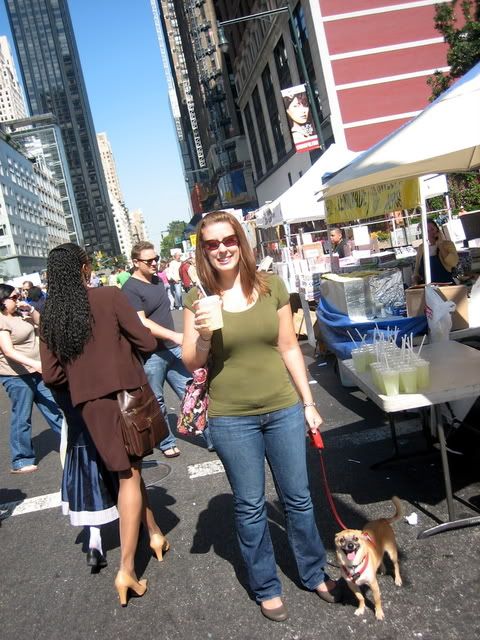 Achilles and me, enjoying some lemonade on the street
Walking through Central Park was great. It was, of course, packed with people enjoying their Sunday afternoon outdoors. We walked all around the lower half of the park with Achilles, and spent some time sitting in a shady spot under a tree. He absolutely loved it, I must say. He was just as happy as could be. New York really does suit him.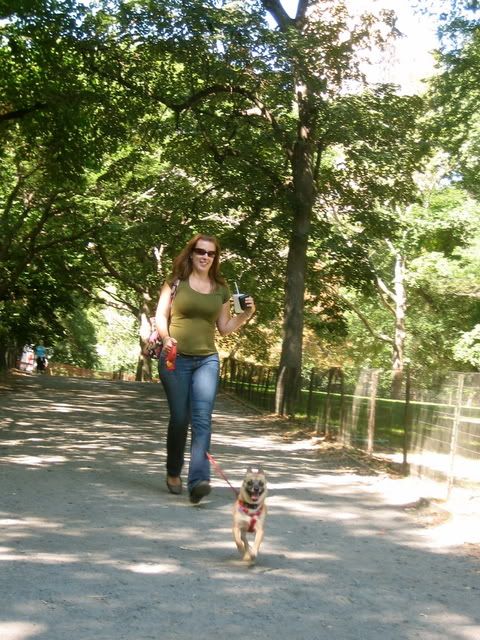 Achilles (and me) running through Central Park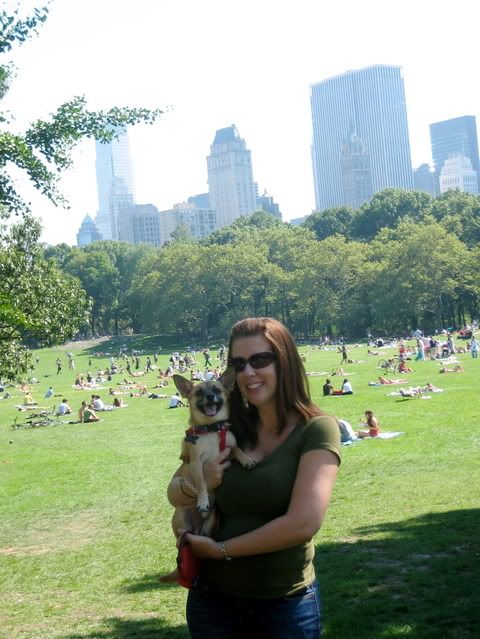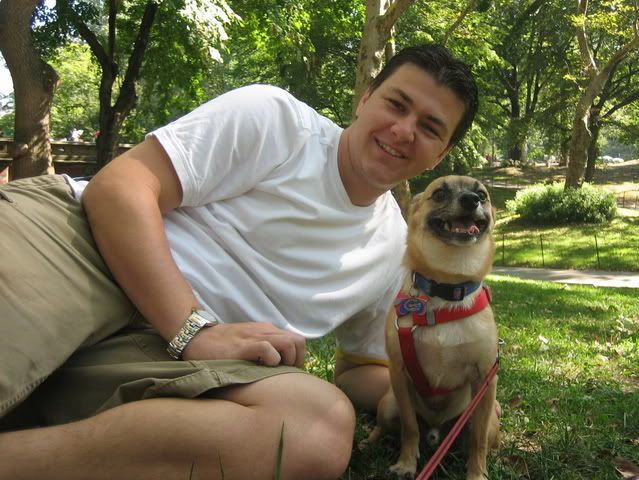 Eric and Achilles resting under a tree (note the dog's patented "crazy, happy, open-face" look)
After the Park we came back home and hung some pictures (we're almost done, and then I'll have pics of the apartment to share, I promise!), then we tried out the Times Square Church. After church we stopped for dinner at a little Mexican place, where we had awesome (and really spicy) chicken fajitas. 
Now, Eric's second week of work is underway, and I'm starting to take steps to make myself useful again. Step One: update my resume. If only the weekends could last a little longer...