We have just been so super busy! The unpacking is coming along nicely (hopefully I'll have updated pics to share soon), and we've been taking daily breaks to run out to Lincoln Center to reconnect with the world, check our email, and in my case, do a little bit of work. I'm leaving NYC tomorrow for DC (how backwards from what I'm used to!) for a very busy working weekend. I'm helping out with a mock trial, so the weekend promises to be super crazy for me. I'm looking forward to seeing how people interpret this case, so I'm a little excited about it, but I'm also largely bummed to be leaving NY already so soon. Our apartment still isn't quite put together, and I'd love to have this weekend to finish things up and spend some time exploring the city with Eric. But, such is life. I've got to go out and win some bread, so to speak.
But, we did have a night of fun last night! Eric and I had tickets to see "Rent" on Broadway. It's actually going off Broadway this weekend...the final performance is on Sunday, so we knew we had to get in to see it ASAP when we got to town. Our seats were in the front row of the center balcony, so pretty decent! And as you might expect, the show was just fantastic. I laughed, I cried, I loved every minute of it.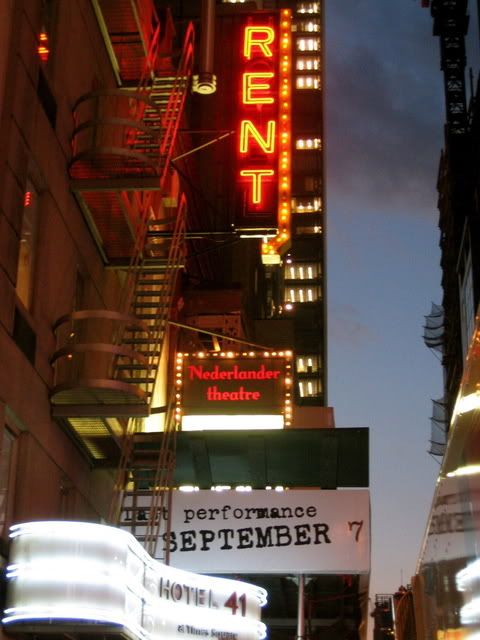 "Rent" at the

Nederlander

Theater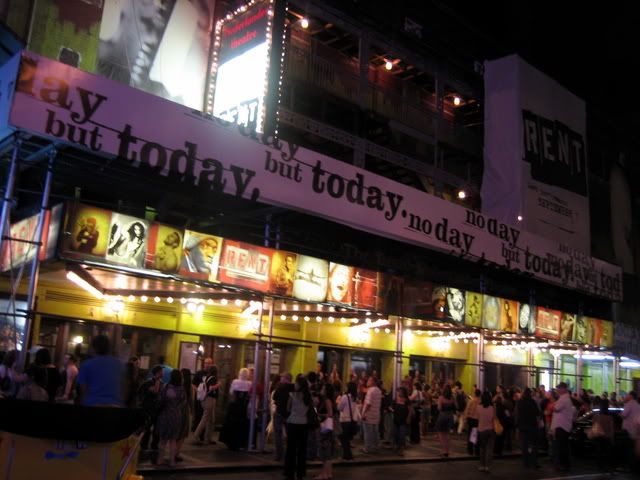 Outside the

Nederlander

Theater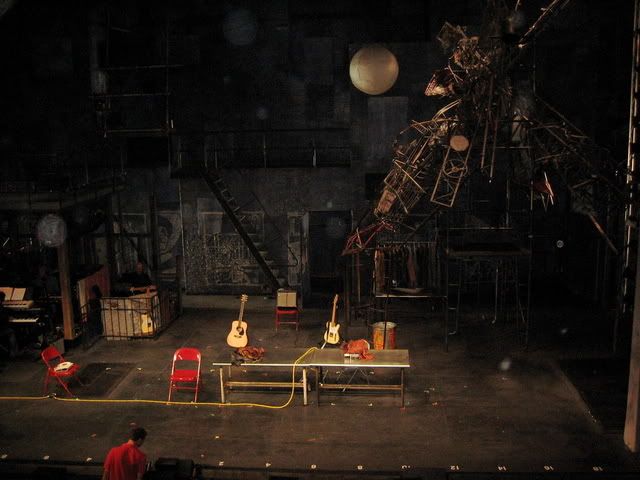 The stage (at the end of the show)
After the show, we stuck around to take some pictures and were there when some of the cast members were leaving, so I got autographs of the performers who played Angel, Mimi and Roger! I also got pics with them. They were so nice, especially considering the mob of people that attacked them when they came out. I can't imagine trying to leave after a night at work and being hounded by people. I wonder if they like it or hate it? It made me think of Heather and her Busch Gardens shows...she has to stick around in front of the theater after each show for people to come up and talk to her and take pictures. Maybe someday she could do the same thing on Broadway!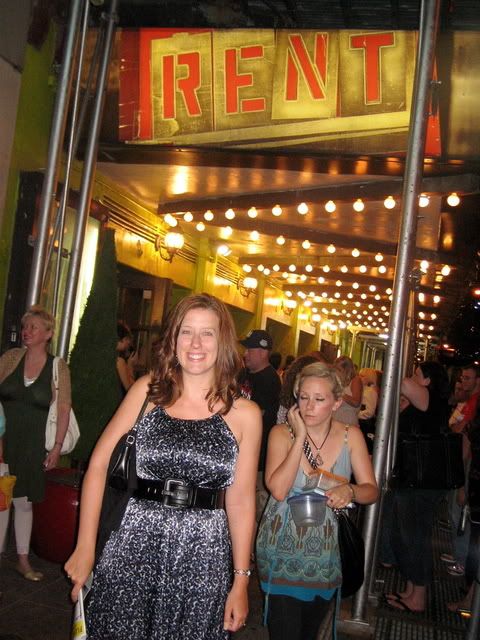 Me after the show (and some girl carrying something that looks like tupperware?)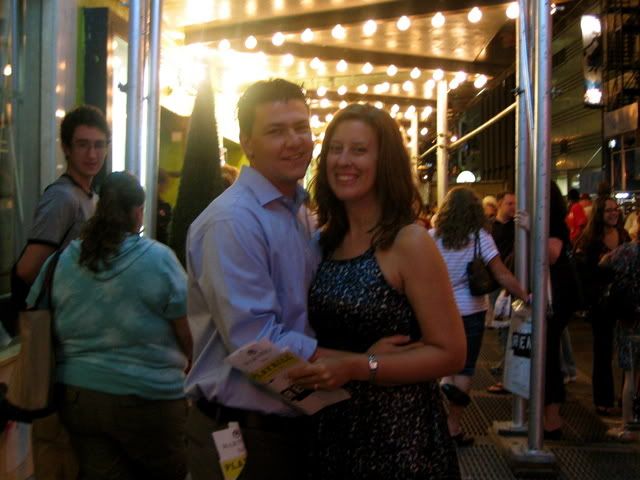 With my husband outside the theater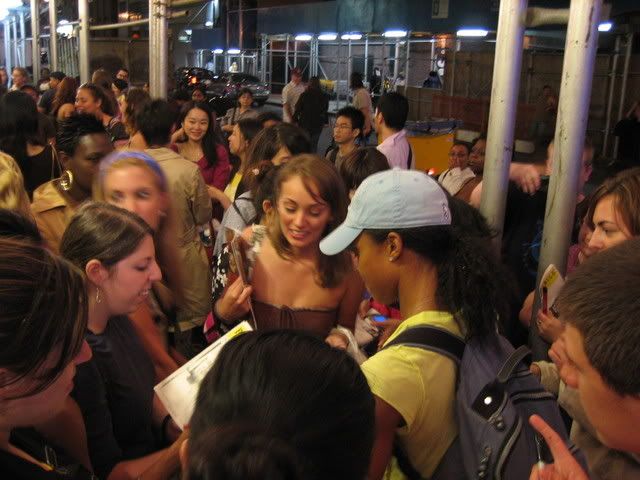 Mob of people around the actress who played Mimi (she's the one in the blue cap)
With the actor who played Roger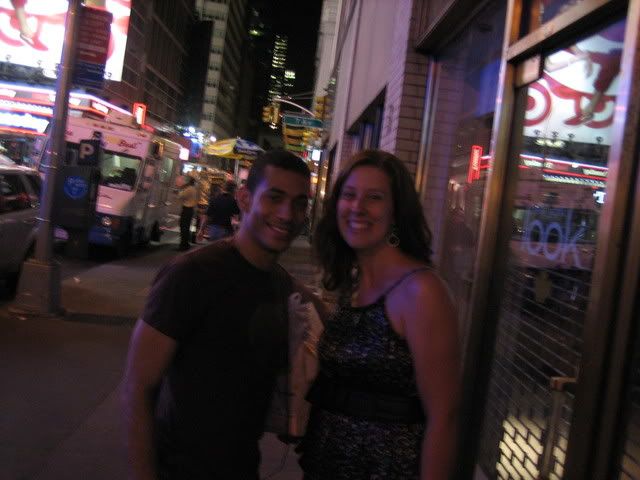 With the actor who played Angel
I should also add that we WALKED to and from Broadway! That is just too cool, if you ask me. It was a little longer of a walk than I may have preferred, considering I was in heels, but given our surroundings, it was well worth it and very enjoyable. We're so lucky to live in such a cool place!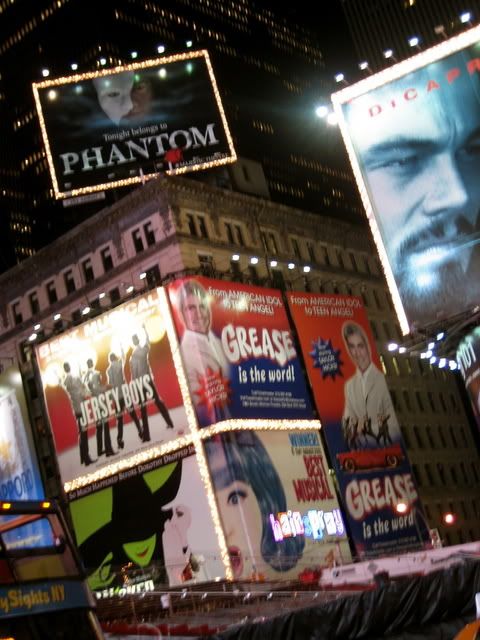 Times Square after the show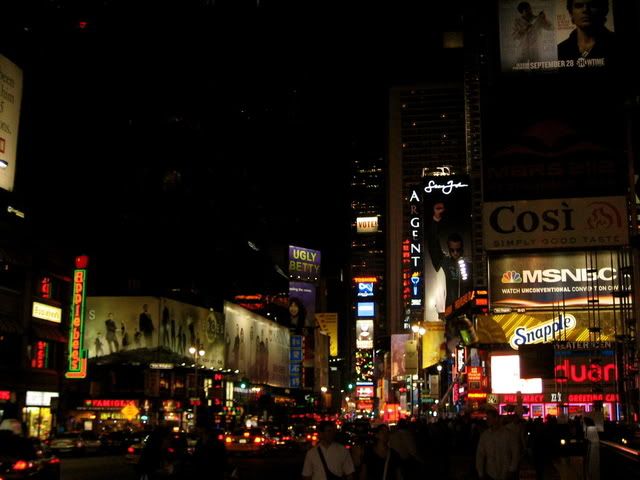 Looking back at Times Square as we walked home