Last night Eric and I had another nice "date night." What is with us and the outings on weeknights these days? We're party animals!
This event was actually one that we have been looking forward to a for a very long time: John Williams was conducting the New York Philharmonic at Lincoln Center in a concert entitled "A Night at the Movies." You all know John Williams, right? Even if you're not a music person, I guarantee you that you are familiar with the work of John Williams. He's known for composing a few little film scores for movies such as
Star Wars, Jaws,
the
Indiana Jones
movies,
Schindler's List
and
Harry Potter
. He has won a mere 21 Grammy awards, four Golden Globes and three Emmys. He has been nominated for 59 Academy Awards (holding the record for most Oscar nominations for a living person), and won five. I'd say he's kind of a big deal.
Needless to say, John Williams conducting the NY Philharmonic in a night of movie music sounded amazing, and Eric and I snapped up tickets as soon as they went on sale. Last night was the big show, and we met up after work to head over to Lincoln Center together. And you know my feelings on Lincoln Center - that's right,
love.
Any night at Lincoln Center is a good night.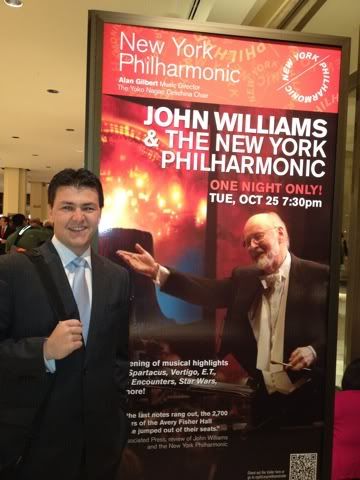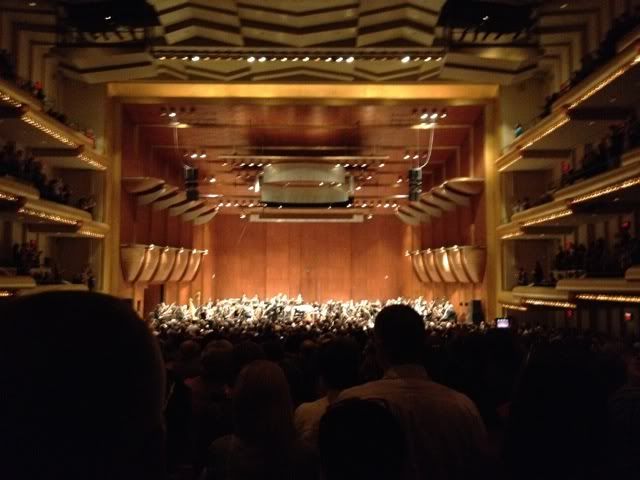 The program included some pieces from "classic Hollywood," including "Hooray for Hollywood," the March from
The Adventures of Robin Hood
, "Scene d'Amour" from
Vertigo
and the Love Theme and March from
Spartacus.
During the
Spartacus
piece, I am 99% certain I felt the baby kick me! I think we have a future musician on the way here, folks!
Before intermission, the orchestra performed a couple of John Williams' own pieces: excerpts from
Close Encounters of the Third Kind
and "Adventures on Earth" from
E.T.
Superb!
After intermission, they started off with a very fun medley entitled "Tribute to the Film Composer" which featured snippets from movies ranging from
Jaws
to
The Pink Panther
to
Gone With the Wind
, and included video clips. For the next several pieces, violinist Gil Shaham joined the orchestra, and he was fantastic. Together they played "Por Una Cabeza" (
Tango from Scent of a Woman
), three pieces from
Schindler's List
, and excerpts from
Fiddler on the Roof
. They also added in a piece that was not in the program and featured an Audrey Hepburn film montage - wasn't she just lovely? They then "closed the show" (pre-encore, obviously) with the Main Title from
Star Wars
, again with film clips playing at the same time. That got the crowd pretty psyched!
They then returned for three encore numbers! The first was one I recognized but could not place, followed by the theme from
Indiana Jones
(I played that in middle school band - memories!). Then they wrapped it all up with the Darth Vader theme from
Star Wars
. All in all, an excellent show!
It's this sort of thing that still gets me about this city. How cool is it to live here, and spend a random Tuesday night watching John Williams conduct the New York Philharmonic as they perform great hits from the movies? I mean, awesome. I love this city.