Okay, it wasn't actually an
audition
, per se, but "audition" rhymed better with "Submission" than "open casting call."
Long story short, we had a fun little Saturday this weekend!
We slept in a bit, then went into the city for an open casting call for extras in the new Batman movie,
The Dark Knight Rises
! They'll be filming the movie in NYC later this month into early November, and were looking for extras in particular for a fight scene to be filmed at the Queensboro Bridge. They were primarily looking for police/military/fighter types, which I am most certainly not, but I thought Eric should give it a shot (and would look super hot in a police uniform). And so long as I was tagging along anyway, I figured I may as well throw my name in for consideration, as well. Who knows, maybe they want a pregnant lady to wander by in the background while the Gotham police battle the bad guys?
It wasn't much of an event, really - just a long line that led into a big ballroom space where everyone was instructed to take a seat and fill out a form with all sorts of information like your hair/eye color, measurements, etc. Then they called us up by rows to collect our forms and take a photo of us. That was all there was, and then everyone was sent on their way with a "we'll call you if we're interested." How cool would it be to get a call?! I mean, neither of us has our hopes up here, we really just kind of wanted the experience of the casting call...but still, how fun would it be to get a call?!
After the casting call we made our way to Greenwich Village, where we stopped for lunch then headed over to the Lucille Lortel Theater to see a new off-Broadway play entitled
The Submission
, starring Jonathan Groff (of
Spring Awakening
and
Glee
fame - and we all know how I love me some Jesse St. James!), Eddie Kaye Thomas (who you might recognize from the
American Pie
movies), Will Rogers (
When the Rain Stops Falling
) and Rutina Wesley (
True Blood
).
The premise of the play is that struggling playwright Danny Larson (Jonathan Groff) has finally written a masterpiece that has been selected for production at the Humana Festival. The problem is, his work is a story of an African American boy and his mother, and he fears that such a tale will never see the light of day in the theater world if he, a gay white man, is revealed as the author. To "solve" this problem, he submitted his work under a pseudonym that sounds like the name of an African American woman. When his play is accepted for production, he hires an actress named Emilie (Rutina Wesley) to play the part of the fictional black female playwright. The plan then is that on opening night, she will get up to make a speech and reveal the true author of the play.
The story begins rather light-hearted and funny, but takes a turn to dramatic and intense as it goes on. As Danny and Emilie work together to get this play produced, both of their prejudices become strikingly apparent - Danny is far more racist than he even realizes, and Emilie calls him out on it, although all the while she makes consistent negative comments about Danny's sexuality. By the end, Danny is starting to realize just how deep his biases lie.
Eddie Kaye Thomas as "Pete" (Danny's boyfriend), Jonathan Groff as "Danny," Rutina Wesley as "Emilie" and Will Rogers as "Trevor" (Danny's friend)
Eric and I both really liked this play. We laughed, we felt uncomfortable, we were riveted. I thought the play gave a striking look at how each one of us, although we may not even realize it, probably hold some biases that need to be examined and addressed. Hate is hate, regardless of the motivation, and it is toxic to relationships. We thought the play was thought-provoking, well-acted and all around quite good.
After the show we stuck around at the stage door, where we saw three of the four actors exit (the only one we didn't see was Will Rogers), plus Kal Penn (from the
Harold and Kumar
movies) standing around. We got autographs from Jonathan Groff and Eddie Kay Thomas...
Eddie Kaye Thomas signing my Playbill (pardon my chins, good heavens)
My Playbill, autographed by Eddie Kaye Thomas and Jonathan Groff
...plus, I got to take a picture with Jonathan Groff!!! I absolutely adore him so I was thrilled.
Aaaaah, I was freaking out!
Both Eddie and Jonathan were very nice and really took their time with the crowd. Jonathan in particular was so friendly, so humble, so thankful, very soft-spoken and just all-around very nice. LOVE HIM.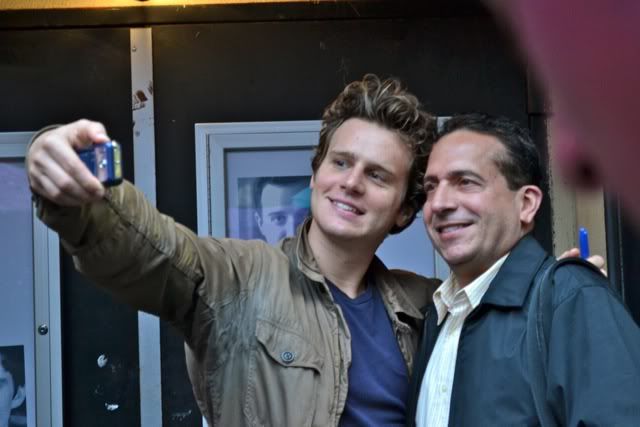 Jonathan Groff taking a picture with another fan
Not a bad little Saturday afternoon, right?