I have mentioned before that one of the things I really love about New York City is the park space. We have some really fabulous parks, and they are such a great escape from the city noise. And during the summer months, they also host a number of great outdoor activities: concerts, yoga, movies, etc. There's always so much to do (for free!) if you pay attention!
For the past week or so we've been taking advantage of some of the free music in our local parks. Every Thursday during the summer, Bryant Park (my favorite!) hosts Broadway in Bryant Park at lunchtime. They bring in performers from several Broadway shows (different each week) and have them perform a selection of songs from their show. It's free and a great way to spend your lunch hour. Bryant Park isn't far from Eric's office, so for the past two Thursdays Achilles and I have gone to meet him for lunch and Broadway. There's just nothing like eating outside in a beautiful park while you listen to "Music of the Night" from
Phantom of the Opera
, you know?
This week they had performances from
Memphis, Billy Elliot, South Pacific, Phantom of the Opera
and the Rockettes. Last week they had
Stomp, Nunsense, In the Heights
and
Promises, Promises
. They're just so fun to watch! I mean, they don't act out full scenes (rather, they just sing the songs), don't wear costumes and it's often the understudies who perform, but it really is a fun way to spend your lunch break. I think we'll try to keep this standing Thursday afternoon lunch date for the rest of the summer!
Crowds at Broadway in Bryant Park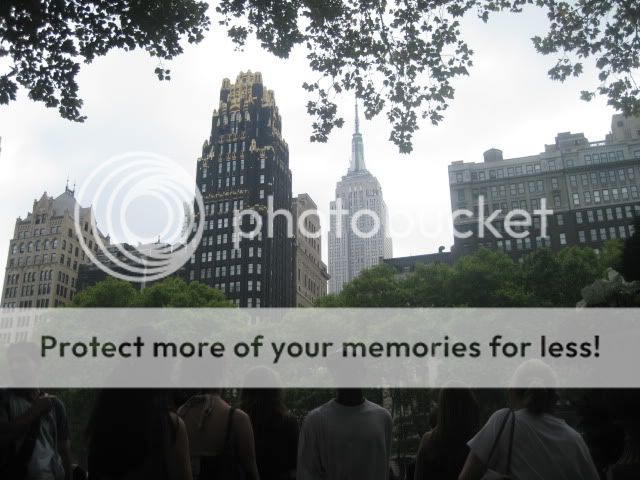 Not only do you get to enjoy the park, lunch and music, you also get this view.
Stomp performers at Broadway in Bryant Park
Achilles and me enjoying our Broadway picnic
VIDEO: Broadway in Bryant Park
This past Tuesday we also enjoyed another summer park tradition around here: a New York Philharmonic Concert on the Great Lawn in Central Park. Each summer, the NY Philharmonic does a whole series of concerts in local parks, in Central Park, Brooklyn, Queens, Staten Island and the Bronx. They had concerts in Central Park on both Tuesday and Wednesday this week. We only made it to Tuesday's concert, where both the New York Philharmonic and Shanghai Symphony Orchestra performed. For my music aficionado readers, this was the lineup for the concert we saw:
Shanghai Symphony Orchestra
• Wagner - Overture to Tannhäuser
• Rossini - Largo al factotum della città from The Barber of Seville
• Gounod - "Je veux vivre" from Romeo and Juliet
• Mozart - "La ci darem la mano" from Don Giovanni
• Guang Zhao - Ode to the Expo
• Gershwin - Rhapsody in Blue

New York Philharmonic
• Tchaikovsky - Polonaise from Eugene Onegin
• Bernstein - Symphonic Dances from West Side Story
• Ravel - Boléro
Both Central Park concerts were also supposed to be followed by fireworks, but due to a rather rainy day leading up to Tuesday's concert, the fireworks were cancelled. However, we were able to see some of Wednesday night's fireworks from our apartment! (Our view was obscured by the Time Warner Center, but hey, we still saw them.)
The concert itself was fabulous. The Great Lawn is, well, great (as in huge) so there was plenty of space for everyone to spread out their blankets and crack open their bottles of wine. I got there before Eric and he joined me a bit later with some Subway for dinner. We were quite a ways back from the stage, but they set up a great sound system so you can hear perfectly well from any part of the Lawn. There's just nothing like listening to live classical music under the stars on a warm summer night. There were even lightning bugs! It reminded me so much of concerts at Blossom Music Center in Cleveland as a kid - my family would head out there with a blanket and picnic in hand, eat and listen to the music on a warm summer evening. I loved it then and I love it now.
The stage set up on the Great Lawn
Laying on the grass, enjoying a great concert
VIDEO: Concert in Central Park
I just love having these sorts of things to do all the time! I mean, what a fabulous way to spend a random Tuesday evening. There's just no place like New York.