This is the one item on the list that ultimately resulted in a tie. I knew I wanted to include the NYC Easter Bonnet Parade, but try as I might, I could not choose between two of the three years we attended the parade: 2009 vs. 2010. Both were very awesome in different ways, so we're calling it a tie.
In
2009
, Eric and I set out to have a perfectly normal Easter. We colored eggs, went to church, planned a nice dinner. On our way home from church, however, we decided to walk through Central Park to check out the blossoming trees, with the ultimate goal of getting over to the east side to stop by Rockefeller Center. Eric told me they had put in all sorts of lovely spring flowers on the Promenade, and we wanted to take some pictures.
However, when we exited the park onto Fifth Avenue, we realized we had led ourselves right to a great New York City Easter Sunday tradition: the Easter Bonnet Parade. The parade originated in the 1800s, when New York's most fashionable would parade along Fifth Avenue after church to show off their Easter finery. These days, however, the Easter Bonnet Parade is essentially Halloween but with more pastels. The bonnets on display range from dainty, simple and sweet to comically large, elaborate and eccentric. There is not an actual "parade" as you may think of with marching bands and floats and organization, but rather, everyone just wanders along the Avenue, gawking at each other and taking pictures.
A selection of the outrageous get-ups from the 2009 Easter Bonnet Parade
Eric and I did not actually participate in the parade in 2009, of course, because we did not even know it was a thing until we just happened upon it thanks to a little Easter stroll. It made our day, though. It was our first Easter in the city, and I was just amazed that even
Easter
was New York-y in New York. All I could do was shake my head and think,
"man, this city is so cool."
In
2010
, we knew we wanted to check out the parade once again, but this time we wanted to participate. I donned a flowery headband, but the main attraction was Achilles, who we decided should tag along in his Easter headwear. As it turned out, he was a smashing success. We very slowly made our way up and down Fifth Avenue, stopping every few steps so someone could take a picture of Achilles. The paparazzi was relentless!
Achilles and me at the 2010 Easter Bonnet Parade
VIDEO: Achilles was a hit!
Of course, all the bonnets were quite fascinating to look at, too.
A selection from the 2010 Parade
So, both the 2009 and 2010 parades were incredibly fun. In 2009, it was just so unexpected and we were so excited to have found this great event that we knew nothing about. In 2010, we enjoyed that event as participants, and it was great fun to parade up and down the avenue as people fussed and fawned over Achilles. So how does one choose between the two? Well, we don't. It's a tie.
One thing is for sure though: we loved the Easter Bonnet Parade tradition.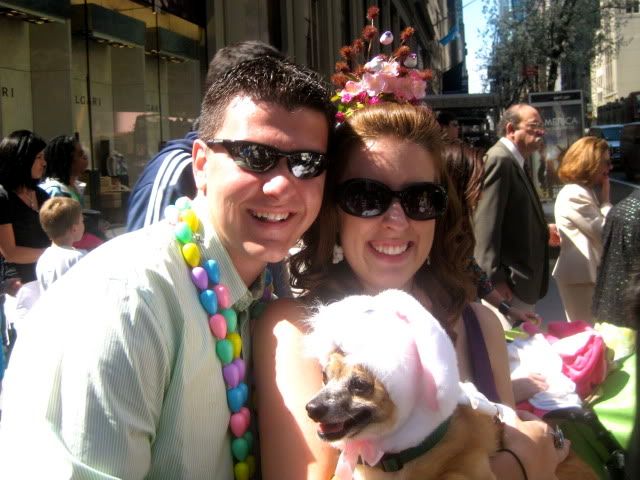 But please, let's not talk about how disappointing it is that we won't have a chance to dress Ellie in a bonnet and parade with her this Easter. Let's just not mention it, lest the disappointment lead me to abandon all plans to move and stay here forever and ever.
To read more about the Easter Bonnet Parades, click here for 2009 or here for 2010. Although it didn't make the list, we also went in 2011, too!