Well, my friends, tomorrow is Thanksgiving. We are looking forward to the holiday, and will be spending it with good friends.
However, Thanksgiving has come a little too quickly for us this year. We know that once Thanksgiving is over, the final countdown of our last days in New York must begin. The twelve days between Thanksgiving and our NYC departure date are going to be incredibly busy ones, filled with both the tedious tasks of packing, cleaning and tying up loose ends before our move as well as the fun times of taking Ellie around town to see as much of a New York Christmas as we can possibly cram into twelve days. (It will be The Twelve Days of Our New York Christmas, if you will.)
All this will keep us very busy, so I will not be sharing any of that with you until we have arrived in Florida. In the meantime, however, I want to say goodbye to my beloved New York by spending the remaining days (with just a couple of exceptions for special occasions) reminiscing and counting down our top ten most favorite New York memories. These are the moments that, above all others, made our time here so incredibly fantastic. I have a list all queued up, and hope you won't mind taking a walk down memory lane with me as we say our goodbyes.
Before we get into my Official Favorite New York Memories Countdown, there are a couple of things that didn't quite make the cut, largely because they aren't discrete events and so did not fit my plan for this Top Ten. But, they are parts of the city that I just love so I simply can't leave them out. (Hey, do you have any idea how hard it is to narrow down four years' worth of out-of-this-world experiences to just ten favorites, anyway? It's HARD.)
And so, my New York Favorite Memories: Honorable Mentions are as follows:
Honorable Mention #1: Bryant Park
I have said countless times that Bryant Park is my favorite park in the city, but I think it actually be my favorite
place
overall. In the spring, it's a beautiful place to have lunch (which was
Ellie's first NYC outing
, actually!). In the summer, they have so many fun events (many that we took advantage of):
movies on the lawn
, free
knitting lessons
,
Broadway in Bryant Park
concerts weekly. In the winter, the lawn is transformed into a skating rink and the perimeter of the park is lined with great holiday shops. The Southwest Air porch is a fun little place to
grab a drink, a snack and a Snuggie
while you cuddle up by the fire pit. And, in addition to all these regular things, we have enjoyed other special events there, too, including the
Madden NFL 12 Pigskin Pro-Am
, their beautiful
9/11 tribute
, and the
sheep on the lawn
.
Top row: Ellie's first lunch in Bryant Park; Snuggies and boozy hot beverages on the Southwest Porch with my friend Amanda; Broadway in Bryant Park with my friend Megan; Bryant Park's 9/11 Tribute; Citi Pond skating rink; the holiday shops
Bottom row: Crowds gathered for Movies on the Lawn; Madden NFL 12 Pigskin Pro-Am; Ellie checking out the sheep on the lawn; and people (including me!) gathered to learn how to knit
Honorable Mention #2: Lincoln Center
Lincoln Center is another one of my most favorite places in New York City, probably second only to Bryant Park. First of all, it's just beautiful.
And then, of course, there are the events. We saw so many incredible events at Lincoln Center. Aside from events you can see in many cities (such as
The Nutcracker
,
Idina Menzel
in concert, etc.), there were so many events that we could not have seen anywhere else. From
J.K. Rowling
's only U.S. appearance to promote a novel, to
John Williams
conducting the New York Philharmonic, to the NY Philharmonic playing the music of
West Side Story along with the film
, to the
Harry Potter and the Deathly Hallows: Part 2 premiere
- almost every event just left me with that very overwhelmed
is-this-really-my-life?!
feeling.
Clockwise from top left: Me enjoying the fountain at Lincoln Center; feeling inspired after seeing The Nutcracker; Daniel Radcliffe at the Harry Potter premiere; and meeting J.K. Rowling
My Lincoln Center love runs very, very deep, and I will miss it so.
Eric and me after a wonderful show at Lincoln Center
Honorable Mention #3: The Brooklyn Bridge
The Brooklyn Bridge was one of my most favorite activities to take our visitors to do, because on a nice day it is just such a pleasant outing. However, Eric and I
first walked across
(well, halfway across) the Bridge on a very cold, snowy, windy December day. The positive side was that the bridge was virtually empty (a rare sight, indeed), but I have no idea why we thought that was a good idea.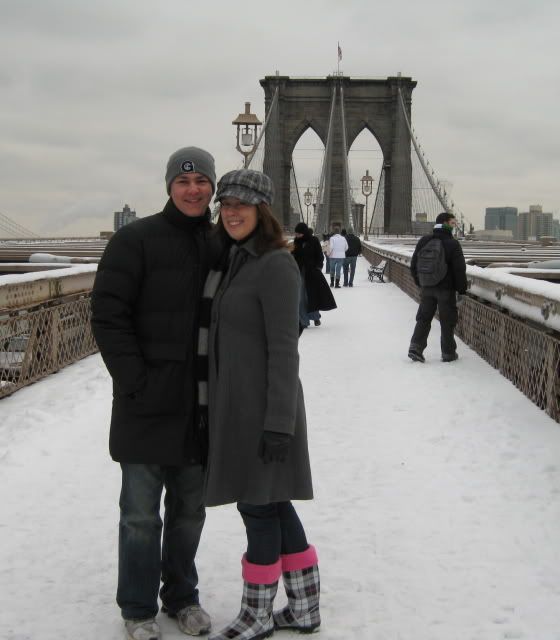 We're having fun here, sure, but this was still a pretty stupid idea.
Since then, we have perfected the Brooklyn Bridge outing: we take the subway just into Brooklyn, then walk down to Brooklyn Bridge Park to enjoy the view. In the past, if we were feeling hungry, we would generally stop at the Ice Cream Factory to grab a cone while we wait in line for Grimaldi's pizza (at the very least, we always get ice cream, even if we're
in the middle of a 42-mile bike ride
!). Then, we walk back to Manhattan across the bridge. The views are beautiful and it's just a wonderful afternoon. Actually, the views are so great that I even used one of our pictures of the view from the Brooklyn Bridge for the header of this here blog!
Top row: Eric and me below the Brooklyn Bridge; the view of the Empire State Building from the bridge
Bottom row: The Ice Cream Factory sitting below the bridge; on the bridge with Molly and Heather; taking a break/ice cream stop during the Five Boro Bike Tour; Ellie's first time on the bridge
Honorable Mention #4: Christmas in New York
Christmas in New York is just magical. Everything is so beautifully decorated, you can't help but get into the holiday spirit. (Although I will admit that the increased number of tourists does its very best to suck the joy right back out of you - last year I worked right by Radio City Music Hall and tended to feel very Grinch-y during my evening commute thanks to crowds so thick I could barely get to my train.)
Bah-humbug to the crowds aside, Christmas in New York is such an experience. Although many signs of the season show up before Thanksgiving, the festivities officially begin with the arrival of Santa at the end of the Macy's Thanksgiving Day Parade (we plan to take Ellie to Macy's to meet him this weekend!). Of course, the Rockefeller Center tree is spectacular. The store windows are sights to behold. The huge ornaments and light bulbs on Sixth Avenue are lots of fun. The Rockettes show should not be missed. There are ice skating rinks, holiday markets, twinkling lights and decked-out trees around every corner. There's nothing like it.
Top row: The Rockefeller Center tree; ornaments on Sixth Avenue; Radio City Christmas Spectacular; light bulbs on Sixth Avenue; Macy's decked out for the holiday
Bottom row: Window display from a past year at Bergdorf Goodman; the Wall Street Bull sporting a festive wreath; Cartier wrapped up in lights on Fifth Avenue; holiday market at Columbus Circle; the Empire State Building lit for the holidays
Our original favorite Christmas in NYC sight was the Stock Exchange. Our first year here, they replaced the flag that usually stretches across the columns on the front of the building with a
flag made out of Christmas lights
. To our disappointment, that light flag has not been back since our first Christmas. Our other favorite thing was the
dancing snowflakes on the facade of Saks
, which has now been replaced by some sort of laser bubble and snowflake show. Because they keep doing away with our favorites, I hesitate to even say what my current favorite thing is, but here goes:
the musical stars in the Time Warner Center
. They are huge, suspended from the ceiling, and their lights dance to the music that plays throughout the building. It's beautiful and I could watch them for hours.
Top row: Us in front of the snowflakes at Saks; Stars in the Time Warner Center
Bottom row: The old Stock Exchange lights; more of the stars at Saks
I know we will manage, but I have a hard time picturing getting so into the Christmas spirit in any other city. In New York, it's simply infectious.
Honorable Mention #5: The Skyline View
Oh, the skyline view. Every time I get a good look at it, it takes my breath away. I don't know how I am going to live my life without this view at my disposal. It just...I can't even describe how it makes me feel to look at those gorgeous lights.
The view has been a big thing for us since we moved here. As you may recall, our original NYC home was on a low floor and looked out on a courtyard enclosed by other buildings. However, a few months later when the economy sent rental prices downwards, another unit opened up in our building which included a near wall-to-wall view of the midtown skyline. As much as I hated to pack up and move again after just getting settled, I knew we could not pass up the view that the new apartment offered. When we moved in, we left our blinds open almost constantly so we could admire it at all times. From the comfort of our living room, we were able to watch the Empire State Building don many different colors for many occasions and causes. We were able to see the Tribute in Light downtown on September 11th. We were even able to watch the New Year's Eve ball drop from our bedroom. That view is permanently burned in my mind and I will never forget it.
All of the above pictures were taken from our old NYC apartment!
Top row: General favorite shots of the view
Bottom row: The Empire State Building lit for Thanksgiving; a full moon over the city; the Empire State Building lit for Christmas in the background, with our tree in the foreground; view at dusk; fireworks going off above the ball (between the buildings) at midnight on New Year's Eve; Achilles soaking in as much of the view as he could before we moved out
Then, we moved to Hoboken. It broke my heart to leave that view behind, but even though we couldn't see the skyline from our new living room, the view was spectacular just a few steps outside our building.
Left side: The view from Pier C; Holiday Empire State Building; rainbow over Manhattan; Ellie enjoying the view of downtown on a snowy afternoon
Right side: Empire State Building lit purple for Prematurity Awareness last weekend
And of course, the view from Top of the Rock can't be beat. There is a reason Top of the Rock has become one of my favorite places to take our visitors. It's just stunning. The trick is to go just before sunset, so you can take in the view in both daylight and at sunset, and then watch the city light up as the sky turns dark. Time your visit for a night when the Empire State Building is lit in festive colors, and there's just nothing like it.
View from Top of the Rock
Top: The view on Election Night this year
Bottom: Ellie's first time at Top of the Rock; Eric and me enjoying a Gator-colored Empire State Building in 2009
Now, with these five Honorable Mentions officially honored here, we can move forward into the holiday (our last in the city, WAAAAH) and then on to saying our good-byes. Stay tuned for my Official Favorite New York Memories Countdown, starting Friday!