Yesterday Ellie had a celebrity encounter, and it was a doozy!
Let's start at the beginning. We heard on Saturday that Vice President Joe Biden would be in Hoboken on Sunday, to check out the damage from Hurricane Sandy. We figured there was no way we would be able to figure out when/where he would be and deal with the crowds to catch sight of him. (We saw him
leaving NBC Studios
back in 2010, but that involved big crowds, a long wait and a view from a considerable distance. Still cool, but not super fun, and certainly not something I'd enjoy doing with a baby in tow.)
We decided to walk out to the mall yesterday, and on our way through the Hoboken Train Terminal, we noticed an increased police presence. Odd, we thought, but we didn't connect the dots.
On the way home from the mall, Ellie and I went on ahead (she was due for a nap) while Eric stopped at Target for a couple of things. As soon as Ellie and I got back to the Train Terminal, I saw a crowd up ahead. And
then
it clicked. I walked up to the gathering as quickly as I could and sure enough, there was Joe Biden in the thick of things.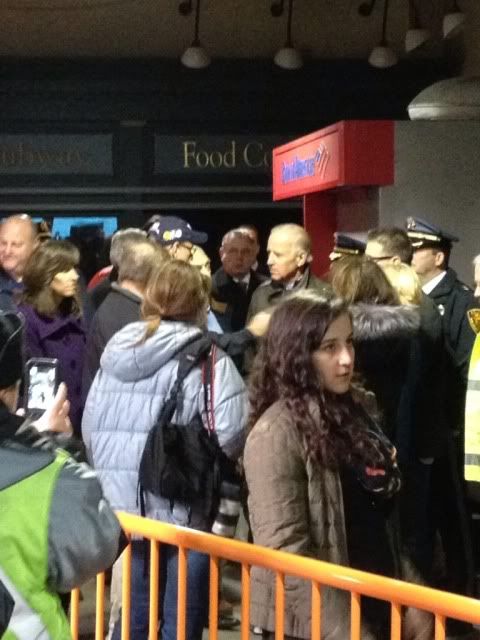 There he is, in the middle of the crowd, right in front of the ATM!
I snapped that quick picture and then stepped back to call Eric to tell him to hurry up so he could see him, too!
Ellie and I stayed put, hoping Eric would get there in time before Biden moved on. And move on he did, just a few minutes later. He started making his way into the station waiting room, shaking hands with transit employees and construction workers as he walked. I was snapping pictures with my iPhone as fast as my fingers could move, waiting for him to get closer to me for the best possible picture for our
Celebrity Sightings List
. He was getting so close to me and then, he stopped. He spotted Ellie! He held out his hand towards her, and to me, and smiled, encouraging us to come over closer.
We walked up to the barricade and he said hello, then started leaning down to talk to Ellie. I wish I could remember what he was saying to her, but he was drowned out by my brain spazzing out: "Oh my goodness. The Vice President is talking to Ellie. Ellie and the Vice President are having a moment. Can I take a picture of this? I have to take a picture of this. Can you just take a picture of the Vice President?"
So I asked him, "Do you mind if I take her picture with you?"
"Not at all," he said. "Turn her around so you can see both of our faces."
OKAY.
Ellie hanging out with the Vice President of the United States
Then he asked, "Is she riding the PATH today?"
"She wishes!" I said, and Biden laughed. (I made Biden laugh!)
Then he asked my name. I told him, and I introduced Ellie.
"Nice to meet you, Meghan. Take good care of Ellie," he said as he shook my hand. And then he continued inside.
I stood there all, "did that really just happen?!" for a minute, and a Secret Service agent said to me, "That was a very nice moment!" And I was all, DUH.
Eric finally made it just as Biden got inside the terminal. He was able to see him, but he missed all the action. He could hardly believe my story. Good thing I had pictures to prove it!
And that was Ellie's celebrity encounter.