Not only is hugging Tim Tebow one of my favorite New York memories, it's one of my favorite
life in general
memories. I actually added "Hug Tim Tebow" to my bucket list, thinking there would be no way I would ever be able to complete such a goal.
But I did.
My love for Tim Tebow has been well-documented, and I even hung out in front of the Best Buy Theater (or rather, the Nokia Theater at the time) on the night of the Heisman Trophy presentation two years in a row (
2008
and
2009
) to catch a glimpse of him (the second year, he even got to see me walk into a parked car, because I am super smooth). But, these sightings left no time for hand shaking or autographs, much less hugs. But then, in May 2011, Tim Tebow was named the new spokesperson for Jockey and was scheduled to attend a Jockey event at Macy's in Herald Square. Among other things, this event offered people the opportunity to take a picture with Tim. As soon as I saw that on the little promotional flyer, I had that event marked on my calendar as Hug Tim Tebow Day. This was my chance!
Eric and I arrived at Macy's two hours early and were able to secure numbers that would get us a photo with Tim. With our prized photo tickets in hand, we were able to watch the Jockey fashion show taking place in Herald Square before it was photo and hug time. But before we knew it, the moment was upon us.
This little card might as well say, "YOU ARE GOING TO MEET TIM TEBOW!!!"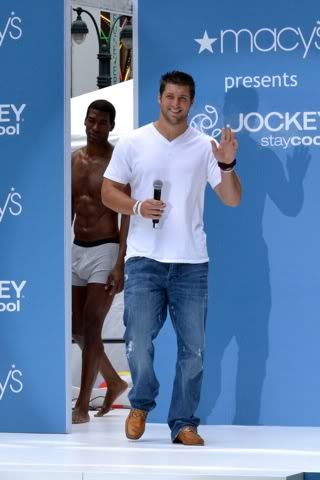 Eric went first, shook Tim's hand and got his photo.
Hottest picture ever? Yes, I believe it is.
And then it was my turn. I walked right up to him, introduced myself and asked for a hug. AND THEN WE HUGGED. And it was glorious. The man is an excellent hugger.
We then posed for our picture, I mumbled some completely ineloquent things, and then it was all over. But, boy oh boy, my day was MADE.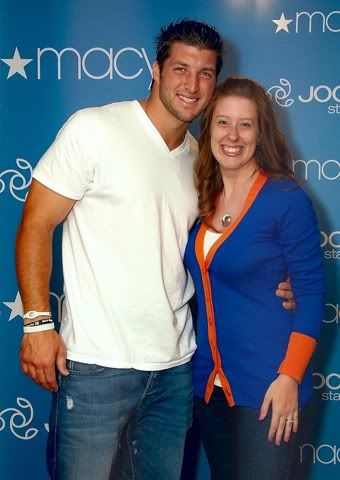 It should not surprise you that Tim was completely gracious, friendly and welcoming. And hot. And awesome.
Although my Tim Tebow Hug was my most favorite celebrity encounter in New York, Eric and I really debated this item number on my countdown because there were so many other wonderful celebrity events, too. Some were chance encounters, like running into Tracy Morgan at our grocery store (regularly!), or
meeting Joe Biden
just last weekend.
Some were red carpet events, for movie premieres or awards ceremonies (the Tony Awards were a favorite celebrity-watching event of ours).
Top row: Will Smith, Tom Cruise, Matt Damon
Bottom row: Al Pacino, Paul Rudd, Sarah Jessica Parker
Others were planned events, like book signings or official public appearances.
Top row: Tom Hanks, Nick Offerman, Joe Montana
Bottom row: Darren Criss, Rainn Wilson
Other times, we caught people filming movies or television shows.
Top row: Tina Fey and Alec Baldwin filming 30 Rock; Lea Michele and Kevin McHale filming Glee
Bottom row: Willie Garson filming Sex and the City 2; Matthew McConoughey filming The Wolf of Wall Street
But the one event that really tried to give Tim Tebow a run for his money on this countdown was the
Dexter
Season 5 Finale party. I went to the party for the
Season 4 Finale
in 2009, but Eric was out of town so he missed out on the free food, drinks, and
meeting Desmond Harrington
("Quinn"). So, the next year, we made sure we were both going. The
Season 5 Finale
party was held at the Sheraton Hotel in Times Square, and Eric and I went early to secure a spot at the event. It was well worth the wait, as we ultimately ended up being among the 100 or so enjoying free (strong) drinks and food, meeting cast members and watching the season finale with them. It was awesome.
Enjoying some Dexter-themed cocktails at the party
Me with Jennifer Carpenter ("Debra Morgan") and David Zayas ("Sgt. Batista"), and Eric with Lauren Velez ("LaGuerta")
Yet, despite all these super fun celebrity encounters, Tim Tebow still wins out overall, taking the ninth spot on our countdown. As if there was ever any doubt, am I right?
To read more about the events in this post, click here for Tim Tebow, here for the Dexter finale party, here for our NYC Celebrity Sightings List and here for a complete selection of red carpet events.