And so begins our New York Memories Countdown!
In June 2009, we had one of those perfect New York nights. We were nearing the end of an unseasonably cool and exceptionally rainy June, coming off our first New York winter. We were ready for summer and all it would bring - warm temperatures, sunshine, and fun events. By chance, we stumbled upon a lovely weather evening for our very
first Movie Night on the Intrepid
.
The Intrepid was docked not too far from our old apartment, and our favorite NYC barbecue place (Daisy May's) happened to be on the way. Our friend Jeff was in town for the weekend, so we picked up some 'cue and found a spot on the deck of the ship, right in front of the inflatable screen where they would be showing
Top Gun.
These movies on the Intrepid were such a fun summer activity. There was always a nice cool breeze on the deck. The views were spectacular with the sun setting over New Jersey to your right and the New York City skyline lighting up to your left. The movies were always well-chosen (
Top Gun
was the regular season opener, and others included
Apollo 13
, and
Ghostbusters
). The crowd would get into the movie as only a crowd at an outdoor movie can. And if you add in our favorite pulled pork for dinner plus the very unique backdrop of an old aircraft carrier, it was an experience unlike any other.
Crowds gathering for Top Gun
Sun setting over the deck of the aircraft carrier
On the deck of the Intrepid with the midtown skyline behind us
We attended Intrepid Movie Night several times over our four years here, but nothing quite matched the
"this is awesome"
feeling of the first time. I just felt so in love with this city.
Really, though, summer entertainment in New York cannot be beat. Other incredible things that come to mind in that arena are a showing of
The Wizard of Oz in Central Park
,
movies in Bryant Park
, and, most of all,
Shakespeare in the Park
at the Delacorte Theater in Central Park. All were free, although Shakespeare required hard-to-come-by tickets. If you were lucky enough to score some, though, you were in for a delightful summer evening of Shakespeare and whatever wine and snacks you brought with you. Eric and I both loved those plays so very much.
Inside the Delacorte Theater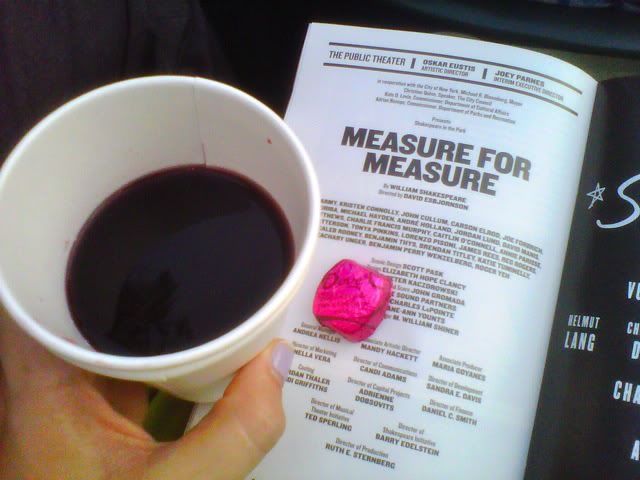 Red wine, raspberry dark chocolate, and Shakespeare. Divine.
There's just nothing like a beautiful summer night in the city with more outstanding entertainment at your disposal than you could ever take advantage of. It's pure summer perfection.
Click here to read the full recount of our first movie night on the deck of the Intrepid!