Oh, Broadway, how I love thee. When I started making this list, I knew Broadway had to make an appearance. But, how could I choose which particular show or moment? I have now seen 25 Broadway shows (and four off-Broadway). All were fantastic in their own ways and I loved every second of theater I have enjoyed in this city.
But then, it hit me, and it was so obvious. And so the number eight spot on my countdown goes to
Rent
, which we saw in its last week on Broadway, just two days after we arrived in New York City. That was the quintessential Broadway experience in my book.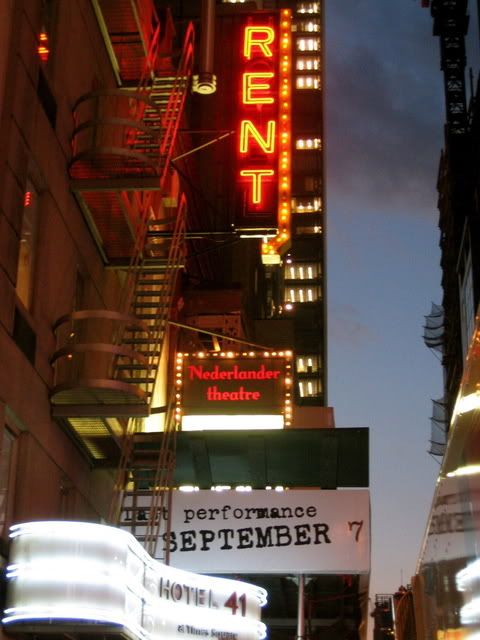 Rent at the Nederlander Theater, September 2008
Before we came to New York, we caught wind that
Rent
would be closing, but that it had just extended its end date to be just a week after our scheduled arrival. In fact, thanks to the extension, we were able to buy tickets in the front row of the center balcony the day they went on sale. We ended up with a great view.
I remember we had arrived just two days earlier, were right in the midst of unpacking (and running up to Lincoln Center daily to use their free WiFi to connect with the world while we waited for our cable/internet to be set up), but we dropped everything and got dolled up for a night out - our first in the city. We walked to the show, which I thought was amazing. The show itself was fantastic, of course.
Rent
is one of my favorites, so I was not surprised. After the show we hung around the theater and ended up meeting three of the actors (those who played Mimi, Roger and Angel).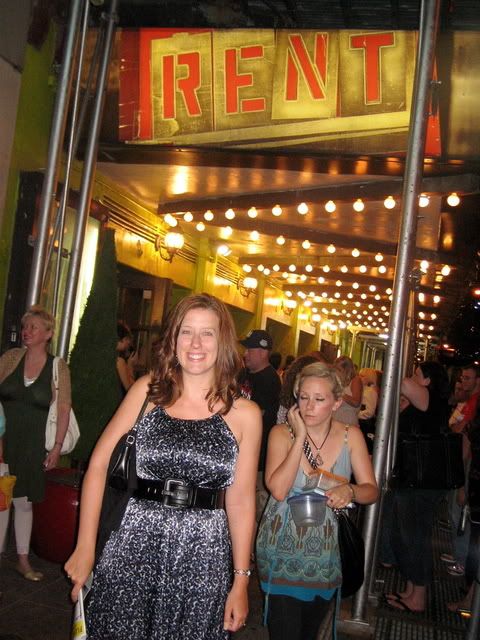 Outside the theater after the show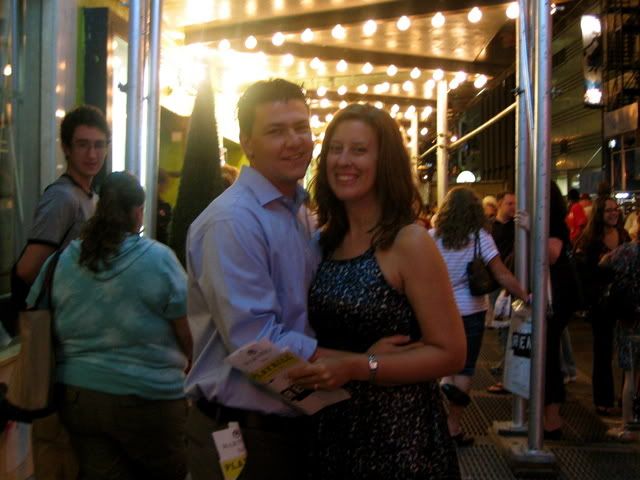 Happy to be new New Yorkers!
Then, we walked back home through Times Square, and it was just this
"holy cow, I live in New York
" kind of moment. I had wanted to live in this city for so long, and then all of a sudden, there I was, standing in the middle of Times Square on my way home to my New York City apartment after just having seen a fabulous Broadway show. I was so overcome with excitement for this new life I was entering into.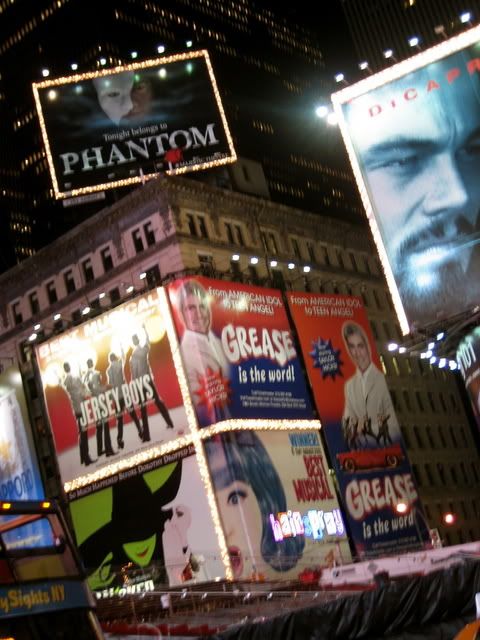 From our walk home through Times Square
Since that night, Eric and I have enjoyed so many fantastic shows, and I have been repeatedly hit with that
"I'm so lucky"
feeling I had the night we saw
Rent,
but never with quite so much intensity and excitement for what was to come. It was so surreal and so exhilarating. And that is how
Rent
takes its place on this list.
Click here
to read all about our evening out for "Rent," or here for all Broadway-related posts.