Last Thursday Eric, Ellie and I spent the morning in the city to check out a couple of fun little events happening in midtown.
First up: A
Dexter
promotional event at Grand Central Station. We always keep our eyes peeled for
Dexter
events around season premiere and finale times, as we've been to some very cool
Dexter
events here in years past (including watching the finales of
Season 4
and
Season 5
with free cocktails and members of the cast!). We heard they had a little setup at Grand Central on Thursday, so we wanted to stop by.
It was pretty fun, in fact. They had a lot of
Dexter-
inspired artwork posted, including a portrait of Dexter and Deb made out of trash bags. They had
Dexter-
themed cupcakes and cake from Magnolia Bakery. There was a lounge area set up where you could watch previews of this season of
Dexter
(and other Showtime shows), and they even had a photo booth where you could have your picture taken on Dexter's table! We all know how I love to play the part of
Dexter's victim
, so I was all about it.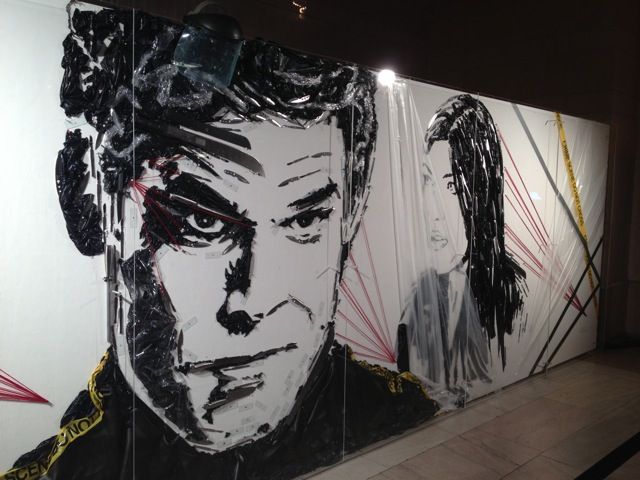 Dexter and Deb made out of trash bags
A sampling of the Dexter art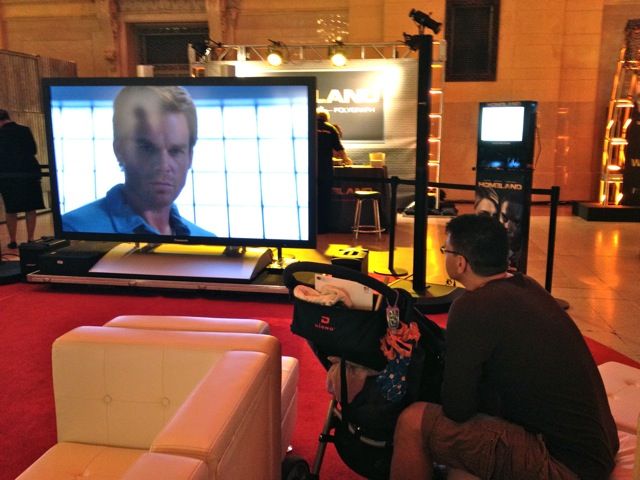 Eric and Ellie watching the trailer for the new season
My turn! I clearly missed my calling as an actress.
Dexter
premiered this past Sunday, and can I just say, I am PSYCHED about this season. My fellow
Dexter
fans, what did you think? Have you seen the trailer for this season? It looks intense and even though we're only one episode in, I do not think this season will disappoint. (You can watch the trailer
here
, but SPOILER ALERT! Don't watch it if you're not caught up through last season's finale!)
After spending time with our favorite fictional serial killer, we walked over to Bryant Park for Wool Uncovered, a festival celebrating - what else? - wool. They even turned the Bryant Park lawn into a sheep pasture, and the fountain was overflowing with wool instead of water. Ellie had dressed the part in a new sweater my mom bought for her, and we spent some time admiring the sheep that were just hanging out in the middle of Manhattan.
This girl is ready to see some sheep.
Eric and Ellie celebrating wool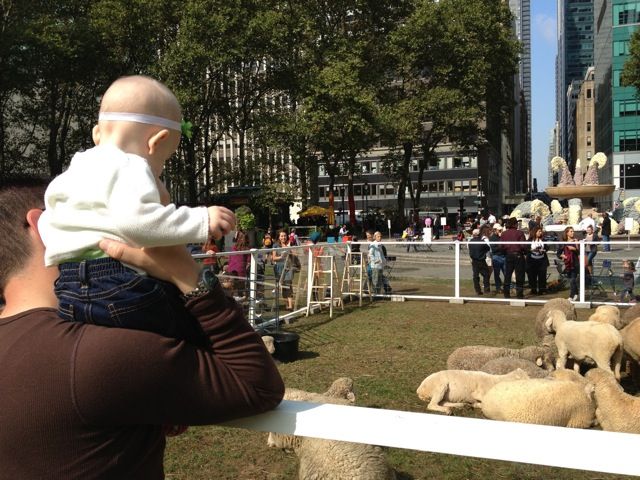 Checking out those crazy sheep
Two very cool events, within blocks of each other, all in one afternoon in New York City. You just gotta love it.
Clearly, however, NYC excitement can be a bit much for a wee lass as Ellie lost her battle against sleep on the train ride home: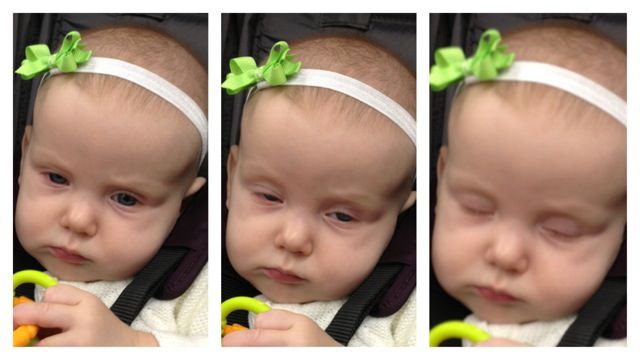 We're going to have to teach her to pace herself!