First of all, thanks to all of you for your kind and encouraging comments and well wishes in regards to our big Leaving NYC news from Friday. It's so much easier facing such a major transition knowing we have the support and love of our friends and family!
But for now, let's get back to having fun in NYC, shall we?
Last weekend, our good friend/former roommate/Ellie's godfather Jeff and his lovely girlfriend Sarah came up from Washington D.C. for the weekend. It was great to have Jeff back to visit (the last time he was here was the awful, freezing, disgusting, snowy
Urbanathlon weekend
), and very nice to finally meet Sarah!
We got together with them for dinner at our place on Saturday night. Eric brought them to our apartment, where we sat and played with Ellie for a while before putting her to bed. Then we enjoyed some Grimaldi's pizza, wine and conversation. They stayed up until they had to leave for some sort of very cool-sounding live theater haunted house type thing that night.
On Saturday we made plans to meet in Brooklyn for ice cream at the Ice Cream Factory, followed by a walk across the Brooklyn Bridge. On our way to the train station that morning, Eric, Ellie and I passed through the Hoboken Arts and Music Festival, which is always quite nice.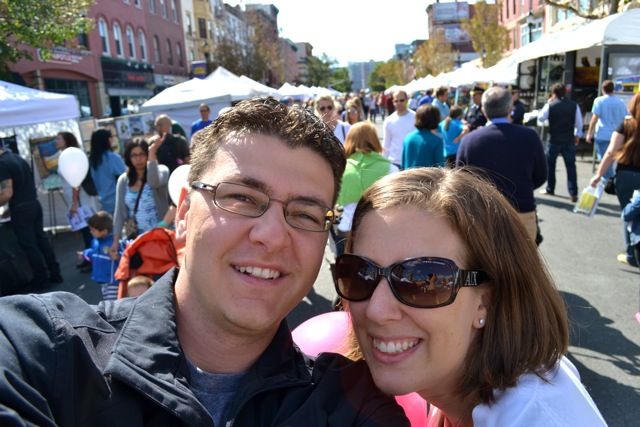 We do love a good street festival.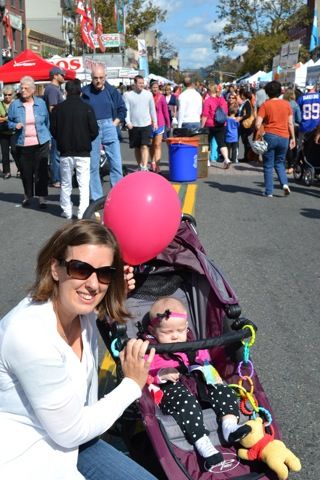 When we got to Brooklyn we made our way down to the waterfront to enjoy the views. Jeff and Sarah met us there and we snapped some scenic pictures.
Jeff and Sarah by the Brooklyn Bridge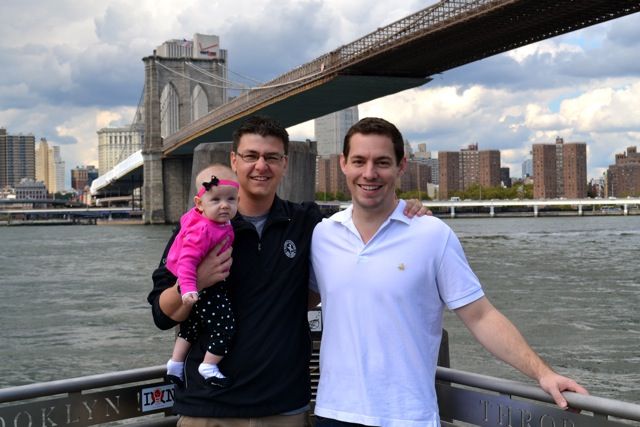 Eric, Jeff and Sarah then went into the Ice Cream Factory to get some ice cream while Ellie and I waited outside. Unfortunately, while they were all inside, it started to rain! So, we spent some time crowded into the doorway of the ice cream shop waiting for the rain to slow down. At least we had the nonstop game of "Don't Let Ellie Grab Your Ice Cream" to keep us occupied.
When the skies eventually cleared, we began our walk across the Brooklyn Bridge, after stopping for our usual fun with silhouettes, of course. I have to admit, of all the poses our visitors have done with these silhouette people over the years, I think Jeff and Sarah's pose was my favorite. They really thought outside the box.
I must say, walking across the Brooklyn Bridge is still one of my most favorite things to take our guests to do, because it is such a nice, scenic walk. It is one sightseeing thing I never get tired of.
Walking across the bridge
Jeff and Sarah enjoying the view from the bridge
Ellie was not nearly as impressed with the view and walk as I always am, although I do think she had a nice time.
When we got back to Manhattan, we did a little walk around downtown to give Jeff and Sarah a quick look at some of the more notable sights, including St. Paul's Chapel, the Freedom Tower, Trinity Church, Wall Street and the Stock Exchange, and the Bull.
Ellie was much more excited about the Stock Exchange than she was about the Brooklyn Bridge. Also, she has a cupcake on her butt.
Jeff and Sarah killed it in the Fun With Statues department. Oh, how we laughed!
By that time, Jeff and Sarah had to head back to midtown to catch their bus back home to D.C., so we said farewell and sent them on their way. It was great seeing you guys! Thanks for spending your visit with us. We hope to see you both again soon!