When I was in the city with my friend Jess for the
J.K. Rowling event
a couple of weeks ago, we passed through Columbus Circle on our way back to the subway. Columbus Circle is right in my old neighborhood, and it's another one of my favorite spots in NYC (especially at Christmas). I noticed that the Christopher Columbus statue in the center of the circle was covered in scaffolding, and assumed it was being repaired or cleaned or some such thing. How sad, I thought, that I would probably not get an unobstructed view of it again before we leave.
Some of my favorite pictures we have of the statue in Columbus Circle, taken in December 2010
But wait! Not so fast!
Yes, Columbus is currently covered in scaffolding, but not for renovations. Rather, it is an art exhibition by Japanese artist Tatzu Nishi. As described on the
Public Art Fund website
:
Tatzu Nishi (b. 1960, Nagoya, Japan) is known internationally for his temporary works of art that transform our experience of monuments, statues and architectural details. His installations give the public intimate access to aspects of our urban environment and at the same time radically alter our perceptions. For his first public project in the United States, Nishi has chosen to focus on the historic statue of Christopher Columbus.
The marble statue, which rises to more than 75 feet atop a granite column, was designed by the Italian sculptor Gaetano Russo. It was unveiled in 1892 to commemorate the 400th anniversary of Columbus's first voyage to the Americas. Despite its prominent public location, the statue itself is little known, visible only as a silhouette against the sky or at a distance from surrounding buildings.
Nishi's project re-imagines the colossal 13-foot-tall statue of Columbus standing in a fully furnished, modern living room. Featuring tables, chairs, couch, rug and flat-screen television, the decor reflects the artist's interpretation of contemporary New York style. He even designed wallpaper inspired by memories of American popular culture, having watched Hollywood movies and television as a child in Japan. Discovering Columbus offers both a unique perspective on a historical monument and a surreal experience of the sculpture in a new context. Allowing us to take a journey up six flights of stairs to a fictional living room, Tatzu Nishi invites us to discover for ourselves where the imagination might lead.
Well, I read that and was all, WE HAVE TO GO. How cool, right? Admission to the exhibition is free, but you do have to have a timed ticket, so we made our reservation for 1:30 on Thursday afternoon and off we went.
Eric and Ellie ready to head to the top of the statue
We didn't have to wait long before we were allowed in to begin our climb to the top. I have a sad history with sketchy staircases (like when
I couldn't make it to the top of St. Rule's Tower
in Scotland), and I'm not really stoked about heights either, so I just tried to focus on the coolness of the situation and tune out Eric's repeated statements of "man, that landing sure is shaky!"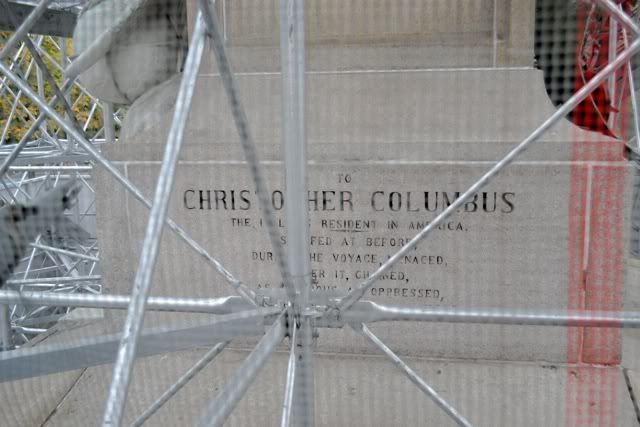 The climb may have been a little nerve-wracking, but it sure afforded some nice views when we made it to the top.
Looking north up Broadway and Central Park West
Southwest corner of Central Park

When we first walked into the "living room," I couldn't help but laugh out loud at the scene. I mean, how does one really find oneself in a living room 75 feet in the air with a giant statue in the middle of it? Oh, New York. You never disappoint.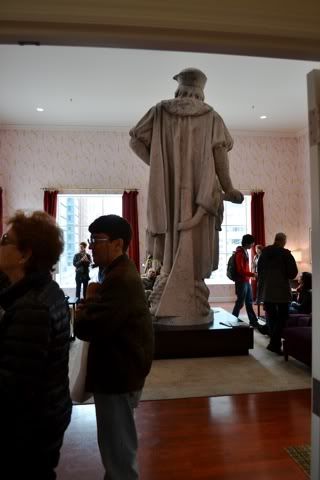 My first view of the exhibition
We got right to work examining Christopher Columbus from all angles, as well as enjoying the other features of the room.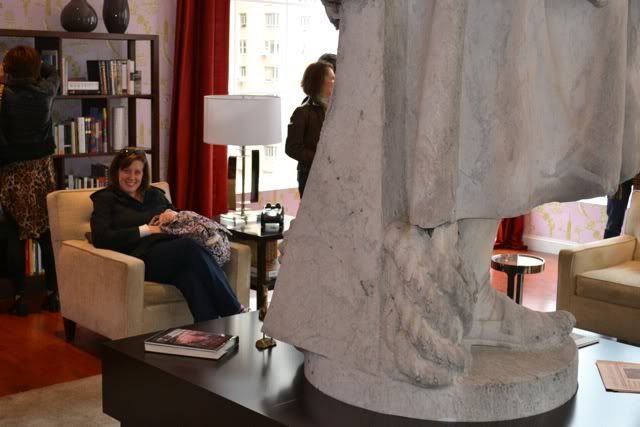 Hanging out on the furniture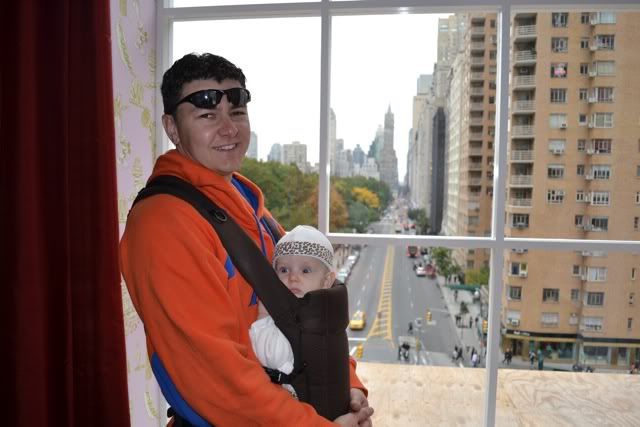 Eric and Ellie enjoying the views
On the left, a sampling of the American Pop Culture wallpaper, and on the right, Eric and Ellie catching up on the news.
Family shot with Christopher Columbus, thanks to the mirror on the wall!
It sure was a pleasure to meet you, Mr. Columbus. Thank you for having us over!