Last week, I had the fantastic opportunity to see J.K. Rowling at Lincoln Center, her only public appearance in the U.S. to promote her new book,
The Casual Vacancy
. What a great night it was!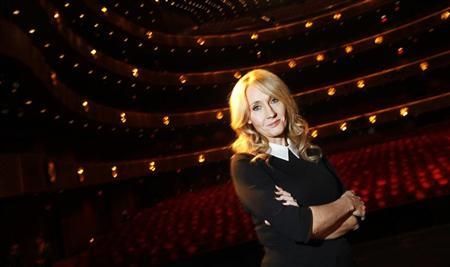 J.K. Rowling at Lincoln Center
This event was originally to be held at the Rose Theater, a rather intimate venue. However, the night before tickets were set to go on sale back in September, a breach in the Lincoln Center ticketing system allowed many to go up for online sale hours before the box office actually opened. People bought up the tickets through this false link, but when the box office opened the next morning, they went ahead and sold their tickets as planned. Ultimately, Lincoln Center decided to honor all tickets and moved the venue to the Koch Theater to accommodate the oversell.
Eric wandered over to the box office after tickets went on sale (in person) and was lucky enough to snag two tickets. We weren't sure if we would find a babysitter so we could both go, if just one of us would go with a friend, or if we would resell our tickets on Craigslist or something, but we figured this is a great event that we should definitely have tickets to. In the end, Eric insisted that I take the tickets and have a night out, not only because that is a rarity for me, but also because he thought my interest in/love of writing made me well-suited for this event. I took him up on his offer and invited my friend Jess (who you may remember as my extraordinary doula from
Ellie's birth saga
), resulting in a great Mamas' Night Out! How fun!
We were concerned about the change in venue, because the seats Eric got for the Rose Theater would have been great and we weren't sure how they were going to reassign seating after the venue changed. We did not have to worry, however, as we ended up with seats in the
sixth row of the orchestra level!
Six rows back from J.K. herself, people. That was not too shabby. We found our seats and anxiously awaited the start of the program.
I didn't bring the good camera, something I am majorly kicking myself for. But, here is an iPhone photo to show you how close we were!
The event began with Ann Patchett interviewing J.K. Rowling, which was fascinating. They talked a lot about the new novel, of course, and the differences between writing this book (a single volume for "grown-ups") as opposed to writing
Harry Potter
(a long series for adolescents). She talked about the characters, about writing villains, about being a ruthless writer and cutting what needs to be cut, and about writing those scenes that you just dread writing, but that simply must be written. She talked a lot about her writing process, including who she lets read her work (nobody except her editors for
Harry Potter
, and only her husband for
The Casual Vacancy
); how she takes notes upon notes upon notes, all illegibly written and with arrows pointing in every direction; how for this book she wrote freely for weeks at first just to get to know the characters before getting to the meat of the book. She also talked about what may be next for her (possibly a book for younger children!). It shouldn't surprise you that she was fascinating, witty, pleasant, funny, and delightful. What an impressive woman.
After the interview, J.K. Rowling did a reading from her new book.
Reading from The Casual Vacancy
After her reading, she answered a few pre-selected audience questions, all of which were quite insightful. The main event ended at about 9:00, and then they moved on the the next portion of the evening: the autograph signing!
They called us out row by row (yet another reason our orchestra seats were super awesome) and took us to the lobby, where we were each handed a copy of The Casual Vacancy for J.K. Rowling to sign. That line ran like a machine - no pictures allowed until you were done at the table (and then only one was allowed from a distance), no dedications, nothing else signed. They moved us along very quickly, so in no time, Jess and I had our books in hand and were meeting Ms. Rowling face to face.
Stacks of books for the fans
Jess snapped this shot of me meeting J.K.! Awesome!
And that was it! It was such an honor to meet such a gifted writer and lovely person. And, to leave with an autographed book to boot!
As we left, I took a moment to soak in every last bit of Lincoln Center that I could. It hit me that this will most certainly be the last event I attend there, and may very well have been my last visit there at all before we leave. I couldn't help but think back to our very first days in NYC, when I sat on the steps of Lincoln Center with my laptop to use their Internet so I could post
this "We Have Arrived" blog post
. As I have mentioned many times before, Lincoln Center is one of my most favorite places in New York City and I felt such a twinge of sadness to say good-bye.
The night was still young (thanks again, orchestra seats!) so Jess and I stopped for some tapas and wine back in my old neighborhood (oh, more pangs of sadness - I miss it so much!). We had a wonderful time! Good food, good wine, good conversation. Thanks so much, Jess!
It was a perfect New York night out!